South Carolina Football: Why Jadeveon Clowney Emerges as SEC's Top Defender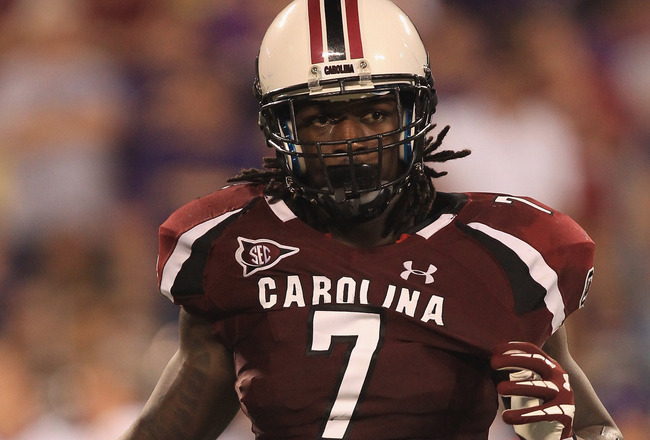 Streeter Lecka/Getty Images
Jadeveon Clowney had a lot of hype coming out of South Pointe High School in Rock Hill, South Carolina.
He was a consensus No.1 recruit across all the recruiting services and is considered a once-in-a-lifetime type recruit. These types of players were rare at South Carolina. He was certainly the most heralded recruit to ever sign with the Gamecocks.
His first season showed loads of potential. His freakish athletic ability has him on the minds of many SEC coaches and media as a player who could turn the conference upside down.
Clowney has the talent to emerge as the SEC's top defender. Here are a few reasons why.
No. 1: More Experience and Exposure to the Defensive Scheme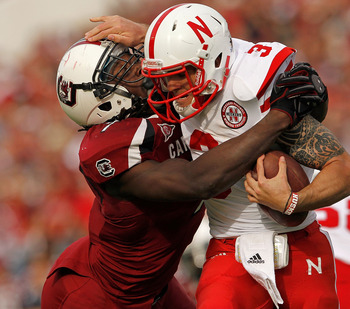 Mike Ehrmann/Getty Images
It's no secret that Jadeveon Clowney was unsure of the playbook last season.
He's even admitted it himself.
Here's what Clowney had to say:
"I was just running around out there. I didn't know that much last season. I was tiptoeing out there and not really knowing what I was going to do."
The Gamecocks threw the playbook at the young freshman, and he wasn't able to grasp it all. There was even a player dedicated to telling Clowney what play was being run on defense. It was a struggle, which is expected for most 18-year-old freshman.
However, that's not what you hope for from someone with the credentials that Clowney had out of high school.
Now, he's had extra time to study the playbook and work through spring practice. He's already ahead of the game at this point from where he was last year. The experience he gained on the field last year, this offseason and the upcoming summer months will better prepare him for SEC play in 2012.
Coach Brad Lawing said that when he questions Clowney on assignments during film sessions, he usually nails the answer.
It sounds like experience and exposure for Clowney is paying off; which could mean a big year for this talented sophomore.
No. 2: The Return of Devin Taylor on the Defensive Line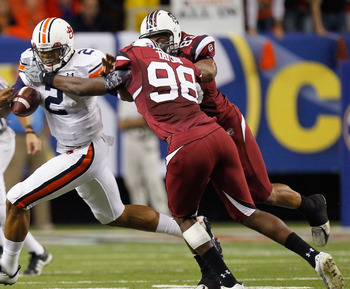 Kevin C. Cox/Getty Images
Devin Taylor flirted with the NFL draft for a brief moment, but decided to return to South Carolina for the 2012 season.
Jadeveon Clowney should benefit greatly from Taylor's return.
Taylor has NFL-talent and, when teamed up with Clowney, should form one of the top defensive end duo's in the SEC, and the country. They both are long, lean players with incredible speed on the pass rush and the physical strength to handle the offensive tackles in the conference.
It will be hard for opposing teams to double-team Clowney; potentially leaving Taylor in one-on-one situations. Teams will have to pick their poison, because if you focus on one, the other could take advantage.
Clowney's numbers last year off the bench included 8.0 sacks. Imagine what he'll do as a starter opposite of Devin Taylor?
No. 3: Expanded Role on Defense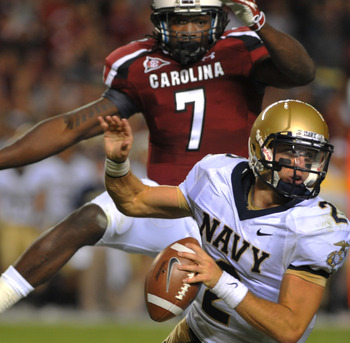 Al Messerschmidt/Getty Images
The first slide mentioned Clowney will benefit from exposure and experience in the scheme.
With those two things comes an increased and expanded role on defense. The loss of Melvin Ingram has opened a starting spot that has Jadeveon Clowney's name all over it.
Ingram was such a versatile player that he would line up at defensive end, tackle and linebacker. The Gamecocks could do something similar with Clowney.
There could be certain situations where you could see Clowney slide to the inside in order to add another pass-rushing specialist at the defensive end position. Clowney's strength and height could be an advantage inside for the Gamecocks.
An expanded role means more snaps for Clowney. The more snaps Clowney has means the more chances for him to make plays. Clowney could only handle about 30 plays a game in 2011, but expect that number to double in 2012.
He was an All-Freshman player off the bench with 36 total tackles, 8.0 sacks and five forced fumbles. Now imagine those numbers being doubled with the amount of increased snaps on defense.
It looks like 2012 could be the year that Clowney steps up to be the SEC's top defender.
No. 4: Offseason Conditioning to Build Strength, Stamina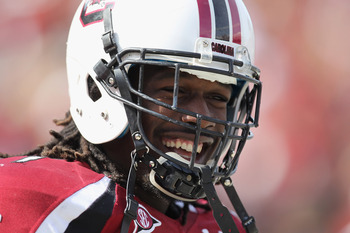 Streeter Lecka/Getty Images
This summer, Jadeveon Clowney should get bigger, faster and stronger.
It's exactly what the offseason is meant to be for the budding superstar.
Clowney will have the opportunity to go through another summer of conditioning to help build strength, add weight and increase his speed to make him a more complete defensive end. He has the frame to add several pounds without losing his speed off the edge. The extra strength will help him compete against those big offensive lineman of LSU and Georgia.
Another positive for Clowney going through offseason workouts is he can increase his stamina to handle the expected workload coming his way. He not only struggled with the playbook, but also couldn't handle being out on the field every down. He may have gotten by in high school on talent alone, but he looked winded on occasion during his freshman season.
There better be improvement here from Clowney if the Gamecocks expect to have another outstanding year on defense. He's a big part of the plan in 2012 and needs to be on the field to make things happen for South Carolina.
Keep Reading

South Carolina Football: Like this team?