Projected Oakland A's Lineup in June 2012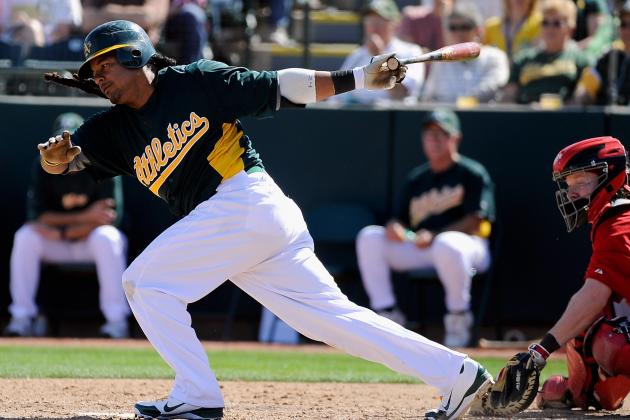 Kevork Djansezian/Getty Images
Mannywood will soon stop in the Bay Area
The lack of punch in the Oakland lineup has recently caught up with the A's.
Currently on an eight-game slide, the A's went from plucky early season surprise to seemingly the also-ran they were expected to be. The only problem with that assessment is that the A's have not had their full assortment of weapons deployed at one time. That will begin to change in as soon as 27 or so hours.
With players returning from the disabled list, suspension or perhaps even just an early-season malaise, the A's lineup has the potential to look a lot different than it has over the last 10-14 days. And that's a good thing because the A's have scored only 164 runs in 51 games this season.
That is their worst production since moving to Oakland in 1968. So, here is my projected starting lineup for the Oakland A's moving forward.
Begin Slideshow

»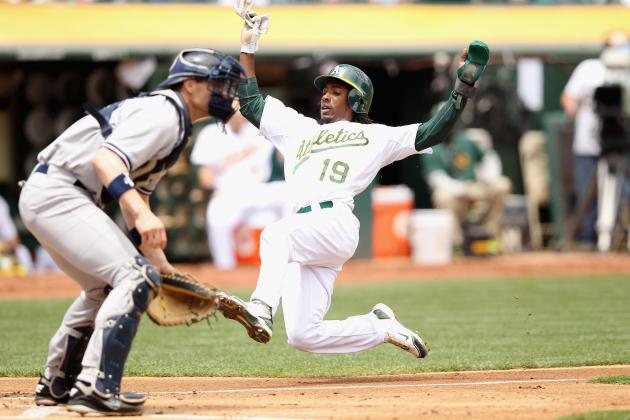 Ezra Shaw/Getty Images
The catalyst
For the A's to turn their dreadful offensive start around, it has to be keyed by Weeks.
There is simply no way this team can score consistently if No. 19 is not on the bases wreaking havoc as he did throughout much of 2011 after his mid-season call up.
Yes, he is only hitting .215 on the year. But the encouraging sign is that over the last week, he has been hitting .320 and has a modest seven-game hitting streak. Even with some new found power in the order, the A's still need Weeks to get on base and run his way into scoring position.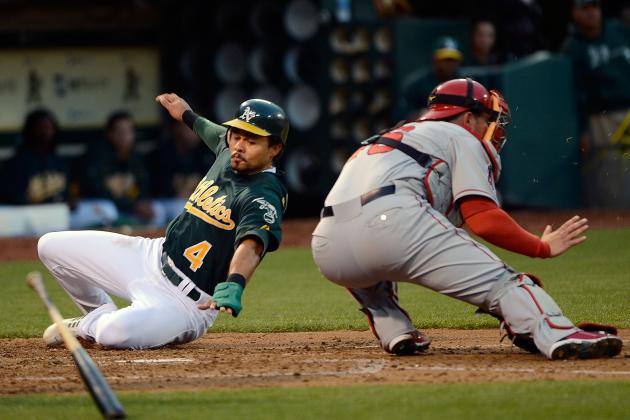 Thearon W. Henderson/Getty Images
The A's need more from the $7 million man
When you make $7 million a year and hit .160, in Oakland, you are going to play.
So in spite of the lack of production from Covelli "Coco" Crisp, he will continue to be in the A's lineup. The question is, when will he start to resemble the career .273 hitter he is? Like Weeks, the A's need Crisp on base and putting pressure on the defense.
This is doubly important because without some offensive contribution, Crisp is even more worse in the outfield. He is still solid getting to the ball but may have the worst arm in baseball from the outfield.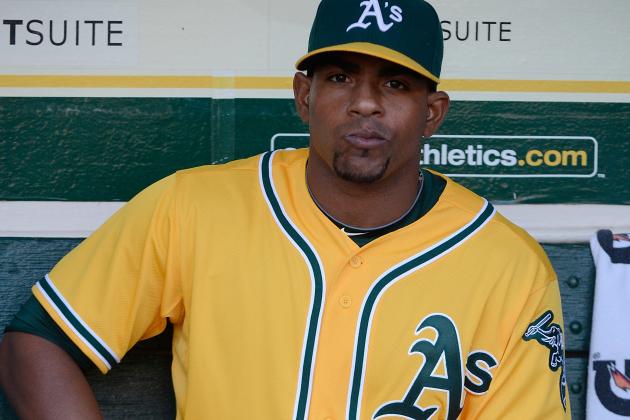 Thearon W. Henderson/Getty Images
Welcome back Yoenis
It should come as no surprise that when Yoenis Cespedes went to the disabled list, the A's offense struggled. But the team as a whole has suffered, going 7-15 in his absence. There is no question the threat of his big bat is a welcomed addition.
But in addition, he provides protection and opportunity for another new addition that has been the biggest surprise of the year for the A's so far.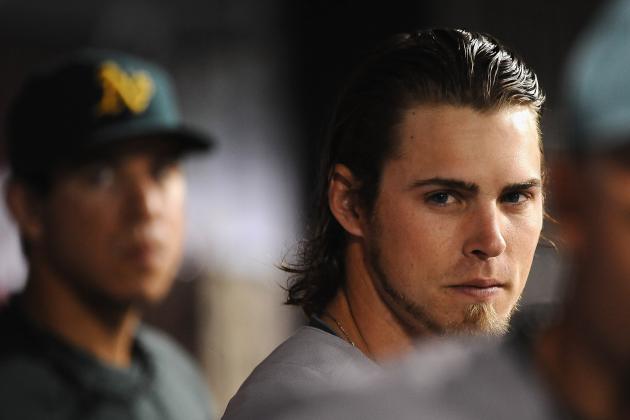 Jonathan Moore/Getty Images
The Chronicles of Reddick
The acquisition of Josh Reddick from the Boston Red Sox has proven to be a masterstroke by Billy Beane thus far. While Ryan Sweeney is hitting .313 in Beantown, he has zero home runs and is exactly what he was in Oakland: a third/fourth outfielder. The centerpiece of the trade, closer Andrew Bailey, has yet to play this season for Boston.
Meanwhile, all Reddick has done is slug 14 home runs (good for sixth in the AL), compile a .547 slugging percentage and provide outfield defense the A's have not seen in a long time.
And it will continue to be important for Reddick to deliver, as he figures to get pitches to hit in front of the next new face in Oakland.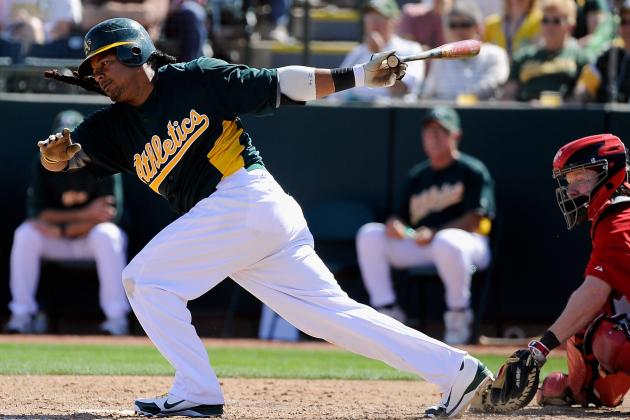 Kevork Djansezian/Getty Images
Mannywood: population 1
The A's have been famous for the veteran acquisitions they have put at designated hitter.
The list reads like a who's who of the last 15-20 years: Frank Thomas, Eric Karros, Mike Piazza, Nomar Garciaparra, Matt Stairs and John Jaha among others. So in one sense, the signing and soon to be debut of Manny Ramirez is not a huge deal.
On the other hand, the A's could really use Ramirez to resemble something of the Hall of Fame caliber hitter he was in Cleveland, Boston, Los Angeles, and to a lesser extent, the Chicago White Sox.
At 40, no one will expect MVP-type numbers from him. But a professional hitter and someone with the ability to drive in runs is huge. No team has been worse with runners in scoring position than the A's in 2012. If Manny being Manny is a hitter somewhere between .265 and .290 (my realistic top-end projection), the A's will have improved their lineup.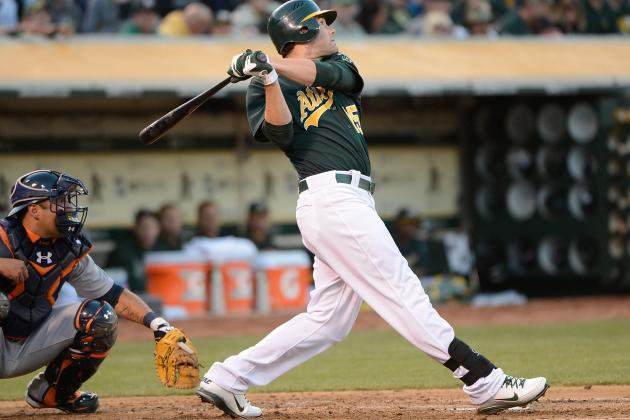 Thearon W. Henderson/Getty Images
Expect a Smith/Gomes platoon in some order
Assuming Coco Crisp stays healthy and begins to hit at some clip, the A's will have an interesting glut at first base.
I fully expect Manny Ramirez to dominate the DH time when he is called up. That leaves four players potentially juggling one position. Seth Smith and Jonny Gomes appear to be the logical choices to platoon with Kila Ka'aihue and Daric Barton backing them up.
Gomes has more of a solid standing being the only right-hander of the bunch.
When there is left-handed pitching, he will be in the lineup. I could see manager Bob Melvin running out a hot bat from the left side between the other three. To start though, Smith should see the majority of time.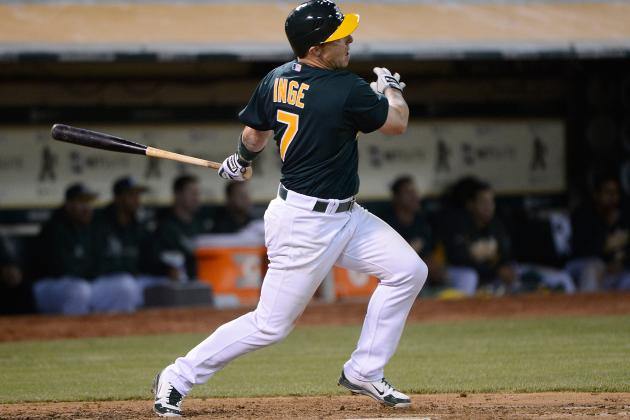 Thearon W. Henderson/Getty Images
Brandon Inge has been a welcome addition to the Hot Corner
To say Brandon Inge has solidified the third base spot for the A's is like saying humans need air to breathe.
Between Josh Donaldson and Luke Hughes, the A's got a little bit more production than the 2012 Baltimore Orioles got out of Cal Ripken Jr at third base. But Inge hit the ground running in green and gold.
In four of his first five games, he drove in four or more runs. Only Lou Gehrig has ever done that and that was 71 years ago. A stint on the DL (surprise) derailed his impressive run, but Inge represents another capable power bat.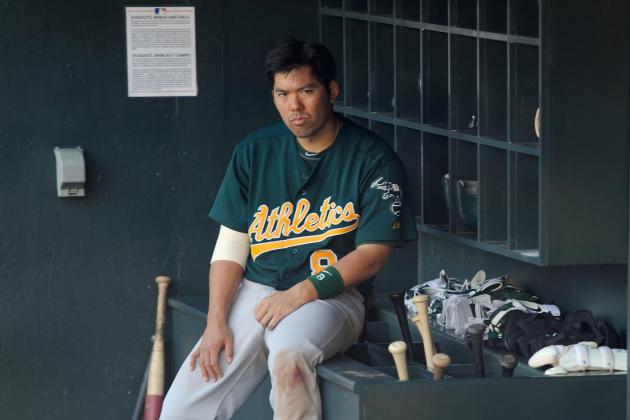 Hannah Foslien/Getty Images
The A's workhorse
Kurt Suzuki's struggles have been attributed to his large workload behind the plate. Over the last three years, he has caught 134, 131 and 147 games. And his numbers have dipped to the point where he is largely an unproductive out. Splits of .208/.244/.260 are not going to get it done anywhere.
The hope is that Suzuki's breakout is coming soon. But the numbers suggest that his body may be subtly breaking down after the heavy load he has carried behind the plate.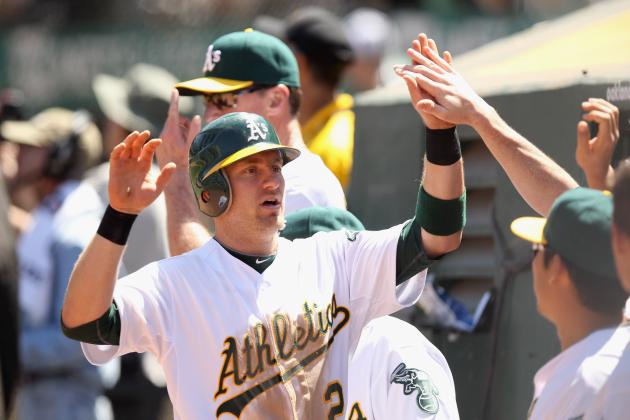 Ezra Shaw/Getty Images
Cliff Pennington
Rounding out the lineup is switch-hitting shortstop Cliff Pennington.
Like many of the regulars so far, his numbers have been underwhelming. His splits of .200/.259/.274 are the worst by an everyday shortstop in the American League. It has been a theme, but one has to think a career .252 hitter will get hot to approach that average.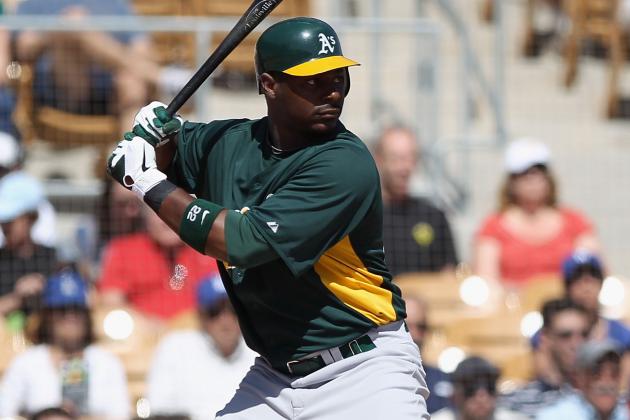 Christian Petersen/Getty Images
Chris Carter, one of the A's young hitters
Moving forward, if the A's are not able to get any traction with their hitting, I would think it is seriously time to start looking at the prospects in AAA.
We have seen too little from Michael Taylor to know for sure if he can play in Oakland. I believe the same goes for Chris Carter. He is in his mid-20s now, and the window is closing.
Late-bloomers like Ryan Howard are rarities.
The A's also have players like Grant Green, Michael Choice and (potentially) Derek Norris that should move through the ranks.
Right now, the A's are 22-29 and begin a key stretch of games starting in Kansas City.
If the team is able to gel, the season can still be a success (based on expectations).
If the hitting continues to be as putrid as it has been, the faithful A's fans will have to expect changes and turnover; common themes of the last six years.