Packers Offense Already Deadly with Finley, Imagine If He Hangs onto the Ball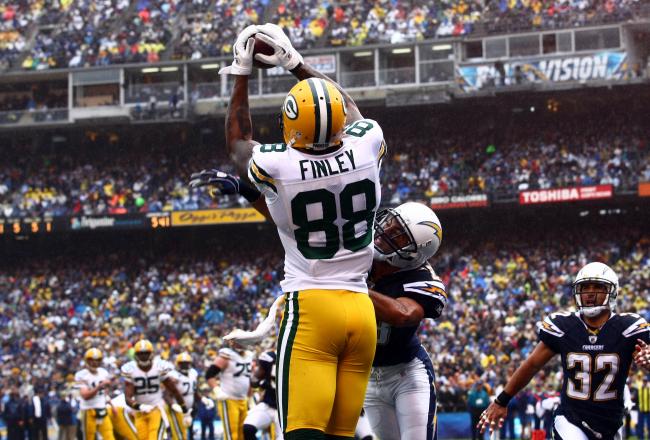 If he holds onto the ball in 2012, the sky is the limit for both Finley and the Packers offense
Donald Miralle/Getty Images
Some Packers fans love Jermichael Finley. Some Packers fans hate him. What none of them can do is ignore him, and neither can opposing defenses.
Two years ago, coming into the 2010 season, Mike McCarthy made no secret of his plan to build his offense around Finley. Rodgers looked to him early and often before losing him on the opening offensive series in Washington, five games into the season.
During that time, while not exactly forgetting him, the Packers seemed to forget just how good Greg Jennings was. After Finley's injury, McCarthy went back to his game plans and started shifting the focus to getting Jennings the ball, and both the offense and Jennings, after a bumpy first few games, really took off.
Fast forward to 2011 and the return of Finley to the offense. Coming into last season, many were concerned with how Finley would "fit in" with an offense that had already proven to be championship caliber. You couldn't move during training camp for a "How will McCarthy keep all the playmakers happy?" article.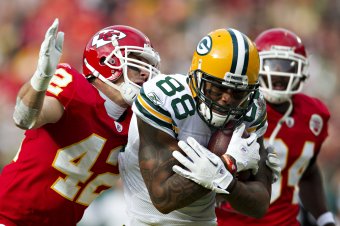 Wesley Hitt/Getty Images
It turns out that Finley not only fit in—he helped take the offense to a record-breaking level.
Obviously, the offense didn't set a franchise record for points due to Finley alone. But the effect his presence has on opposing defenses can not be overstated. When opposing defensive coordinators sit down and start game-planning exactly how they want to attack the Packers, one of the first things they need to do is to figure out how they plan on approaching Finley.
How do you play him?
The Giants ran a linebacker with him, with a safety often over the top for help. The Broncos constantly double-teamed him. The Chiefs, without Jennings to worry about, double-teamed him on the majority of the third downs the Packers had in that game. And on and on.
The Packers' offense reached new heights last year for a myriad of reasons, from the decision to bring back James Jones and the continuity that decision provided, to the elevation of Jordy Nelson's game to that of a true playmaker. Many, many factors came into play, but outside of Aaron Rodgers playing the quarterback position just about as well as it can possibly be played, the presence of Jermichael Finley helped open up opportunities for everyone else whenever he was on the field.
For visual evidence of what I'm talking about, look at this piece of coaches film showing a Greg Jennings touchdown against the Broncos.
Notice how the corner and safety are so preoccupied with what Finley might do to hurt them, that it results in Greg Jennings—Greg. Jennings.—being given a free pass into the end zone.
Obviously, not every play that Finley participates in is as productive nor is his presence as clearly dramatic, but this is an example of the kind of thing that Finley brings to the table that doesn't show up in the box score the next day.
One thing that would definitely help both Finley and the Packers' offense would be if Finely held onto the ball with a bit more regularity. Finley has a theory about this, which he was of course all too ready to share with reporters this week, via Jason Wilde of ESPNMilwaukee:
I'm not blaming it on my offseason, but me and the QB didn't have chemistry. The routes were off sometimes, and that'll mess with your head when the ball comes.
While I'm not sure if I buy it, its interesting to say the least. If time with Rodgers in the offseason even cuts out half of Finley's drops, he could be in line for a monster year.
Heading into 2012, Finley's presence will continue to open up opportunities for the likes of Jennings, Nelson and everyone on the Packers' offense.
This article is
What is the duplicate article?
Why is this article offensive?
Where is this article plagiarized from?
Why is this article poorly edited?