Don Litzelman: Star at West Genesee High and Geneseo State, Even Better Man
May 31, 2012

Cancer sucks.
It takes people from us too soon. It makes those of us dealing with the loss angry with ourselves for not staying in touch more. For me and my friends from college, it's made us determined to change that and turn a horrible negative into a positive. Cancer recently took our friend, Don Litzelman.
To the lacrosse world, he was known as a star at one of the most storied high school programs in the country, West Genesee High in Syracuse, NY. His 61 goals in 1978 were a school record at the time. The coach with the most wins in the history of high school lacrosse, Hall of Famer Mike Messere, recalled his former player, "Big and strong with outstanding skills." He also recalled his former student, "An outstanding young man. They didn't come any better."
To those of us in Suite A1 of Ontario Hall at the State University of New York at Geneseo, he was known as Phred. He insisted on the spelling after being dubbed that by the guy who nicknamed all of us, Kevin "Yogi" Butler. Hell, it was almost the end of the school year before I found out his real name was Don.
The best thing about spring at Geneseo was the guys from A1 gathering on the hill overlooking the lacrosse field and watching Phred set every school scoring record other than assists in a single game. He and I had on ongoing and very loud disagreement during games. I frequently pointed out to him—and the guy guarding him—that he always went right and needed to use his left hand more. He loudly replied one game, "When they stop me right-handed, then I'll go left." His scoring records and induction into the Geneseo Hall of Fame would indicate he was right.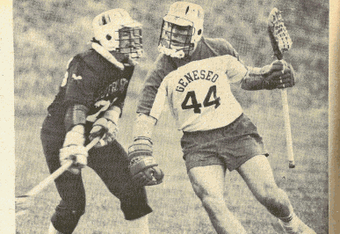 Graduation comes, life happens and it's 30 years later. You keep thinking about having a reunion. Not a try and get together amongst the hundreds at homecoming kind of reunion, but our own real reunion. Phred and I actually talked about it last fall for this coming summer. 
When all is said and done, a whole lot more is said than done.
About a month ago, four of us went to visit Phred.  I hadn't seen Mark, Dave or Andy since those days 30 years ago. It's amazing how quickly and easily you get transported back in time. We may be in our fifties, but we seemed like the same idiots we were in our twenties.
We'd been prepped, but it was still tough seeing the impact the chemo and steroids had on Phred physically. It didn't take long though for him to give one of us the finger, reminding us he was indeed the unmistakable Phred.
One of his friends brought over a DVD he made with still pictures of Phred's lacrosse-playing sons, 17-year-old Donnie and 15-year-old Dalton. Looking at the boys through their facemasks was startling. Staring back at us was Phred.
Then the highlight of the afternoon. Eight-year-old Dana came to visit her dad and his idiot friends. She set the tone by informing us that the rule was anyone who says a bad word has to pay a dollar. There at the end of her hand were the four of us wrapped around that cute little finger.
Andy played lacrosse at Geneseo also. He brought Phred a Geneseo Lacrosse shirt with the number 28 on it. Andy's number. Phred looked at him and asked where 44 was. Phred's number.
When all is said and done, a whole lot more is said than done.
As the four of us drove away, we decided there would be no more talking. Just doing. We were part of a group that started a chapter of the Sigma Phi Epsilon fraternity from scratch at Geneseo. Phred was the first vice president and we'd have never done it without his leadership.
Before we'd driven five minutes Mark called the guy who'd made those Geneseo Lacrosse shirts a few years back. Two weeks later, Geneseo Lacrosse 44 shirts were delivered to Phred and his family. To the four of us too. It was the last thing he wore.
No more talking. Just doing.
32 years after establishing the fraternity, we're starting another organization. The Don Litzelman Foundation.
Our plan is to raise money to provide some scholarship assistance to a Geneseo lacrosse player as well as a graduating West Genesee High player. We're also planning on helping youth lacrosse programs in both New Hampshire and Syracuse. We'd like to be involved with the American Cancer Society and perhaps more. We'd like to establish something in Phred's name associated with Geneseo lacrosse also. I like the idea of the Don Litzelman Award to honor the team's top attackman annually.
Our annual fundraising event will be a fantasy lacrosse league every spring, where each entrant will get a Division III college team. The entry fee will go to the Foundation and we'll track statistics to crown a "Champion" at a summer get together intended to laugh, tell stories and keep Phred with us.
No more talking. Just doing.
We're still in the process of all the paperwork to get this set up. If you'd like more information please contact me at bskinel@gmail.com.
By the way, it's okay to laugh at the shorts. Phred would.
Follow me on Twitter@sprtsramblngman.