Auburn Football: 5 Reasons Why Tigers Run Game Will Dominate in 2012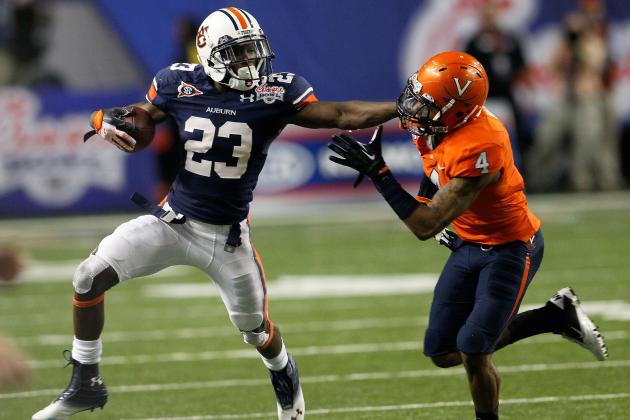 Kevin C. Cox/Getty Images

The Auburn Tigers have their work cut out for them if they wish to aspire to a better season than 2011, but their running game will not be among any of the deficiencies. Auburn has a strong running game heading into 2012.
Critics of the Tigers said they would have difficulty running the ball without Cam Newton. They subsequently said they no chance at all when Michael Dyer was suspended and ultimately transferred.
Onterio McCalebb's two-touchdown performance against Virginia in the Chick-fil-A Bowl proved otherwise. It showed that Auburn's running game was alive and well and ready to dish out some damage in 2012.
Here is why Auburn's underrated running game is going to give the SEC a "run for its money."
Begin Slideshow

»
Kevin C. Cox/Getty Images

Let's face it: Running the spread offense without a mobile quarterback at the helm is a pretty terrible idea. That's exactly what Auburn was forced to do in 2011 as Kiehl Frazier wasn't quite ready to take the helm.
Without a running threat at quarterback, the running backs are going to face a lot more adversity than necessary.
Frazier is going to rack up some rushing yards, but his running threat will give the Auburn backs a lot of breathing room. The run defenders will have to watch multiple targets as opposed to just one.
Though Frazier might not be Cam Newton, 1,000 yards rushing is not out of reach for him.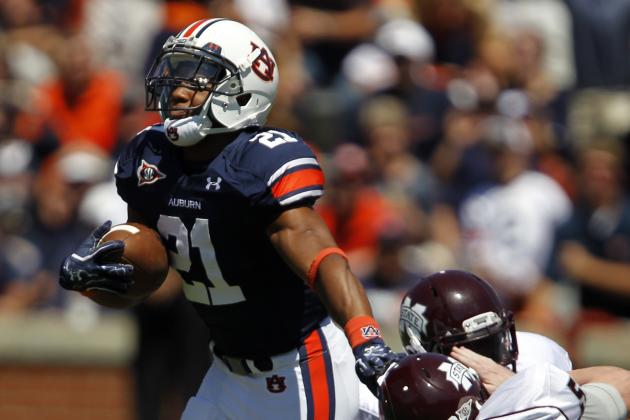 Butch Dill/Getty Images

This is a fact that is not lost on Auburn fans, but everyone else seems to think the Tigers are lacking talent and depth in the running back department.
Auburn may not have a former 5-star prospect at running back like Marcus Lattimore or Michael Dyer, but it has a long line of 4-star athletes.
Onterio McCalebb, Tre Mason, Mike Blakely, Corey Grant, and Jovon Robinson were all rated as 4-star running backs by Scout.com.
So far, they all look to be living up to that rating, especially McCalebb and Mason.
None of them have a "Heisman-quality" reputation—yet—but the Tigers running backs are one of the most solid groups in the nation.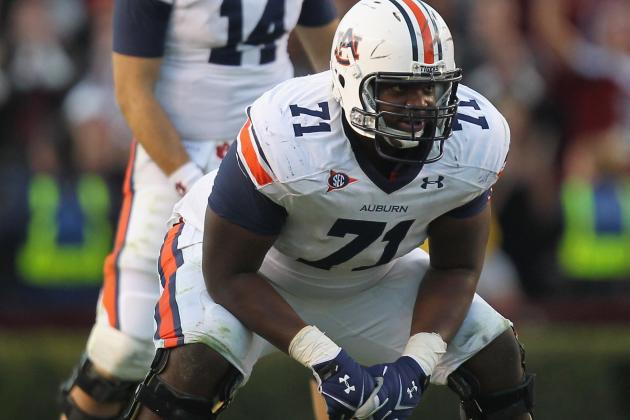 Streeter Lecka/Getty Images
John Sullen.
It is a myth that Auburn's running backs are too small to run between the tackles.
I've heard this far too many times, and the only basis for this argument is the fact that all of Auburn's backs are under 200 lbs, with the exception of Mike Blakely at 206 lbs.
The size of the Auburn running backs has nothing to do with their ability to attack between the tackles.
Those that flaunt this myth as truth forget that football is a team sport and even the best running backs can't do much without their offensive line. Just look at Mark Ingram's post-Heisman 2010 season where he only rushed for 875 yards.
Those that say the Auburn backs can't run between the tackles obviously haven't seen the offensive linemen between the tackles.
Both of Auburn's starting guards, Eric Mack and John Sullen, are over 330 lbs. They are massive linemen that will open some gigantic holes for the Tigers running backs.
Then there is the Tigers' 6'3'', 300-lb center, Reese Dismukes, who was on the SEC Coachs' All-Freshman team.
Dismukes is a beast in the trenches. He doesn't have the technique and footspeed of a left tackle, but that's why he plays center. His ferocity will allow him to push around defensive linemen and go toe-to-toe with any nose tackle in the nation.
Auburn's slim and speedy backs will have no trouble finding lines up the gut.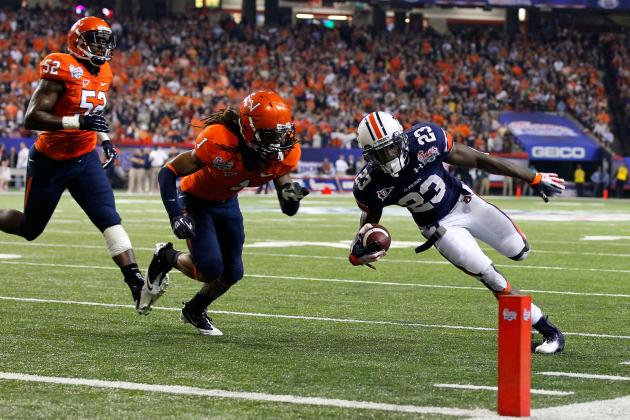 Kevin C. Cox/Getty Images

The Tigers backs can run between the tackles, but that's not where they will make their money.
The outside is where they will make defenses pay.
Some running backs can only have success on the outside with proper blocking, but Auburn's squad is so utterly fast that they can do a lot of it on their own.
Sure, they could use some help on the perimeter with pulling guards, but that's assuming the guards can keep up.
Making people miss and outrunning opponents is their greatest strength.
Three of Auburn's running backs run under a 4.4 40-yard dash, and Mike Blakely runs under a 4.5.
Onterio McCalebb leads the group in terms of being able to book it. He runs very close to a 4.3 and is constantly striving to lower that closer and closer to 4.2.
Auburn's Philip Lutzenkirchen is one of the nations best tight ends, and that is why he was able to get away with this silly touchdown dance.
But he's not just a receiving tight end. This guy can block. The only other tight end in the SEC that rivals his blocking ability is Alabama's Michael Williams.
This slide piggybacks on the previous slide, as Lutzie's ability to block on the outside will be instrumental to the success of the Auburn running backs.
He can go up against just about any linebacker, and teams that run 3-4 defenses are going to have a lot more trouble with him as they won't be able to spare a 300-lb defensive lineman to push Lutzie out of the way.
Home run? This ain't baseball, but close enough.