New York Islanders: Is John Tavares a Legitimate Hart Trophy Candidate?
May 31, 2012

Bruce Bennett/Getty Images
Henrik Lundqvist. Evgeni Malkin. Steven Stamkos. John Tavares.
One of these things is not like the other. Or is it?
The Hart Memorial Trophy of the league is defined by most as the player most valuable to his team. If you took any of those four players off of their respective teams, would the team suffer significantly?
The only other player that you could make a case for besides John Tavares is Henrik Lundqvist of the New York Rangers.
Lundqvist, a Hart Trophy candidate is also a top candidate for the Vezina Trophy, which awards the best goaltender of the NHL. Lundqvist was phenomenal, no doubt about it, and he is deserving candidate for both awards. However, take him away from the Rangers and what do you have?
You have Marty Biron, who was 12-6 with a 2.46 goals against average and a 12-6-2 record. Prorating his numbers into an 82-game season and you have a 48-24-8 record, a very similar record to Lundqvist's.
I'm not saying Biron is comparable to Lundqvist's skill set. However, start Biron for a full year over Lundqvist and the numbers suggest the Rangers are still a playoff team.
Evgeni Malkin's candidacy changes a bit without Sidney Crosby. Considering Crosby was out a good portion of the year, taking Malkin away from the Penguins would greatly hurt the Pittsburgh Penguins.
Would the Tampa Bay Lightning miss Steven Stamkos? Taking Stamkos out would put a major dent in their scoring, but with Vincent Lecavalier and Martin St. Louis are both certainly capable of making up some of that lost production with 300+ extra shots to go around.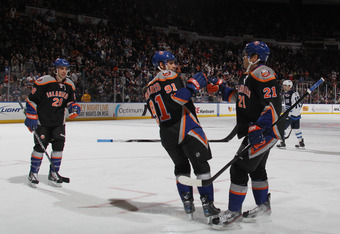 Bruce Bennett/Getty Images
On the other hand, lets take a look at John Tavares. Fresh off his social media campaign, is Tavares a worthy Hart Trophy candidate?
Tavares had 30 goals, 51 assists in 82 games, falling just short of a point-per-game average. Do the numbers suggest a Hart Trophy candidate? They are borderline, but probably not.
However, take a closer look. The Islanders scored just 203 goals on the whole season. This would mean that Tavares earned a point in 40 percent of all goals scored by the team. Only Stamkos had a higher percentage in all of the NHL.
Do the experiment we saw earlier with Tavares. Where are the Islanders without him? Ask yourself this question: Realistically, how many wins do the Islanders finish with? They finished with 34 with him. The Islanders may struggle to even manage 10 wins without Tavares on the ice.
Where would the goals come from without Tavares? There is Matt Moulson, but in a world where Tavares is batman, Moulson is Robin. Moulson is a good player but he is not a 36 goal scorer without the playmaking abilities of Tavares. Next would be Kyle Okposo, who also scored the majority of his goals playing on a scoring line alongside Tavares.
Should Tavares be the Hart Trophy recipient? No. Should he be a finalist? Probably not.
However, he and his value to the team cannot be overlooked. Don't be surprised if Tavares takes home a couple Hart Trophy awards over the next decade.
Christopher Benini is a New York Islanders Featured Columnist for Bleacher Report and can be followed here.