2012 NBA Free Agents: How Draft Lottery Drawing Will Affect Biggest Names
May 31, 2012

Chris Chambers/Getty Images
The Nets, formerly of New Jersey but now of Brooklyn, were easily the biggest losers in the drawing of 2012 NBA draft lottery.
In what can now be described as a colossal failure of epic proportions, the Nets are set to move to Brooklyn with a leading duo of Brook Lopez and Marshon Brooks.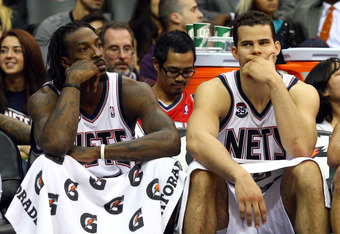 Chris Chambers/Getty Images
By failing to draw a top three pick, the Nets are forced to send their No. 6 pick to the Portland Trail Blazers as part of the deal that landed them Gerald Wallace for all of 16 games—Wallace is expected to opt-out of his contract and test free agency.
We can even throw in the fact the Kris Humphries, who quietly had another very solid season, is hitting free agency as well.
Had the Nets landed a top three pick they could then have started working on another deal with the Orlando Magic to bring Dwight Howard to Brooklyn. A Yahoo! report that Williams denied via Twitter said the Nets "needed" bring Howard in for him to stay with the Nets.
Whether the there is any truth to that remains to be seen, but one has to believe Williams is thinking of going elsewhere now that the Nets have little ammunition, if any, to make substantial changes to the roster.
And we have to believe that Wallace would return to Brooklyn for less money if he had the chance to play with Williams and Howard.
In the end, should everything fall apart, the Nets could lose out on three players (Williams, Howard and Wallace) because of this year's lottery drawing.
Here's a look at a few other big names directly affected by the lottery.
Steve Nash
It remains to be seen what Nash is going to do, but we know he wants to stay in the desert as long as they make substantial changes to the roster. Phoenix landed the No. 13 pick, as expected, and are very much on the radar for a point guard selection, but that doesn't help Nash all that much.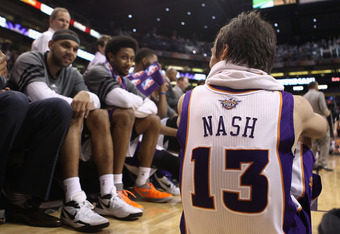 Christian Petersen/Getty Images
By the time Phoenix is on the clock they're likely going to miss out on the instant-impact rookies who can help ease Nash's concerns. Thus, they're more likely to consider the option of preparing for his eventual departure.
A lot of this still hinges on the early stages of free agency but Nash, who was recently named the GM of Canada's national hoops team, knows all too well the workings of basketball business.
Carl Landry
The Hornets were gift-wrapped the No. 1 overall choice, so if there was any remaining uncertainty as to whether or not Carl Landry would be back next season it has now gone out the window.
The 28-year-old power forward is beyond expendable with Anthony Davis coming to town and he's already cropping up on teams' radars. John Mitchell of Philly.com's "Deep Sixer" blog says he's one of the forwards the 76ers are interested in.
Marcus Camby
The Rockets have a difficult decision to make on two 30-plus-year-old centers and two mid-round draft picks.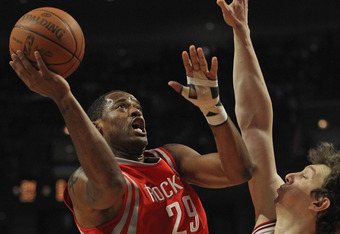 Jonathan Daniel/Getty Images
Camby is 38-years old and Samuel Dalembert is 31-years old. The Rockets own the No. 14 and No. 16 picks in this year's draft. They have a need at shooting guard behind Courtney Lee and they desperately need some talented youth at center.
They'll likely got both (assuming they don't trade away one of the picks for another veteran) and they're likely to retain one of their veteran centers.
Camby, although older, still claims he has good years left and they're likely to believe him. Although this team imploded down the stretch, Camby averaged 8.5 points and 9.8 rebounds per game in the final month of the season.
Look for the Rockets to do what they can to hold onto him and have him help with the development of a younger player.