Lena Greenberg: Scripps Spelling Bee Has Superstar in Finals-Bound Speller
May 31, 2012

From the land of great competitors and brilliant minds comes the queen of such exploits. Lena Greenberg is headed to the Scripps National Spelling Bee final, and she plans on dominating. 
It was a site of utter excitement and sheer concentration on Thursday morning as one speller after another stepped up to the Microphone of Justice (my name for the Bee's mic after I have a full pot of coffee).  
One after another were sent to the Couch of Death, or the loser's corner for the less dramatic of you folks. 
One kid that never made her way to the couch was Lena Greenberg. Simply put, she was flawless. 
You only need to watch a few moments of this annual feast of entertainment to pick out your favorites. As for me, I am Team Greenberg as we head into the Finals, which will be aired on ESPN at 8 p.m. ET. 
She has a very unique way of carrying herself; think Rebecca Sealfon with a more angst-riddled shyness. 
Per the Scripps site, Greenberg is a home-schooled eighth grader from Philadelphia who is a published author. 
Basically, she does more before breakfast than you have done in your entire life, like a smaller, female Chuck Norris. 
I was already on board with Greenberg but she made me actually shout, "You go, girl," when she dominated the word cholecystitis. 
Upon hearing the word, she looked like she had been asked to diffuse a ticking time bomb.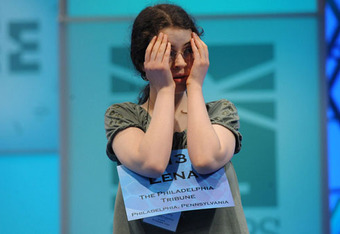 Her mother was shown with her face buried in her hands. I was at home with sweaty hands and losing hair at a rapid pace. 
It was drama of the highest order, and Greenberg was tasked with answering the call. 
She took a shot in the dark, or that's what her face seemed to suggest. When she spelled the word correctly, I shouted with glee, her mother was in a frantic celebration and the world was a better place. 
Phew. That was like LeBron James closing his eyes and draining a game winner.
The Bee is back with a vengeance. Words that I have never seen before in my life come at a steady clip, and kids who are smarter than I will ever be will spell them. 
Lena Greenberg is here to rule the world one letter at a time, and you don't want to miss it.