NBA Draft Lottery 2012: Teams Most Likely to Gamble on Potential
May 31, 2012

Streeter Lecka/Getty Images
Every player taken in the NBA draft lottery has some form of potential. In most cases the kids are between the ages of 19 and 21-years-old with only one or two years of college basketball under their belts. Thus, most of them haven't hit their peaks yet.
Some have, but there is always a bit of room for improvement otherwise they wouldn't be selected so high. And, conversely, there are players who haven't shown much in terms of production, but have insane measurables, athleticism, or a freaky combination of both.
Selecting a player on potential alone is a dangerous game, yet every year there are teams that think they've got something special.
Here's a look at a few teams most likely to gamble on potential in this year's draft.
Portland Trail Blazers
With two picks in the lottery, the Blazers technically have the "luxury" of taking a chance with one of their picks.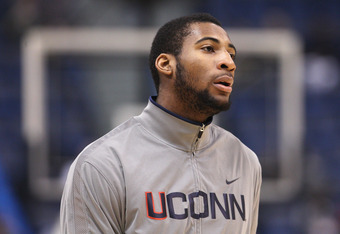 Elsa/Getty Images
They acquired the No. 6 overall selection from the Nets in exchange for what boiled down to a 16-game rental of Gerald Wallace.
Portland has a need for just about everything, but more importantly is their need for a star player.
With picks at Nos. 6 and 11 expect Portland to take a risk on someone who is far from guaranteed success (i.e. Andre Drummond, Perry Jones III, Austin Rivers, Jeremy Lamb and Damian Lillard).
Golden State Warriors
The Warriors are rumored to want out of the No. 7 overall pick and that means even if they can't get the deal they want by the time clock ticks down, they'll take a chance on one of the more attractive, riskier players in hopes of striking a deal.
Two players who stand out for the Warriors are the Joneses, Perry of Baylor and Terrence of Kentucky.
Both players have elite potential and have produced at the collegiate level, but they've struggled to consistently perform at their highest level.
If they couldn't do it in the collegiate ranks, what make us believe they'll do it in the pros?
Risky, risky.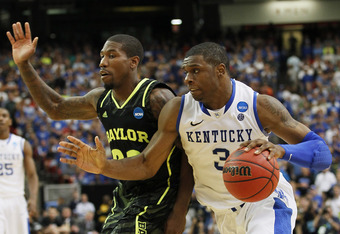 Kevin C. Cox/Getty Images
Houston Rockets
The Rockets don't have two lottery selections, but they do own two picks in the first round at Nos. 14 and 16.
They need a big man and they need a two-guard, so depending on how the board falls they could be looking at one of the more proven players or, if the lottery teams go conservative, they could be looking at one of the Joneses or Rivers.
GM Darryl Morey is no stranger to taking chances so expect to jump on somehow who immediately fills a need while also looking for a potential superstar with one of the picks.
They should've made the playoffs this season but suffered an epic meltdown and wound up with the last pick in the lottery. 
They're going to be eager to make something of it as they hope not to be back next year.