Looking Ahead to the Minnesota Vikings' Most Important Game of 2012
May 31, 2012

Patrick Smith/Getty Images
The most important episode of any television show is the season finale. Let's face it, the season finale has one job to do and one job only—keep your interest in coming back for next season and keeping the momentum going over the summer.
It's the same with the Minnesota Vikings.
The last game of the 2012 season will carry momentum into the 2013 season and that momentum can be positive or negative.
To be truthful, while the Vikings could be a surprise playoff team or contender, it's more likely that they struggle this season as they rebuild.
When the season ends, they are going to want to carry on some positive energy into the next season. Even if they have a winning record, they're going to want the same.
The Vikings have begin thinking about the future, and that means 2013 as well as 2012.
So, when they welcome the Packers on December 30th, it will be a meaningful game for them regardless of what it means to the Packers.
I've spoken before about the opportunity to play spoiler at the close of this season, but this goes beyond that.
This is about setting a tone and finishing on a strong note.
We can debate which is the best team in this division all day but the Packers will always be in the argument and barring some disaster, likely the answer to that debate.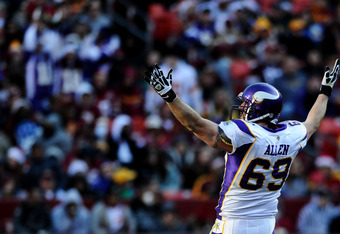 Patrick Smith/Getty Images
Taking them down is not an easy task for anyone, much less a rebuilding team.
There are two useful outcomes to that game. Ideally a win is what you aim for and could be huge for a team like the Vikings.
A win puts a stamp on this season and signals that the Vikings are on the rise. That's critical not just for the league and fans to know, but the team. It's tangible proof that everything they've done that year left them better off.
Plus it puts things in a positive light for next season, and ends things on an up note.
On the other hand while a loss is a disappointment, a close game or a game where they hung tough or even led for a while, could be as valuable as a win.
Last year the Vikings lost both games to the Packers, but came back at the end of the first contest. (The second, well, the less said about that, perhaps the better.)
A strong showing, even in a loss, builds momentum and gives a team something to shoot for. 'We were close, next time, we take them down!'
More than likely it will be a very tough game. Even if, like last year, the Packers have clinched and Aaron Rodgers is resting, the Packers will be a hard team to beat.
Doing so will strike the perfect tone for the off-season and beyond.