2012 NBA Mock Draft: Full 1st-Round Predictions and Analysis
June 20, 2012

Kevin C. Cox/Getty Images
With the 2012 NBA draft rapidly approaching, 60 potential NBA prospects will hear their names called, and their ultimate goal of making it into the NBA will have been reached.
While this isn't the most potent draft class in recent years, there are certainly plenty of players who can come in and make instant impacts for whatever teams end up drafting them. In fact, past the big-name stars like Anthony Davis, Michael Kidd-Gilchrist and Thomas Robinson, there should be plenty of talent from the remaining teams to choose from.
Today, we'll give you full first-round predictions and analysis of the 2012 NBA draft.
1. New Orleans Hornets - Anthony Davis, PF/C, Fr., Kentucky
Davis is the Andrew Luck of the 2012 NBA draft. He's an absolute lock to be the first player taken. He'll give the Hornets an elite center for the next 10 years to build around.
2. Charlotte Bobcats - Michael Kidd-Gilchrist, SF, Fr., Kentucky
As good as Davis is going to be in the NBA, his former teammate at Kentucky might be even better. Kidd-Gilchrist is one of the best scorers in this draft, but it is his all-around game that will force the Bobcats to draft him.
With Kidd-Gilchrist and last year's first-round draft pick Kemba Walker, the Bobcats should be able to stick with teams offensively.
3. Washington Wizards - Thomas Robinson, PF, Jr., Kentucky
When you look at the Wizards' roster, there are holes at nearly every position except point guard. Instead of grabbing another scorer like Harrison Barnes or Bradley Beal, a much wiser move for Washington would be to improve its interior play.
An interior presence like Robinson will help Wall develop and take a lot of pressure off of him. Robinson can score, rebound and play defense and is as NBA-ready as any big man in this draft.
4. Cleveland Cavaliers - Harrison Barnes, SF, So., North Carolina
This may seem a little high for Barnes to be drafted, but there may not be a better pure scorer in this draft than him. He can score from anywhere on the court, and if he can learn to be stronger around the rim, he could become an elite player.
Giving Rookie of the Year Kyrie Irving a player like Barnes will begin pointing the Cavaliers in the right direction.
5. Sacramento Kings - Perry Jones III, SF/PF, So., Baylor
Jones is one of the most puzzling prospects in this year's draft. There is no doubting his talent, but he never really put it all together during his time at Baylor.
However, as we get closer to the draft, I believe Jones' name will start rising up the board. There is simply just too much potential oozing from Jones for the Kings to pass him up. The trio of Jones, DeMarcus Cousins and Tyreke Evans could be extremely lethal.
6. Portland Trailblazers (from New Jersey) - Andre Drummond, PF/C, Fr., Connecticut
The Trailblazers' biggest need is at point guard, but they also need to add some youth to their front line. Drummond has a ton of potential, and while his game isn't overly polished, he has an NBA-ready body to bang down low in the league.
If Drummond can develop quickly, he could team with LaMarcus Aldridge to form one of the best front lines in the league.
7. Golden State Warriors - Bradley Beal, SG, Fr., Florida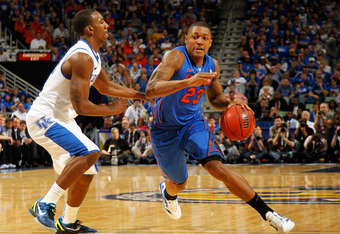 Chris Graythen/Getty Images
Losing Monta Ellis left a huge void in the scoring department for Golden State, and it will need to replace some of that scoring power early in the draft. Beal could end up going much higher than this, but the Warriors would be thankful if he lasted this long.
Not only will Beal be able to instantly add another scoring option for the Warriors, but also his ability to play some point guard, rebound and succeed defensively could make him a better overall player than Ellis.
8. Toronto Raptors - Damian Lillard, PG, Jr., Weber State
The Raptors are a difficult team to figure out because they have some talented players on their roster, but none of them are really star players.
Small forward is a bigger need, but Lillard is the best point guard in this draft and Jose Calderon is no Derrick Rose or Chris Paul. Not only will Lillard be able to effectively run the offense in Toronto, but it also wouldn't be a surprise at all if he ended up being the leading scorer for the Raptors in just his rookie year.
9. Detroit Pistons - Jared Sullinger, PF, So., Ohio State
There is no doubting Sullinger's willingness to do whatever it takes to help his team win, but his lack of athleticism could drop him much farther down on draft day.
However, the Pistons need a power forward to team with rising superstar Greg Monroe, and the duo of Sullinger and Monroe could be deadly in the Eastern Conference.
10. New Orleans Hornets (from Minnesota) - Kendall Marshall, PG, So., North Carolina
With Eric Gordon and first overall pick Anthony Davis providing a solid core for the Hornets to build around, New Orleans could be a point guard away from making a run at the playoffs. With Marshall still on the board, the Hornets will certainly be thankful to get the best pure point guard in the draft.
Marshall is an elite distributor who thinks of his teammates first. His ability to score needs to improve, but the Hornets will be more than happy to wait on that part of Marshall's game to develop. With this young core in place, New Orleans could become a perennial powerhouse in just a short amount of time.
11. Portland Trailblazers - Jeremy Lamb, SG, So., Connecticut
With the Trailblazers addressing their interior presence with their first pick, they can now look to add some scoring power to their roster.
While Lamb's stock dropped some during the college season, he is still one of the better scorers available in this year's draft. He has the ability to score from all over the court, but he'll need to get stronger to be successful in the NBA.
If he can do that, Portland could be a surprise team during the 2012 season.
12. Milwaukee Bucks - Meyers Leonard, C, So., Illinois
The Bucks have one of the better backcourts in the entire NBA with Monta Ellis and Brandon Jennings, but they desperately need to improve their frontcourt. 
Leonard is one of the few true centers available in this draft, and it's extremely possible that he could see his stock soar as we get closer to the draft. He is still a raw prospect on both ends of the court, but his size will be too intriguing for a team like Milwaukee to pass on.
13. Phoenix Suns - Austin Rivers, SG, Fr., Duke
The Suns will need to draft the best player available at this point in the draft, and with their frontcourt better than their backcourt, they'll likely look to add a guard that can score to their roster.
Rivers is a little small for a shooting guard in the NBA at only 6'5", but his ability to get to the rim at will could make him a dangerous player early in his career. There is no doubt that the Suns would love to get Steve Nash's eventual replacement with this pick, but with Lillard and Marshall already off the board, Rivers is their best pick.
14. Houston Rockets - Terrence Ross, SG, So., Washington
Ross is going to be a name that will fly up the boards as the draft gets closer and closer. While he wasn't overly dominant during his time at Washington, his game translates very well to the NBA.
He has good vision and can hit shots from all over the court. He'll need to get quicker in order to beat defenders off the dribble, but his intelligence and overall basketball IQ will instantly help the Rockets.
15. Philadelphia 76ers - John Henson, PF/C, Jr., North Carolina
The 76ers are one of the few teams in this year's draft that don't really have any major holes on their roster. They have a solid core of players and will be looking for a player that can have an effect on both sides of the ball.
Even though Henson needs to get bigger and stronger to be a threat on offense, he is one of the best interior defenders available, and that will make up for his current lack of offensive skills. Henson could turn out to be one of the best players taken this year.
16. Houston Rockets (from New York) - Terrence Jones, SF/PF, So., Kentucky
With their second pick of the first round, the Rockets will once again look at the best player available at this point. It's tough to project exactly where Jones will play in the league, but he is simply too talented to pass up at this point.
He already has a polished offensive game and he can also play solid defense and rebound at a high rate. If he can't fit into a specific position, Jones could flame out early in his career. However, his overall talent suggests that he'll be able to adapt and provide a solid all-around game for Houston.
17. Dallas Mavericks - Marquis Teague, PG, Fr., Kentucky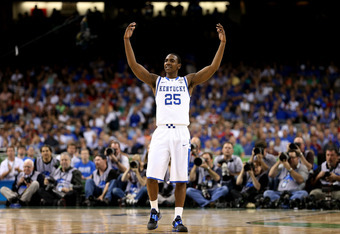 Chris Graythen/Getty Images
With Jason Kidd older than Noah's Ark, the Mavericks definitely need to look to replace him sooner than later. There is quite a bit that Teague needs to improve upon, but his upside is what will force Dallas to draft him.
While Teague will definitely need to improve his decision-making ability in the NBA, he can distribute well enough to be a key contributor from day one. Once he improves mentally, he could be quite the player for Dallas.
18. Minnesota Timberwolves (from Utah) - Tyler Zeller, PF/C, Jr., North Carolina
I know it sounds crazy for the Timberwolves to add another big man to their roster, but the one thing that Minnesota lacks is a true center, and Zeller could become that for them.
He still needs to toughen up and become more physical in the post, but his size, defensive ability and offensive potential will give the Timberwolves a nice player to pair with Kevin Love down low.
19. Orlando Magic - Moe Harkless, SF, Fr., St. John's
Harkless is one of the more "unknown" players of the 2012 NBA draft, but just because the common fan doesn't know his name doesn't mean NBA teams aren't aware of his skills.
He's coming off a solid freshman campaign for St. John's where he showed the ability to score nearly at will. Now, he won't be able to do that right away in the NBA, but at 6'8" with athleticism to share, Harkless could definitely turn into the elite scorer that Orlando desperately needs.
20. Denver Nuggets - Dion Waiters, SG, So., Syracuse
It is definitely a possibility that Waiters ends up going much higher than this when the actual draft rolls around. However, there are too many questions about his game for a team to take him earlier in the draft.
The biggest concern with Waiters is his height. At 6'4", he is another undersized shooting guard who doesn't have the ball skills to transition to point guard in the league. Despite his ability to play physical basketball on both ends of the court, he could end up being a role player in the league.
21. Boston Celtics - Arnett Moultrie, PF, Jr., Mississippi State
With Kevin Garnett and Ray Allen both question marks for the 2012 season, the Celtics will look to add talent at both those positions for safety reasons.
With their first pick, look for them to add one of the top post players in Moultire. He has an advanced offensive game for a player his size, but his ability to defend numerous positions is what will make him so valuable to a team like Boston.
22. Boston Celtics (from L.A. Clippers) - Doron Lamb, SG, So., Kentucky
With their second of back-to-back picks, look for Boston to address Ray Allen's replacement. While Lamb certainly isn't the shooter that Allen is, he can still hit the outside shot consistently enough to be a threat offensively.
However, much like Moultrie, Lamb's greatest asset to Boston will be his ability to be a lockdown defender from day one. With Lamb and Moultrie joining Rajon Rondo, the Celtics will have one of the best young defenses in the league.
23. Atlanta Hawks - Royce White, SF, So., Iowa State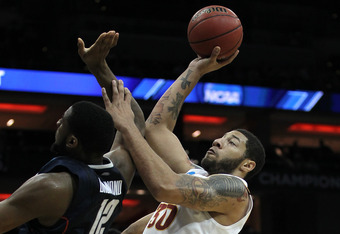 Jonathan Daniel/Getty Images
There may not be a bigger risk/reward player in the draft this year than White. His versatility is what makes him such a dangerous player, but his off-court issues will make teams nervous about his future.
Despite standing 6'8", White can successfully play four positions on the court. One issue with him is that he often needs the ball in his hands to produce on offense, but that simply won't work with the Hawks.
If Atlanta is willing to take the time to develop White's potential, it could end up getting one of the best players this year.
24. Cleveland Cavaliers (from L.A. Lakers) - John Jenkins, SG, Jr., Vanderbilt
The Cavaliers passed on a shooting guard with the fourth pick of the 2012 NBA draft, and will use their second pick of the first round to add another dynamic scorer to their roster.
Jenkins is one of the best shooters in the draft and can hit shots from anywhere on the court. His size (6'4") could cause him some early difficulties, but if Kyrie Irving can find him when he is open, he could become a deadly scorer for the Cavaliers.
25. Memphis Grizzlies - Andrew Nicholson, PF, Sr., St. Bonaventure
Nicholson is a big man that can step out and hit jump shots on a consistent basis. He'll need to bulk up in order to be truly effective on the defensive side of the ball, but he has the maturity to commit himself to improving.
He should fit nicely with what the Grizzlies like to do with spreading the floor. While he may never become an All-Star player, he should develop into a solid role player for Memphis.
26. Indiana Pacers - Tony Wroten Jr., PG/SG, Fr., Washington
Wroten is one of the most confusing prospects to peg where he'll be drafted on draft day. He could end up going much higher than this or he could end up sliding into the middle of the second round.
The Pacers will simply be too intrigued by Wroten's size (6'6") and his ability to effectively play point guard. By drafting him, they'll be able to move George Hill back to his more natural position of shooting guard.
Had Wroten decided to stay in school for another year, it's likely that he would have been drafted much higher than this. However, he has a ton of upside and could become a vital piece to the Pacers' organization.
27. Miami Heat - Fab Melo, C, So., Syracuse
For the past two seasons, the Heat have been searching for an interior presence. Melo has the size to start in the NBA, but he'll need to show that he is mature enough to make an impact in the league.
Melo struggled with conditioning during his two years at Syracuse and was also suspended during the 2012 NCAA Tournament due to academic issues. However, if Melo can stay committed to the game, he has all the tools to become a solid starting center for the Heat.
28. Oklahoma City Thunder - Jeffery Taylor, SF, Sr., Vanderbilt
With such a complete roster, the Thunder will be looking to get a player that can step in from day one and contribute this late in the draft.
That player is Taylor, who will be able to contribute instantly on both sides of the court. He has the ability to be a shutdown defender off the bench, and his athleticism allows him to score in a number of ways.
Adding a player like Taylor will make the Thunder an even more dangerous team during the 2012 season.
29. Chicago Bulls - Evan Fournier, SG, France
The biggest issue for the Bulls this offseason will once again be at the shooting guard position. While Richard Hamilton played well last year, the Bulls need to get younger at that position.
NBADraft.net had this to say about the 19-year-old prospect:
A player that is very advanced for his age and considered the top International prospect for the 2012 NBA draft ... If he is inserted into a well balanced system, he could have an immediate impact on the game, and could be an important member of a supporting cast.

 
30. Golden State Warriors (from San Antonio) - Quincy Miller, SF/PF, Fr., Baylor
With their second pick in the first round, the Warriors will be looking to add a player with an immense amount of upside.
Few players have the potential that Miller does, but he is another player who came out a year early. Had he stayed one more year in college, he could have been a top-five pick in the 2013 NBA draft.
However, if Miller's size and athleticism get fully developed, he could become one of the premier players in this draft.