New York Jets Desperate for Leadership, Possible Revis Holdout Sets Bad Example
June 1, 2012

Nick Laham/Getty Images
Of the Jets' five captains last season, Darrelle Revis was the only one to deserve the honor and play up to expectations.
The 26-year-old All-Pro cornerback anchored the league's fifth-best pass defense, tallying four interceptions and 21 pass deflections, while only giving up 184 yards.
Revis made the Pro Bowl for a fourth consecutive season, but the Jets may once again have to ante up if they want their star cornerback in by training camp, as Gang Green may be dealing with their second Revis holdout in three years.
Back in April, Revis hinted to ESPN reporters that he may not be at training camp on time.
I just don't know, I'm not saying I am going to hold out; I'm not saying I'm not going to hold out. Right now my focus is just being on the team. ... I'm getting ready for the 2012-13 season. That's all I can do.
Yesterday, Revis again refused to clarify on his stance to New York Daily News beat writer Manish Mehta. When asked if he would definitely report to training camp on Day 1, Revis said, "I don't know."
Since renegotiating his contract in 2010, Revis has earned $32.5 million, but including the $7.5 million due to Revis this season, he will make just $13.5 million over the final two years of his deal.
While Revis has been the glue to the Jets' pass defense since he arrived, a holdout to start training camp would demonstrate poor leadership for a team desperate for some.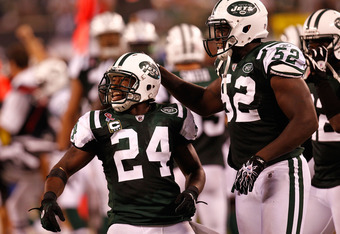 Jeff Zelevansky/Getty Images
This team needs unity and by putting himself ahead of the team, he is setting a poor tone for the beginning of camp.
While poor team play had a hand in last season's collapse, the lack of leadership may have ultimately led to the downfall.
Revis led by example and played his heart out last season, but in the end, the dysfunction in the locker room was too great for one player to handle.
However, if Revis doesn't show up to training camp, at a time where this team needs its best player to be in tip top shape by September, he is working against exactly what this team is going for.
Chemistry and unselfishness.
The lack of a training camp in 2011 proved to be the Jets' Achilles' heal last year. The offense never got in a flow after adding wide receivers Plaxico Burress and Derrick Mason. They also lost a lot of veteran leadership with the retirements of Tony Richardson and Damien Woody.
Santonio Holmes expressed his displeasure with the Jets' passing attack several times, eventually blowing up and causing a scene in a losing effort to close out the season against the Dolphins.
After his holdout in 2010, Revis failed to perform at the level that he had the previous season. He was not in the best shape and missed three games due to injury.
Unless the Jets are willing to open up their wallets again to Revis, we could be looking at a similar situation.