NBA Draft 2012: 2nd-Round Sleepers Who Will Star as Pros
June 1, 2012

Jonathan Ferrey/Getty Images
With only two rounds, it can be difficult for teams to find "sleepers" in the NBA draft, but as players such as Manu Ginobili of the San Antonio Spurs and Monta Ellis of the Golden State Warriors have shown in recent years it's possible to find players in the draft's second round who go on to become very productive NBA players.
With that said, here's a look at a trio of players who could fit that bill this season.
Drew Gordon, PF, New Mexico
New Mexico forward Drew Gordon was once one of the most coveted high school players in the nation.
However, after one star-crossed year at UCLA and a transfer to New Mexico, Gooden has a reputation to rehabilitate with NBA scouts, especially in light of a February expose by by George Dohrmann of Sports Illustrated that detailed the implosion of the UCLA program during Gooden's one season in Los Angeles.
For his part, Gordon realizes that teams may well question his work ethic and coachability after the scathing review of his time with the Bruins, and the 6'9", 241-pound senior recently told The San Jose Mercury News that he's ready to answer any questions teams may have about his time in California.
Once people get a sense of my character and have a chance to see how I really act, they'll realize that the impression of that article is not accurate. We were freshmen, and we weren't getting much playing time. So we did take advantage of the college life and make some ill-advised decisions. But when I read that article, there was so much negativity there. It was hurtful.
Gordon did go on to post two solid seasons for the Lobos, averaging a double-double each of the past two years. Gordon's post game could use some work and he could stand to add some bulk. On the other hand, if Gordon can show scouts that he's learned from his mistakes his combination of offense and defense could provide a team towards the end of the draft with an excellent value.
Draymond Green, SF/PF, Michigan State
It's not his reputation that presents NBA teams with a quandary where Michigan State forward Draymond Green is concerned, but his size. More appropriately, Green has too much of one kind and not enough of the other.
At only 6'6", many NBA teams likely consider Green too small to play power forward, while at 235 pounds those same teams may consider Green too big to guard small forwards, leaving the Spartans standout stuck in a "tweener" limbo of sorts that damages his draft stock.
However, the reigning Big Ten player of the year did post over 16 points and 10 rebounds a game a season ago, and while many draft pundits are predicting a dip into the second round for Green, Utah Jazz executive Walt Perrin recently told Adam Biggers of Yahoo! Sports that Green would be a steal at that point in the draft.
We really like Draymond. If he goes in the 20-to-30 range, which I think is an accurate estimation at this point, he'll be going to a pretty good team that might be able to give him time to develop. Teams will want to figure out if he can play the 3 (small forward) or be a small 4 (power forward) - or play both. Our league has gotten smaller, so we do have some 6-7 and 6-8 power forwards.

 
Mike Scott, PF, Virginia
Virginia's Mike Scott was a first-team All-ACC performer in 2011 after averaging 18 points and 8.3 points per game for the Cavaliers as a senior, and the 6'8" power forward developed into a fine rebounder and solid post player over the course of his four seasons in Charlottesville.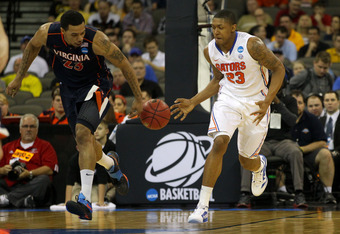 Doug Pensinger/Getty Images
Granted, at only 237 pounds Scott is a bit undersized to play power forward in the NBA, and his lack of elite athleticism and relatively advanced age (24) may make him something of a low-ceiling pick in the 2012 NBA draft's second round.
Taking that into consideration, however, Scott's polished, well-rounded game and jump shooting ability also makes him a pick with a high floor, which should make Scott worth a look from teams picking toward the draft's conclusion that are searching for frontcourt help.