NY Giants: Why Hakeem Nicks' Injury Shouldn't Cause Worries
May 31, 2012

Elsa/Getty Images
Last Thursday, news came out that New York Giants wide receiver Hakeem Nicks fractured his right foot during OTAs. 
As a fan, my natural first instinct was to begin panicking and trying to justify the Giants still having a successful season in the absence of the team's 2011 leading receiver. 
After a week of frantic deliberation and research, I've started to get comfortable with the idea that this is by no means the end of the world or a sign that the Giants are in deep trouble this season.
Upon being injured, the Giants gave Nicks a 12 week timetable for a return. Nicks, on the contrary, ended a recent phone conversation with Coach Tom Coughlin by stating confidently that he will return for the beginning of training camp.
Giants training camp begins July 26 at the University of Albany. If Nicks were to return to full health then, he would be cutting a full month off his expected recovery time.
Team spokesman Pat Hanlon squashed this speculation, calling it "overly optimistic" and reiterating the idea that the team intends on using the full 12 weeks for Nicks' recovery.
Despite his eagerness to return as soon as possible, Nicks has accepted the team's timetable, but has "no doubt" that he will be ready for the season opener on September 5 against the divisional rival Dallas Cowboys.
It would be flat out silly for the Giants to rush Nicks back early in training camp. He is the teams clear cut No. 1 receiver and has had three outstanding seasons in New York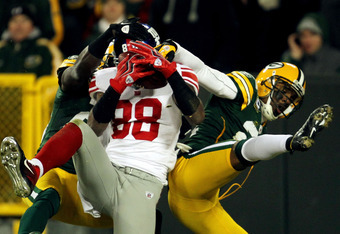 Jonathan Daniel/Getty Images
Over those three seasons, he has developed quite an impressive chemistry with quarterback Eli Manning. I expect this experience and success to allow Nicks a nearly seamless re-entry into the No. 1 receiver role, even if he misses the majority of training camp.
Because he and Eli have always worked so well together, the Giants have no reason to rush Nicks back and should feel comfortable requiring him a setback-free full recovery.
Although it's never a positive for a team to use their No. 1 receiver, I've learned to view the bright side of this situation. After all, there is no use dwelling on something you can't change.
The Giants are very deep in their receiving corps. Excluding Hakeem, the depth chart for the position should look something like this going into training camp: Victor Cruz, Domenik Hixon, Rueben Randle, Ramses Barden and Jerrel Jernigan.
Cruz has proven to be a reliable option who demands attention from opposing defensive coordinators every time he steps on the field.
Hixon has suffered two torn ACLs in the past two years, but I've always viewed him as a player who has a ton of potential if he could stay healthy for an entire season. His recovery seems to be going extremely well, and according to the coaching staff, he's been quite impressive during OTAs.
Rueben Randle was the Giants' second-round pick this year out of LSU. He is a player that the team and fans expect to immediately compete for the role of third wide receiver.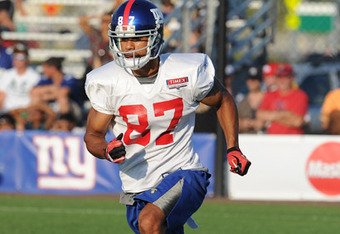 By now, Giants fans know Ramses Barden as a player with the physical tools to be a beast. Unfortunately, he has yet to come around. It is no secret that this is a make-or-break year for Barden and seemingly his last chance to prove to the Giants that they made the right choice by trading up to draft him in the third round three years ago.
Jerrel Jernigan was the giants' third-round pick in 2011 out of Troy University. He spent most of his time last year returning punts and kickoffs, finishing with goose eggs across all receiving categories. Despite not catching a single ball last year, Jernigan is a speedster who, with a full offseason, could potentially compete for the third receiver role.
The Giants also have a number of undrafted free agents competing for roster spots, including Dan Depalma and Brandon Collins. With the sudden emergence of Victor Cruz last season, Giants fans certainly shouldn't count out any dark horses. 
The fact of the matter is that while Hakeem Nicks is recovering, the rest of the Giants' receivers will be getting more reps during OTAs and training camp. 
The battle for the third receiver spot was a storyline that was expected to be an exciting one this offseason. 
Nicks' injury adds a twist to the ongoing story, but nonetheless one that makes things even more interesting.
Hixon has already been working with the first team, and I wouldn't be surprised to see Rueben Randle line up opposite Victor Cruz at some point.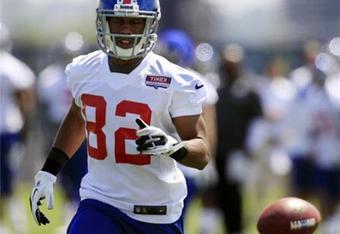 This gives Barden, Jernigan and even some of the UFAs the opportunity to be on the field for more snaps and prove why they belong with the defending Super Bowl Champions. 
Players will only get better by getting more reps, and of all the WRs on the Giants depth chart, Nicks may be the one with the most prior knowledge of the playbook. Although it's not ideal, Nicks, perhaps more than any other receiver on the team, can afford to miss some time and still come back without missing a beat.
Nicks is a proven weapon whose presence should not be underestimated. He almost always warrants double coverage, and even while he is not being thrown to, his mere presence leaves openings for the rest of the receiving core.
I have confidence that the Giants will do whatever they can to make sure Nicks goes through a successful and efficient rehabilitation process.
Though the Giants could survive life without Nicks, he brings the defending champs to another level and is half of perhaps the best receiving duo in the NFL.
There is no need for Nicks to rush back. The rest of the receivers will see more reps, and Nicks will be able to fully recover. In my opinion, using the full 12 week recovery timetable is a win-win given the situation.
I expect Nicks to be ready for the season opener on September 5. If he isn't ready, be sure that Kevin Gilbride will have a plan until number 88 is ready for action.