NBA Draft
NBA Draft Order 2012: Best Landing Spot for Every Projected Lottery Prospect

Dilip Vishwanat/Getty Images
May 31, 2012
With the order set, it's time to focus on the upcoming NBA draft in June and look at the best landing spot for each potential lottery pick.
I've taken the top 14 guys on my draft board and looked at where they would fit in best. That's a little different than projecting where each lottery pick will land as some teams ultimately draft potential over need.
Here's a look at the best landing spot for each potential lottery pick.
Anthony Davis, New Orleans Hornets
Every team is a good fit for Davis given the potential impact he can have on the game, but the Hornets are a great fit.
The are in rebuilding mode and adding the new face of the franchise to go along with a new owner in Tom Benson will have the Hornets heading in the right direction very soon.
Michael Kidd-Gilchrist, Charlotte Bobcats
After an seven-win season and an all-time NBA-worst winning percentage, the Bobcats need a leader and some great athletes.
MKG is that guy as he can become a lockdown defender and the Bobcats must get better defensively before they plan on winning anything.
Bradley Beal, Washington Wizards
Beal is another guy that fits in well with almost any team, and I especially like him in a Cleveland uniform, but the Wizards are also a great fit as Beal playing alongside John Wall will give Washington a very good, young backcourt for years.
Andre Drummond, Portland Trail Blazers
There's a good chance Drummond gets swiped up before Portland picks at No. 6, but even though he has some developing to do, he fills a big need for a potentially-dominant big man for the Blazers.
Put Drummond in the middle with LaMarcus Aldridge at the 4 and suddenly Portland could be set down low.
Thomas Robinson, Sacramento Kings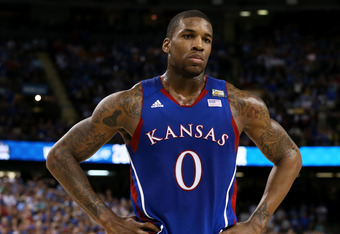 Jeff Gross/Getty Images
He would be a good fit in Washington or Charlotte as well, but the Kings desperately need a productive power forward to go alongside DeMarcus Cousins.
He may not be there when the Kings pick at No. 5 but if he is, they can't pass on Robinson as he's NBA-ready right now.
Harrison Barnes, Cleveland Cavaliers
Golden State and Toronto are two teams that could use instant production from the wing, but so could the Cavs, and adding a talented young scorer like Barnes—who averaged 17.7 points per game last season—would be big for Cleveland.
Adding Barnes to a good young nucleus that already includes Kyrie Irving and Tristan Thompson gives the Cavs a very good young core.
Perry Jones III, Golden State Warriors
I doubt the Warriors take Jones, but he would be a great fit given their need for a productive wing player.
With his skill set, Jones is a guy worth rolling the dice on his upside. Toronto could be a very good fit as well.
Damian Lillard, Portland Trail Blazers
In addition to landing a potentially-dominant big man in Drummond, the Blazers also need a point guard for the future, and Lillard is the top one on the board.
He's a high-volume scorer who averaged 24.5 points per game on the season and could be a very nice fit in Portland.
Jeremy Lamb, Toronto Raptors
Jim McIsaac/Getty Images
The Raptors need a wing player but they also need a legitimate and consistent backcourt scorer, and I just don't know if DeMar DeRozan is that guy.
Lamb has the potential to become a No. 1 scoring option in the NBA one day and would be a wise choice for the Raptors.
Kendall Marshall, New Orleans Hornets
In addition to Davis, landing the best pure point guard in the draft could be a nice option as well for New Orleans.
If the Hornets come out of this draft with Davis and Marshall, they will come out the big winners on draft day.
John Henson, Detroit Pistons
The Pistons need an athletic big man to play next to Greg Monroe, and Henson is not only a great athlete who runs the floor very well, but his rebounding and shot-blocking skills would come in handy in Detroit.
Terrence Ross, Phoenix Suns
The Suns need an upgrade at the 2 and I think Ross is a guy who can help Phoenix do that.
He does almost everything very well and is ready to jump into a starting role in the NBA immediately.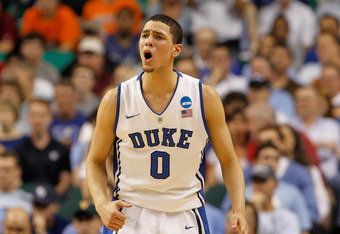 Streeter Lecka/Getty Images
Austin Rivers, Houston Rockets
Rivers has star potential and the Rockets need backcourt depth badly.
He has some things to work on, like playing without the ball and using his teammates better, but playing behind a guy like Kevin Martin for a year wouldn't be the worst situation in the world for Rivers. Martin's contract expires after the 2013 season, so a good rookie season from Rivers could force Houston's hand.
Jared Sullinger, Milwaukee Bucks
Sullinger could fill the need for a solid post presence in Milwaukee, something the Bucks need badly.
There's a good chance he goes among the top 10 picks, but if he falls to No. 12 then Milwaukee should jump at the chance to draft him.
Complete Draft Order
1. New Orleans Hornets
2. Charlotte Bobcats
3. Washington Wizards
4. Cleveland Cavaliers
5. Sacramento Kings
6. Portland Trail Blazers (via Brooklyn Nets)
7. Golden State Warriors
8. Toronto Raptors
9. Detroit Pistons
10. New Orleans Hornets (via Minnesota Timberwolves)
11. Portland Trail Blazers
12. Milwaukee Bucks
13. Phoenix Suns
14. Houston Rockets
15. Philadelphia 76ers
16. Houston Rockets (via New York Knicks)
17. Dallas Mavericks
18. Minnesota Timberwolves (via Utah Jazz)
19. Orlando Magic
20. Denver Nuggets
21. Boston Celtics
22. Boston Celtics (via Los Angeles Clippers)
23. Atlanta Hawks
24. Cleveland Cavaliers (via Los Angeles Lakers)
25. Memphis Grizzlies
26. Indiana Pacers
27. Miami Heat
28. Oklahoma City Thunder
29. Chicago Bulls
30. Golden State Warriors (via San Antonio Spurs) 
Second Round
31. Charlotte Bobcats
32. Washington Wizards
33. Cleveland Cavaliers
34. Cleveland Cavaliers (via New Orleans Hornets)
35. Golden State Warriors (via Brooklyn Nets)
36. Sacramento Kings
37. Toronto Raptors
38. Denver Nuggets (via New York Knicks)
39. Detroit Pistons
40. Portland Trail Blazers (via Houston Rockets)
41. Portland Trail Blazers
42. Milwaukee Bucks
43. Atlanta Hawks (via Phoenix Suns)
44. Detroit Pistons (via Houston Rockets)
45. Philadelphia 76ers
46. Washington Wizards (via Dallas Mavericks)
47. Utah Jazz
48. New York Knicks
49. Orlando Magic
50. Denver Nuggets
51. Boston Celtics
52. Golden State Warriors (via New Jersey Nets)
53. Los Angeles Clippers
54. Philadelphia 76ers (via Memphis Grizzlies) 
55. Dallas Mavericks (via Los Angeles Lakers)
56. Toronto Raptors
57. New Jersey Nets (via Miami Heat)
58. Minnesota Timberwolves (via Oklahoma City Thunder)
59. San Antonio Spurs
60. Los Angeles Lakers (via Chicago Bulls) 
Like the new article format? Send us feedback!