2012 NBA Draft: How Does the First Round Project After the Lottery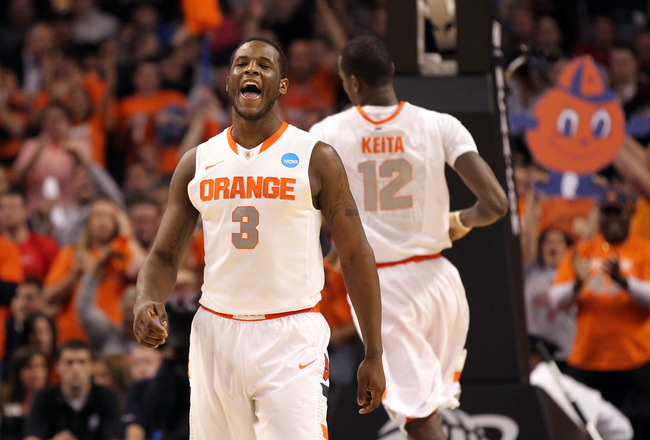 Jim Rogash/Getty Images
With the lottery order set, it's time to turn our attention to how the second half of the first round will pan out.
Among some notes to be made in this portion of the draft include the Boston Celtics selecting twice in a row at pick numbers 21 and 22, as well as the Cleveland Cavaliers using their third pick of the first round at number 24. The Houston Rockets will also be selecting at number 16 after using a pick at number 14.
This year's draft doesn't have as many prolific names as you'd like, but it is well-rounded with plenty of players that could address key needs immediately.
Perhaps the most intriguing part of this draft is the high number of big men, who will be selected early and often, due to the high commodity power placed in today's NBA on forwards and centers.
The first round of this year's draft will be an interesting one, considering the amount of talent that is going to be spread throughout.
We delve into this by taking a look at how the final 15 picks of the first round will turn out.
15. Philadelphia 76ers: Dion Waiters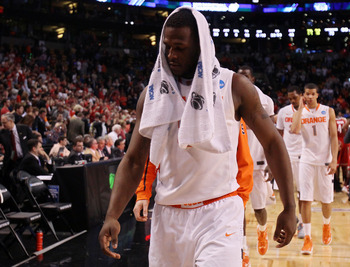 Elsa/Getty Images
Dion Waiters will be entering the NBA draft after a solid sophomore season where he averaged 13 points, three assists, three boards and two steals per game.
He shot 48 percent from the field, 36 percent from deep and barely committed a turnover per game.
Waiters would fit in nicely with a Philadelphia 76ers team that could really use help at the two. While it will likely take time away from Evan Turner at shooting guard, Turner's versatile enough of a player to excel at the one and three.
Jodie Meeks and Louis Williams may also see their stats affected in favor of Waiters, who is going to be a necessary add thanks in part to his defense and his ability to create his own shot anywhere on the court.
16. Houston Rockets: Terrence Ross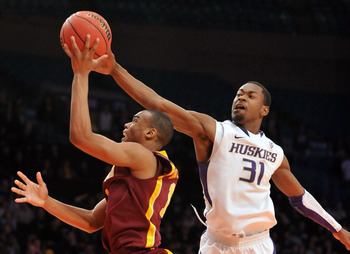 Jason Szenes/Getty Images
An athletic and versatile 6'7" guard-forward, Terrence Ross is going to give Chase Budinger a run for his money at the starting small forward spot.
After a down year by Budinger, the Houston Rockets could be on the lookout for a small forward with a greater defensive skills and more offensive versatility.
Ross appears to be that sort of player. He's capable of playing the 2 and 3 effectively, can shoot lights out from the perimeter (he converted two per game on 37 percent shooting) and can utilize his athleticism on the defensive end.
The former Washington Husky averaged a block and a steal per game in his final year at the NCAA level.
17. Dallas Mavericks: Terrence Jones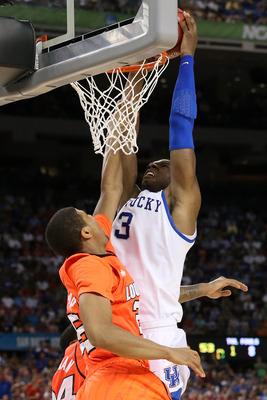 Ronald Martinez/Getty Images
Despite being an absolute athletic freak with unbelievable versatility, Terrence Jones has seen his draft stock take a hit since the NCAA basketball season came to an end.
While Jones' athleticism and defense is highly coveted, his offensive repertoire is what's scaring off potential suitors.
Jones' offense is limited—his perimeter game is weak, he's not a confident slasher and he's prone to second-guessing himself out of taking easy shots.
Essentially he's a lot like Andre Iguodala at the moment.
Nevertheless, he'd be a perfect fit for a Dallas Mavericks team that will attempt to fill a vacancy at backup power forward.
Following an uneventful year from Lamar Odom, the Mavericks could use a combo forward like Jones to add a scorer around the rim and an excellent defender to back up the aging Dirk Nowitzki.
18. Minnesota Timberwolves: Evan Fournier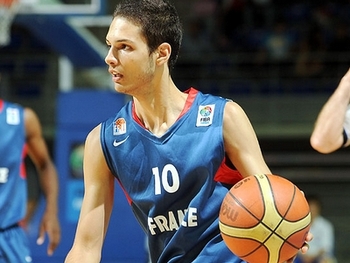 An international product out of France, Evan Fournier may be the answer to Minnesota's shooting guard woes.
At least that's what the Timberwolves are hoping.
Face it, Wesley Johnson and Wayne Ellington just haven't truly worked out as well as the T-Wolves originally thought. This is a motivated team that wants to start making the postseason and they're going to be expecting positive results out of their younger players.
With Ricky Rubio and Kevin Love leading the way, the Timberwolves have become a playoff contender. Fournier can help them get to that next level, if he pans out.
He's an excellent scorer, with a surprising ability to get to the rim, which would be huge to a team that doesn't have the greatest slashers. Fournier would add another dimension to an already crafty and versatile squad.
However, his perimeter game will need improvement.
19. Orlando Magic: Quincy Miller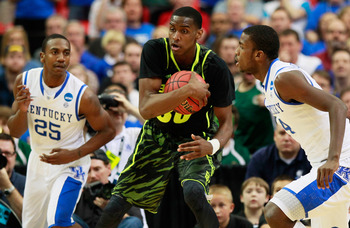 Kevin C. Cox/Getty Images
A versatile, intense and defensive-minded small forward, Quincy Miller may be the polar opposite of the Orlando Magic's current small forward Hedo Turkoglu.
We're not saying that's a bad thing, either. Turkoglu just hasn't played nearly as well as he did when helping lead the Magic to the NBA Finals two years ago. Now the Magic may be approaching this draft with the intent of replacing a few role players who haven't exactly risen to expectations.
Miller is an athletic 6'10" forward with jump-shooting capabilities. He shot 45 percent from the field and 35 percent from beyond the arc. Not only does he fit into the Magic dynamic of taking and making three-pointers, but he also adds some much needed versatility as a defender and slasher.
He'll need to improve his body control and ball-handling skills, but he has plenty of potential and will be a major upgrade on the defensive end—although he will need to hit the weight room early in his career.
20. Denver Nuggets: Marquis Teague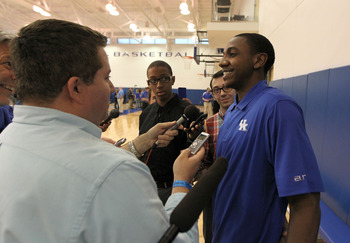 Andy Lyons/Getty Images
Learning from is veteran teammate Andre Miller, The Nuggets' Ty Lawson who could be on his way to becoming a perennial All-Star. Miller may find himself playing the role of mentor once again.
However, this time around the student will be Marquis Teague.
The 6'2", 189-pound Teague averaged 10 points and five assists with the Wildcats last season and saw his draft stock rise after an excellent run through the tourney, which was capped off by a 14-point performance in Kentucky's national championship victory over Kansas.
Teague will need to improve his perimeter game—he shot 33 percent from beyond the arc—but his mid-range jumper and ability to penetrate is very well suited to Denver's style of play.
His speed, along with the speed of Lawson, will make the Denver Nuggets point guard core one of the most feared in the league.
21. Boston Celtics: Meyers Leonard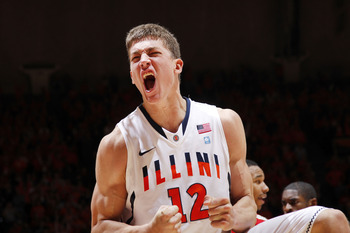 Joe Robbins/Getty Images
Since losing out on Kendrick Perkins, the Boston Celtics have been particularly weak in the middle.
They attempted to ride it out with the likes of Jermaine O'Neal, Shaquille O'Neal and Greg Stiemsma, but it has done little to help replace the void left behind by Perkins. While the Celtics acquired Jeff Green out of the deal, there is still going to be a huge opening in the middle.
However, that could all possibly change with the drafting of Meyers Leonard, a true seven-footer out of the University of Illinois.
Leonard averaged 14 points on 58 percent shooting, eight boards and two blocks per. He has a solid offensive repertoire for a player his size, displaying a mid-range game and good footwork in the low post.
Meyers will have to improve his body control on defense; he averaged three personal fouls per game in his final season with Illinois.
Either way, he'll definitely be getting legitimate minutes early on if he proves himself.
22. Boston Celtics: Moe Harkless
Jim McIsaac/Getty Images
Set to pick twice in a row, the Boston Celtics will address yet another need by strengthening their bench with the acquisition of small forward Moe Harkless.
Out of St. John's University, Harkless averaged 15 points, nine boards, nearly two steals, a block and an assist per in his lone season with the Red Storm.
Harkless shot 45 percent from the field, but only 20 percent from beyond the arc on nearly three attempts. His athleticism and wingspan will allow him to get to the rim and finish, but it will be tough for him to get to the rim when defenses are going to constantly play off of him because of his inconsistent perimeter game.
While he'll have to work on his perimeter jumper, he'll still thrive with a Boston team that relies heavily on defense to win games.
Harkless' youth and athleticism will play a huge part on a Celtics team that will want to begin investing in young talent.
23. Atlanta Hawks: Arnett Moultrie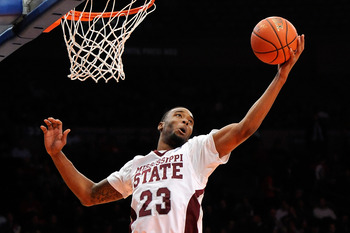 Patrick McDermott/Getty Images
If Al Horford's late-season injury proved anything, it's that the Atlanta Hawks could truly use some depth in their frontcourt.
Without Horford, the Hawks were forced to rely on the likes of Ivan Johnson, Vladimir Radmanovic and Jason Collins. The team even went as far as signing Erick Dampier to aid in the rebounding and defensive department.
However, the Hawks will be fortunate enough to be selecting in the first round of a draft that's loaded with frontcourt talent.
Mississippi State's Arnett Moultrie stands at 6'11", can play either power forward or center and is an excellent rebounder. He averaged 11 boards per contest last year, his only season with the Bulldogs, after spending his first two seasons at UTEP.
Moultrie will be highly valued for his athleticism, as well; he would be a nice complement to Josh Smith.
24. Cleveland Cavaliers: Jeff Taylor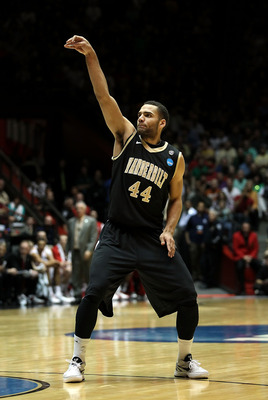 Christian Petersen/Getty Images
An excellent shooter out of Vanderbilt, Jeffery Taylor could end up playing a large role on the Cleveland Cavaliers if he can transition his perimeter game to the NBA.
At the moment, the Cleveland Cavaliers have a considerably large void at the 2 and 3. At 6'7", Taylor has the driving abilities to end up filling in one of those spots. By the end of this draft, the Cavaliers could potentially have one of the league's most talented teams.
Taylor spent all four years with the Commodores and shot lights out in his final two seasons. This past season, he shot a career best 42 percent from deep, while knocking in nearly two three-pointers per game. He also grabbed six boards, two assists and one steal in the process.
With four years of collegiate experience, Taylor may become known as the seasoned veteran on this young Cavaliers team.
25. Memphis Grizzlies: Tony Wroten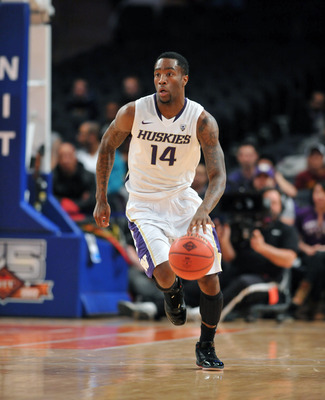 Jason Szenes/Getty Images
Already being recognized as a possible draft steal, Tony Wroten has the point guard skills that any NBA team would love to possess.
At 6'5", Wroten not only has a size advantage over most point guards, but he also has the ability to play on or off the ball. He's a stupendous athlete with the size and strength to drive to the rim.
Though he did average four turnovers in addition to his four assists, his ball-handling skills are superb for a player of his size.
What's scaring teams away from Wroten is his jump shot. To be recognized as a quality offensive guard in this league, you have to possess some sort of jumper, and Wroten doesn't appear to have that outside touch after shooting just 16 percent from deep last year.
However, the Grizzlies could use some depth in their backcourt, especially at the point guard position.
26. Indiana Pacers: Tyshawn Taylor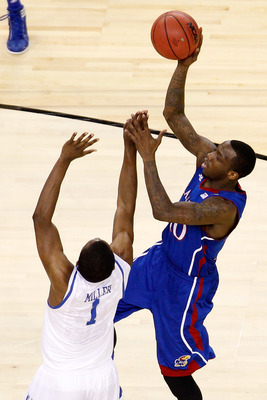 Chris Graythen/Getty Images
Tyshawn Taylor saw his draft stock skyrocket after a stellar senior season with Kansas.
Thanks to a more significant role in the Jayhawks rotation, Taylor went from averaging less than 10 points per game to nearly 17 on 48 percent shooting from the field. He also showcased consistent three-point shooting, converting on 38 percent of his three-pointers for the second consecutive season.
This time around, however, he converted nearly two shots from beyond the arc per game.
Taylor is a point guard, but his ability to score at will allows him to project as an undersized shooting guard. He'll play as a potential backup to George Hill and Daren Collison, whose play regressed last year.
Among Taylor's concerns are turnovers—he averaged nearly four per game last year—leading some observers to question his potential as a true point guard.
27. Miami Heat: Fab Melo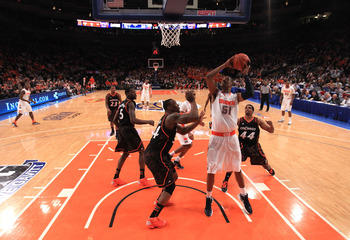 Chris Trotman/Getty Images
Fab Melo has dealt with off-court issues and may be the rawest player in this draft, but it probably won't matter to a team like the Miami Heat.
The Heat's center-by-committee carousel must come to an end at some point. They need someone who has size along with rebounding and defending capabilities. Miami isn't asking for much from a center, yet it hasn't been able to find one to consistently start at the 5 in the past two seasons.
Joel Anthony, Dexter Pittman and Ronny Turiaf simply don't cut it.
There is a need for someone with a lot of size who can deter slashers, which would allow the Heat defenders to not worry so much about packing the paint.
The 7'0", 255-pound Melo may be raw, but he has the type of size the Heat could use.
We didn't get to see much of Melo in his time at Syracuse, but there is potential for him to be a solid center in this league. He averaged eight points, six boards and three blocks in only 25 minutes per game.
28. Oklahoma City Thunder: Royce White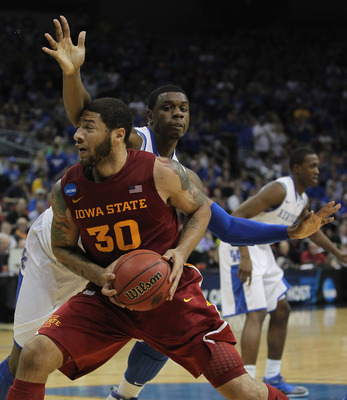 Jonathan Daniel/Getty Images
As unique a player as you'll find in this year's draft, the 6'8" Royce White is just about capable of playing any position on the floor efficiently, including point guard.
In fact, White happens to be an excellent ball-handler and passer for someone his size. While he did turn the ball over four times per game last season, he still dished out five assists a night.
A player of his size with that type of court vision could benefit any team, including the Oklahoma City Thunder, which could use some additional depth alongside Nick Collison and James Harden.
White may not get as much point guard responsibilities with Harden's presence and with Eric Maynor set to return, but he can also play the role of a slasher, something the Thunder lack at times.
White is an interesting case off the court, as it is reported that he is dealing with anxiety issues.
29. Chicago Bulls: Orlando Johnson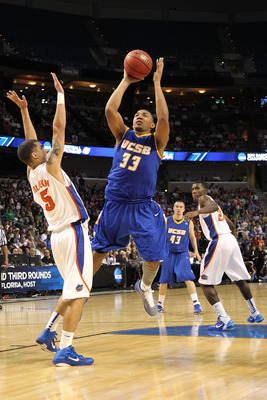 Mike Ehrmann/Getty Images
Not very well known outside of the University of California-Santa Barbara, Orlando Johnson has the potential of sneaking into the first round because of his well-rounded game and offensive capabilities.
Johnson played four years at the NCAA level, with the final three years being played with the Gauchos, following a year at Louisiana-Monroe.
The transition went well. Johnson went from averaging 12 points per with Louisiana-Monroe to scoring 21 per night in only his second season at UCSB. He went on to average 20 points per game in his final year with the Gauchos, while also maintaining his consistent shooting averages.
Johnson shot a career-best 43 percent from deep, while converting over two three-pointers per game for the second consecutive season. He shot 40 percent from deep every season with UCSB and converted at least 45 percent of his field goals overall.
He'll be a great fit for the Bulls, who could use a perimeter scorer to take some of the pressure off of Derrick Rose.
30. Golden State Warriors: Andrew Nicholson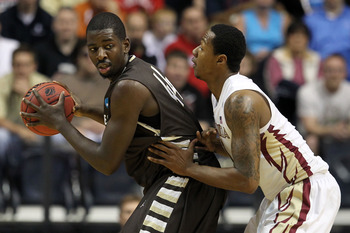 Jamie Squire/Getty Images
One of the most versatile players entering this year's draft, former St. Bonaventure star Andrew Nicholson will be looking to transition his prolific offensive game to some lucky NBA team late in the first round.
Listed as a power forward, Nicholson stands at 6'9" and weighs in at 225 pounds. He'll certainly need to put on some weight, but he can make up for it early on with length and great quickness for his size.
He didn't have many problems getting to the rim at the NCAA level, as Nicholson shot at least 56 percent in all four years with the Bonnies, while averaging at least 12 points per game each year, including 21 points in his junior season.
Though not an outstanding long-range shooter, Nicholson has a great mid-range game, and his the ability to drive to the basket will work in his favor at the NBA level.
Look for the Golden State Warriors to take him, as they look to add some needed depth in the frontcourt.
Keep Reading