Martin Brodeur vs. Nicklas Lidstrom: Who's Been More Important To His Team?
May 31, 2012

Bruce Bennett/Getty Images
New Jersey Devils goaltender Martin Brodeur and Detroit Red Wings defenseman Nicklas Lidstrom are their respective team's last remaining holdovers from when they met in the 1995 Stanley Cup Finals.
As of this morning, the hockey world already has confirmation that the latter is retiring and the same could hold true for Brodeur by the time this season is over. When that happens, it will all but surely presage the end of a unique era for both franchises that began when they encountered one another in that 1995 championship series.
In the last 17 years, not counting the 2004-05 lockout, Brodeur has backstopped five runs to the Stanley Cup Finals, winning three of the first four and still looking to add a fifth ring. Within the same timeframe, Lidstrom has been on board for six conference titles and four Cups with Detroit.
Since 1995, no other team has won more than two conference titles, let alone five or six. And only Brodeur and Lidstrom have been on the entire ride for their respective teams.
Lidstrom's hardware exhibit also includes seven Norris Trophies (all since 2000-01) and the 2002 Conn Smythe Trophy, which made him the first European recipient of the playoff MVP laurel. More recently, upon succeeding Steve Yzerman as the Red Wings captain, he became the first European captain to win a title.
Brodeur's individual accolades include the 1994 Calder Trophy, four Vezina Trophies (all since 2002-03) and five William Jennings Trophies.
And then there are those records for most career games-played (1,191), wins (656) and shutouts (119). Lidstrom is not quite up the same par, at least in the regular season, trailing at least three individuals on the leaderboard in every key category among defensemen.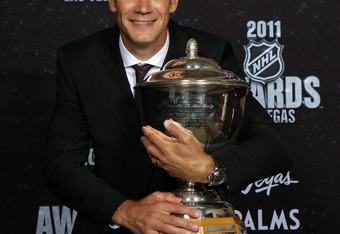 Bruce Bennett/Getty Images
On the eve of Lidstrom's retirement press conference, Brodeur became only the second netminder to play in 200 Stanley Cup playoff games. He was already in Patrick Roy's company with 100-plus postseason wins and leads all of his predecessors with 24 playoff shutouts.
With 263 appearances, Lidstrom ranks a close second among defensemen in terms of Stanley Cup career games-played behind former teammate Chris Chelios (266). Only Paul Coffey has more points in the postseason, only Coffey and Ray Bourque have more assists and only Coffey and Denis Potvin have more goals.
But Lidstrom trumps all of his fellow rearguards with a league-best 30 career playoff power-play goals and 11 game-clinchers in the postseason, along with an unmatched plus-61 rating.
Which brings up another common thread between the Wings blueliner and the Devils backstop: Considering their positions and job descriptions, both players have gone above and beyond in the production department.
Brodeur is fourth-leading playmaker among NHL goaltenders with 40 career assists, trailing only Tom Barrasso, Grant Fuhr and Patrick Roy. And he is one of only 10 stoppers credited with a goal in a regular-season game.
In the playoffs, Brodeur is in exclusive company with Ron Hextall as the only two goalies to score on an opposing net. In terms of assists (12) and points (13), he trails Fuhr by only one.
Lidstrom is sixth all-time among defensemen on the assists (878) and points (1,142) leaderboard. But more importantly, he was the Red Wings' top playmaker in four of six seasons between 1999-00 and 2005-06.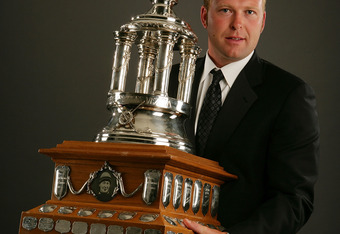 Al Bello/Getty Images
Ironically, for both parties in question, last season was one of the rare blemishes on their NHL transcript. The 2010-11 campaign is the only time Brodeur has finished with a sub.-500 winning percentage and the only time Lidstrom has finished with a negative plus/minus rating.
But this year, both have rebounded for a sweeter swan song or, in Brodeur's case, potential finale. Brodeur posted a 31-21-4 record to return the Devils to the playoffs while Lidstrom, though not nearly as offensively fruitful as he was in his formative years, stamped a solid plus-21 rating.
Although the Devils have twice missed the postseason on Brodeur's watch, the 2010-11 campaign was their only losing record in his career. The last time Detroit finished below .500 was the year before Lidstrom's arrival.
Then again, with cap issues and key injuries to the likes of Zach Parise, one could feel free to put an asterisk on New Jersey's rancid run and not count it against Brodeur.
Simply put, these two future Hall-of-Famers are stalemated when it comes to rating their revolutionary impact on their franchises. But Brodeur may earn the overtime tiebreaker for the work he has submitted in a more demanding position.