NBA Draft Lottery 2012: Teams Doomed to Be in Drawing Again Next Year
May 31, 2012

Streeter Lecka/Getty Images
Anthony Davis might be the New Orleans Hornets' savior, but he's not going to save them from being in the lottery again next year.
Neither will whoever the Hornets pick at No. 10.
You see, the league-run franchise is going to have two more promising young players next year, three if you count the return of Eric Gordon, but they're a long way away from making the postseason.
Davis is a freak of an athlete with tremendous potential, but he's still developing an offensive game and it's going to take some time for the lanky 19-year-old to adjust to the rigors of the NBA. He'll have his moments and is a solid candidate for Rookie of the Year honors, but he, Gordon and whoever joins at No. 10 won't be enough to escape another ping pong ball drawing.
Commissioner David Stern gave them one heck of a gift, but they'll be back in that same drawing room again next year only with more pieces to work with.
Here's a look at a few others who'll be in next year's lottery drawing.
Charlotte Bobcats (No. 2)
You almost have to feel bad for the Bobcats because not even Michael Jordon could've screwed up the selection of Anthony Davis at No. 1 overall.
Now the Bobcats are tasked with figuring out what to do at No. 2 overall and there is a chance of it being the wrong decision.
Expect the Bobcats to pass on Michael Kidd-Gilchrist because they have enough players who aren't natural scorers. That leaves them to decide on Bradley Beal and Harrison Barnes...or they could completely implode and take Andre Drummond. If they do the latter, look out, because they could break their horrendous lowest winning percentage record they just set as early as next year.
Regardless of who they select and who they hire as coach, this team is destined for another top-five pick next season.
Sacramento Kings (No. 5)
The Kings simply cannot figure it out right now. They're developing DeMarcus Cousins and have a number of players playing out of position and do just enough from time to time to win a basketball game.
They need to hit on this pick, preferably a swingman that can score, but there's no telling what they'll do when on the clock.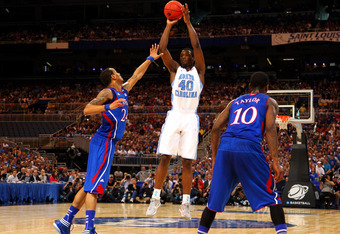 Dilip Vishwanat/Getty Images
But regardless of who it is, they'll be back again next year looking for that last missing piece.
Washington Wizards (No. 3)
The Wizards are on the clock two picks before the Kings, but they have the potential to hit a home run and possibly escape next year.
Let's look at the quick facts.
John Wall continues to get better, but the Wizards haven't done a great job of surrounding him with talent. But, they found a way to offload Nick Young and JaVale McGee and now have the potential to land a true gunner alongside Wall.
If one of last year's picks, Jan Vesely/Chris Singleton, develop a bit more this offseason, and Nene returns close to the form that netted him that insane contract, this team has some potential.
The Wizards are more than likely going to be in the lottery again next year, but they do have some potential.