If conditions at this week's 112th U.S. Open seem unreasonably challenging, the world's top golfers will know exactly who to blame.
Rory McIlroy's exceptional performance at last year's Open not only left Congressional Country Club in shambles, but it gave the USGA quite a bruised ego as well.
Due to rainy weather along the East Coast last June, the USGA was forced to watch the Open field tear up what was supposed to be the most demanding tournament of the year.
In impressive fashion, McIlroy emerged victorious with a final mark of 16-under par. It was the lowest score posted in U.S. Open history by four shots.
Just how feckless was Congressional rendered by the absence of traditional U.S. Open conditions?
Runner-up Jason Day's score of eight-under would have been good enough to win every U.S. Open since 2003. And he lost by eight.
Undoubtedly, the USGA will be determined to avoid an encore performance this year. Fortunately for them, the Open is returning to San Francisco's Olympic Club, one of the more formidable venues in the tournament's rotation of courses.
Four Opens have been held at the Olympic Club, the most recent being in 1998. The average winning score has been half a shot over par.
And unlike last year, this U.S. Open should be minimally affected by the weather. That is, unless the wind blows.
A par-70 layout for the Open, Olympic Club will play a full 400 yards shorter than Congressional. It may not be a long course, but the property boasts an abundance of elevation changes that are sure to test the players.
With small, firm greens and narrow, tree-lined fairways, Olympic Club generally favors finesse over power.
As a result, dampness will have little impact on how the course plays. Blustery conditions, however, could dry out the greens and make club selection critical.
The Olympic Club opens with arguably the hardest six-hole stretch in golf. Highlighted by the 520-yard par-four first, players will be fortunate to navigate these holes at level par.
The par-34 front nine will likely play more difficult than the par-36 back side.
Each nine has two par-threes, but both par-fives reside on the back. They appear consecutively, beginning with the 16th.
Combined with the drivable par-four 18th, these closing holes figure to be prime scoring opportunities.
Since 1998, numerous teeing grounds have been added, lengthening the course. Many of the greens have also been refurbished to allow for a greater variety of pin placements.
So don't expect players to go low. In the four previous Opens at the Olympic Club, only four individuals have finished in red numbers.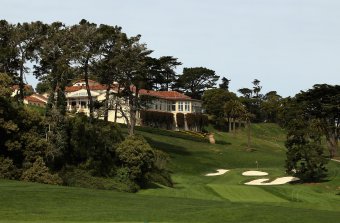 Ezra Shaw/Getty Images
And if history provides any indication of how things are going to unfold this week, players will need to string together four strong rounds in order to win.
In every Open contested at the Olympic Club, the 54-hole leader has gone on to lose the tournament. Ben Hogan, Arnold Palmer, Tom Watson and Payne Stewart all surrendered Sunday leads en route to runner-up finishes.
This week promises to bring us another memorable U.S. Open, with plenty of Sunday drama.
On Father's Day, when the fog finally lifts over San Francisco Bay, one man will stand alone as the next Open champion.
But this time around, expect a little more tumult and carnage along the way. In other words, expect the U.S. Open.