Usain Bolt: Why He Needs a Great Showing at the Rome Diamond League
May 31, 2012

Paolo Bruno/Getty Images
Usain Bolt heads into today's track meet at Rome Diamond League as the No. 1 sprinter in the world, armed with both the 100-meter world record and the fastest 100 time recorded so far in 2012.  He is 26 years of age and entering the prime of his career. 
So why exactly does an Olympic tuneup race in Rome, matter?
The beginning of the answer lies within the question: an Olympic tuneup.  With the Summer Olympics right around the corner, it is imperative that Bolt is running in top form leading up to the Games.
But then one might ask, with Bolt running the top 100 time of 2012 so far, what is the big deal? Hasn't Bolt been in top form already this season?
And there, my friend, is the issue.
You see, Bolt hasn't been in top form as of late. 
Bolt's season started off of on an impressive note as he clocked a solid 9.82 at the 2012 Jamaica Invitational on May 5th.
However, in his follow-up performance six days ago at the Ostrava Golden Spike Meet, Bolt got out to an extremely sluggish start en route to a—dare I say it?—rather slow time (by Bolt's standards) of 10.04.
This was the first time that Bolt had failed to run sub-10 in the final of a 100 dash since 2009.
While Bolt still won the race handily, the questions were abundant surrounding Bolt's time and performance after the meet.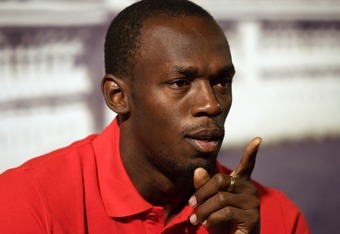 Paolo Bruno/Getty Images
Bolt's response was logical enough: "Everybody has bad races, it's just one of those things in track and field.  You can't come out every day and win every race, and you can't come out and run fast every day."
Bolt also noted that his "legs were not feeling that energetic, probably through a lack of sleep and not enough food."
Heading into this evening's race in Rome, Bolt had better hope his legs are feeling better.  This field is not as forgiving as the one in Ostrava, as Bolt will be facing challenges from Kim Collins, Lerone Clarke, Christophe Lemaitre and the always-tough Asafa Powell.
In fact, Bolt needed a come-from-behind effort to nip Powell in last year's 100 final in Rome.
And if all of these issues looming over Bolt weren't enough already, we have had a Justin Gatlin sighting in recent days.
Bolt was quick to dismiss Gatlin, saying: "I don't want to sound rude, but Gatlin's had his chance."
Maybe true, but it is fair to say that the pressure is squarely on the shoulders of Usain Bolt to perform well with the Olympics just around the corner.
A dominating run today in Rome would silence the critics and re-establish Bolt's status as the clear-cut favorite heading into London.
Any other result, especially a loss, would set us up for an interesting next few months with the world's fastest man looking more vulnerable than ever before.