NHL Awards 2012: Why Henrik Lundqvist Deserves the Vezina Trophy
June 1, 2012

Bruce Bennett/Getty Images
On June 20 in Las Vegas, the NHL Awards show takes place and the hockey world will find out who the best players were for the 2011-12 season. Up for the Vezina Trophy—for the best regular season performance by a goalie—are Jonathan Quick (Los Angeles), Pekka Rinne (Nashville) and Henrik Lundqvist (New York).
All three goaltenders had standout seasons.
In 73 games, Pekka Rinne finished with a 43-18-8 record, 2.39 goals against average, .923 save percentage and five shutouts. Jonathan Quick finished with a 35-21-13 record, 1.95 goals against average, .929 save percentage and 10 shutouts in 69 games. In 62 games—his lowest since his rookie season of 2005-06 when he appeared in 53 games—Henrik Lundqvist finished with a career-best 39 wins (39-18-5), 1.97 goals against average, .930 save percentage and eight shutouts.
It's an extremely tight vote, but lets break down why Henrik Lundqvist deserves the Vezina over the competition.
Strength in Numbers
The aspect most widely used to judge an athlete's performance is the raw numbers. Between Lundqvist, Rinne and Quick, a case can be made for either goalie purely based on their numbers to win the Vezina.
Jonathan Quick had to play with the 29th ranked offense (2.29 goals per game) in front of him every night, meaning a poor night in net meant a good chance of losing. Quick managed to win 35 games and help his Kings team finish eighth in the Western Conference.
Pekka Rinne faced the most shots for a goalie (2,153) and his team gave up on average 30.8 shots per game (ranked 20th), yet still found a way to win 43 games (most by any goalie) and lead his team to a franchise-best fourth seed finish in the West.
With Henrik Lundqvist, the numbers sway slightly in his favor.
Aside from his personal stats, Hank's winning percentage (.629 was the best among all three finalists), minimal amounts of decisions from shootouts (4-3 whereas Rinne was 4-5 and Quick was 6-8) and division competition (Atlantic Division had Pittsburgh and Philadelphia—ranked first and second in offense; Pacific Division has none ranked in the top 10) show just how good of a season Henrik Lundqvist had in 2011-12, leading his team to a No. 1 seed finish for the first time since 1994.
Consistency
One way to find a distinct winner among the three candidates is to look at how consistent each was over the course of the season.
Henrik Lundqvist gets the distinction, recording only six games where he gave up four goals. Rinne had 15 games of four goals or more, including five games of five goals against. Quick surrendered four goals seven times during the season and five goals once.
Hank did not have a game where he gave up five goals.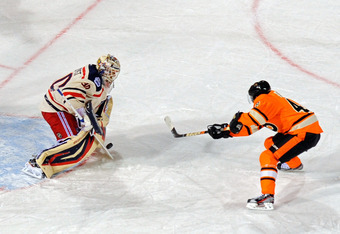 Patrick McDermott/Getty Images
Furthermore, Lundqvist had four straight months (November to February) where his goals against average wasn't higher than 1.88 while facing 28.7 shots per game. It was during this period that the New York Rangers rose to the top of the Eastern Conference and maintained it for the remainder of the season—a feat much harder to accomplish if not for Lundqvist's brilliance and consistency between the pipes.
League-Wide Recognition
The three major player awards given out by the NHL are the Hart Memorial Trophy (league MVP as voted on by the Professional Hockey Writers' Association), Ted Lindsay Award (league's most outstanding player voted by the NHL Players' Association) and, of course, the Vezina Trophy (voted on by all 30 NHL GMs).
This season, Henrik Lundqvist is a candidate for all three awards—Pekka Rinne and Jonathan Quick are only nominated for the Vezina.
While unlikely considering the competition, Lundqvist would become only the second goalie in NHL history to capture all three awards in the same season (Dominik Hasek did it twice, sweeping the awards for the 1996-97 and 1997-98 seasons).
To have the hockey writers, GMs and fellow players all nominate the same player for different awards is a testament to how good of a season Henrik Lundqvist had. All saw over an 82-game schedule the brilliant play of New York's netminder, how he's the backbone of the Rangers' success and felt it was worthy of hardware.
Not to be forgotten, this is Lundqvist's fourth Vezina nomination, missing out on the award in three consecutive seasons from 2006 to 2008.
Will his fourth time be a charm? Lundqvist's chances have never been better.