Feeling The Brees: Texas QB Bryce Fausett
May 31, 2012

"In wars amongst ideas,
doubters are the victims."
― Toba Beta
At 6'0", 180 pounds, it isn't surprising that junior quarterback Bryce Fausett (Midlothian High School of Texas) idolizes New Orleans Saints' All-Pro signal-caller Drew Brees.
Brees is barely 6'0" tall.
Considered smallish by NFL standards, Brees' height didn't prevent him from winning Super Bowl MVP in 2008 or from setting the NFL record for passing yards in a single season (5,476) in 2011.
Fausett's height hasn't prevented him from piling up consistent numbers in one of Texas' toughest 5A Districts. Nor has it affected his confidence and love for the game.
Fausett said:
You aren't going to find tougher competition nationwide than schools like DeSoto, Cedar Hill, Mansfield and Duncanville. They are all loaded with major D1 prospects. Big, fast athletes who are strong and cover a lot of ground. I held my own as a junior and know I'll be even better this year (his senior season).

I've been a quarterback since I was in the primary grades. I thrive on having the ball in my hands and controlling the game. To a large extent, the game comes down to me. I have to play well for us to win.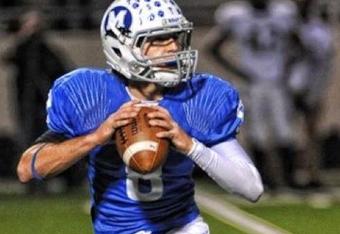 Teammate A. J. Tully, a junior wide receiver/linebacker, has high praise for his friend and team field general.
Bryce is very competitive. He always wants to win. He knows how to get the best from you. Even when mistakes are made, he doesn't jump on you. He simply wants to make you better. That's what makes him such an effective leader.

 

Bryce has a strong arm and is a salty (shifty) runner. He knows how to juke and make defenders miss. He is rarely rattled. His confidence gives all of us confidence, even when times get rough during a game.
Midlothian's head coach is Lee Wiginton.
The strongest attribute Bryce has is his feel for the game. Some kids just have "it." He understands more than the plays. He understands what the offense is trying to achieve vs. certain defenses. He's heady. Like having a coach on the field.

Bryce is a tough kid. He starts at safety for us. His ability to read coverages comes in handy on defense for us. He knows where the ball is going, is instinctive and is a sure-tackler.
The coach's thoughts about Fausett's next-level potential?
I believe Bryce is capable of playing quarterback in D1 football. Granted, he is not the biggest kid. College coaches today have this "cookie-cutter image" of what a quarterback should look like. Think they all have to be 6'4" or 6'5" like Cam Newton.

I compare him to the Boise State quarterback (Kellen Moore). Not the biggest kid either. All he did was win in college. Yet nobody drafted him (signed with the Detroit Lions as an undrafted free agent). Like Bryce, he had his doubters. He proved everyone wrong. Believe that will be the case here too. Bryce can do everything on the field a quarterback has to do to put his team in a position to win. Intangibles such as leadership, character and command of the game are just as important as his physical skill set.
Bryce Fausett is fortunate enough to be mentored by three of the top quarterback tutors in the United States: Kevin Murray starred at Texas A&M and was the 1984 Big 12 Player of the Year. Brad Frazier runs the prestigious Old School Quarterback system in Frisco. And Graham Harrell set numerous national records while at Texas Tech and has been a back-up quarterback for NFL MVP Aaron Rodgers and the Green Bay Packers for the past two seasons.
Coach Frazier told me:
Of all the top quarterbacks I train, Bryce Fausett would be right at the top of the list for next-level success. He's got the physical tools and can make all the throws, but it's his leadership that sets him apart. He is an "encourager." Brings the best out of his teammates. Makes everyone around him better. With so many swagger jackers out there, Bryce is the real deal. You can't measure his heart, he plays to win and goes all out till they turn the stadium lights out!
"I've emphasized to Bryce that you don't throw over linemen. You throw through lanes. Brees and Vick (Michael of the Philadelphia Eagles) are not giants, but they know how to read coverages and get the ball out quickly," added Harrell.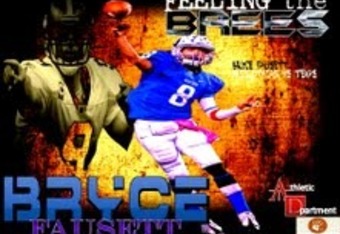 With all the comparisons being made by coaches and tutors, I think the most logical one is Russell Wilson. Like Wilson, Fausett is a highly-skilled baseball player. He plays both pitcher and right field for the Panthers.
Russell Wilson measured out at just 5'10" at April's NFL combine, but that didn't deter the Seattle Seahawks from selecting him in the third round after a storied college career at both North Carolina State and Wisconsin (his senior year).
A high honors student with a 3.5 GPA, Bryce Fausett is a high-character individual admired by his friends, his teachers, his coaches and those in his Ellis County community. His goal is to be a chiropractor someday. A valuable skill to have playing a game known for spine-adjusting hits.
Fausett summarized:
I see myself starting for a top college program five years from now. I was born and still have family in Illinois so I admire the Illini program, and one of my coaches played at nearby North Texas of the Sunbelt Conference. I've been there. Love the campus and the program. But I am receptive to any school willing to provide me with the opportunity to do what I love.
The comparisons to other quarterbacks are just that—comparisons.
It is great to have role models who you resemble and admire and who others compare you to.
Ultimately, Bryce Fausett will pave his own path toward establishing his own player identity, fueled largely by his upcoming senior season. In a gridiron region that was the model for a fictional television show about the drama of high school football, Bryce Fausett is looking to turn Friday Night Lights into Saturday Afternoon Reality.
*All quotes were obtained firsthand unless otherwise noted.