Nasal Strips, Stakes Barns and Trying to Keep the 2012 Belmont Stakes Clean
May 31, 2012

Horse racing has had a bad rap for years now.  Lasix, 'Bute' and steroids are all widely used and, in most cases, accepted.  The use of such performance-enhancing tools is rationalized by trainers as a way to help their horses stay healthy and safe.  Inversely, horse racing purists regard these tools as legal cheating and a detriment to the animals.
The American Triple Crown of horse racing is among the most prestigious racing events in the world, and it seems as though the NYRA and Belmont Park stewards would like to keep it that way.  With allegations of cheating swarming around Triple Crown hopeful I'll Have Another's trainer Doug O'Neill, the horse racing authorities are on a crusade to make sure any chances of a Triple Crown win will be as pure and innocent as they can assure.
News came last week that stewards would not allow I'll Have Another to use a nasal strip in this last leg of his Triple Crown crusade.  His trainer assures the racing world that the strip was only to help I'll Have Another breathe while running, much like a nasal strip used by American professional football players.  Alas, authorities and decision-makers did not agree and saw to it that I'll Have Another would run without the advantage of breathing easier.
Yesterday, track officials announced another quirky regulation for the Belmont Stakes.  The barn area (which is usually a place of free reign for horses, trainers and owners) will be locked down like Rikers Island.  Only horsemen with specific issues to tend to will be permitted into what will be known as the 'stakes barn.'  They will be required to sign a log sheet stating their reason for being there and will sign out when they are finished.  Furthermore, these people will be subject to search and constant escort by overseeing officials.
Maybe the most notable regulation is of the veterinary variety.  Any caretaker or veterinarian who wants to treat or examine a horse next Friday or Saturday will need to do schedule an appointment with a state medical examiner.  This appointment will be watched by an official the entire time.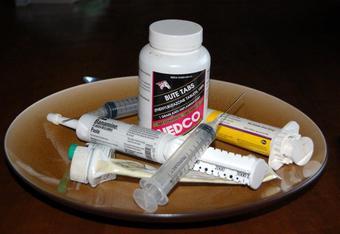 While the nasal strip ban seems unnecessary and the barn regulations seem noose-like, they are very intelligent moves by track and racing authorities.  It is because of O'Neill's allegations and the admittance of steroid use by people like Rick Dutrow that oversight is obviously needed.  
One could only imagine the fallout after an I'll Have Another win on June 9.  The performance enhancing and cheating rumors infest the news like termites to a dead log.  It would be the tarnish of the Triple Crown and the plaguing controversy pinned to I'll Have Another.
In putting these regulations in place, horse racing officials are avoiding this controversy.  They realize the Triple Crown is somewhat sacred and needs to be treated as such.  Hopefully, if I'll Have Another does, indeed, capture horse racing's most elusive prize on June 9, he will do so without controversy.