Heat vs. Celtics: Game 3 TV Schedule, Live Stream, Spread Info and More
May 31, 2012

Mike Ehrmann/Getty Images
Despite the efforts of point guard Rajon Rondo in Game 2, the Boston Celtics find themselves in a 2-0 hole heading back to Boston for Game 3 of their Eastern Conference finals battle against the Miami Heat.
Game 2 had a bit of everything, from great individual performances to controversial late no-calls, but despite one of the greatest playoff performances in history by Rondo, who scored 44 points, dished out 10 assists and grabbed eight rebounds, the Celtics couldn't find a way to even up the series.
Boston is now in a must-win situation in Game 3 and to do so, they have to get contributions from other areas as getting only seven points from their bench in Game 2.
Defensively, they must continue to do the same type of job on LeBron James and Dwayne Wade, who combined to shoot only 15-of-35 from the floor to score their 57 total points.
For the Heat, if they keep getting secondary production from the likes of Mario Chalmers (22 points) and Udonis Haslem (13 points), this could turn into a very quick series.
Coming off one of the better games in playoff history, how will Game 3 play out? Here's everything you need to know about this crucial Eastern Conference finals matchup.
When: Friday, June 1 at 8:30 p.m. EDT
Where: TD Garden in Boston, Massachusetts
Watch: ESPN
Live Stream: ESPN3
Betting Line: Pick 'em, via 5Dimes
Heat Key Injuries (Per CBS Sports):
Out: Chris Bosh (abdomen)
Celtics Key Injuries (Per CBS Sports):
Out: Avery Bradley (shoulder)
What They're Saying:
After Game 2, the officiating came into question as it has in quite a few Miami playoff games this postseason. Boston fans probably have a well-deserved gripe after 33 personal fouls were called on the Celtics and only 18 on Miami.
That included two costly no-calls on Wade late in overtime. One when he smacked Rondo in the face as the point guard drove to the basket and another when he essentially put the game out of reach, making a basket and drawing a foul on Kevin Garnett, but clearly making space with his own leg.
ESPN's Jackie MacMullan looked at the way the game was called because it was a big part of Miami taking a 2-0 series lead.
Rajon Rondo deserved a better outcome. He was otherworldly, the best player on the court, even as LeBron poured in 34 points of his own. And yet, while Miami's league MVP got the calls reserved for the top player, Boston's young point guard was not afforded the same respect at a key juncture of the game.

Rondo had a right to be incensed by a key no-call on his contested drive with 1:33 left in overtime and the teams locked in a 105-105 duel. The replay showed Wade raking Rondo across the face, but no whistles were blown, and as Rondo's shot rolled off and he crashed to the ground, the Heat quickly converted a Udonis Haslem fast-break slam in transition.

The Heat would never trail again.

A clearly agitated Rondo moved to confront referees Jim Capers and Tom Washington, but coach Doc Rivers quickly called time and pulled him away.

It was one of a number of beefs that Boston had with the officials. The Celtics had three players (Paul Pierce, Keyon Dooling and Mickael Pietrus) foul out -- and the Heat had none. James shot 24 free throws, while the entire Boston team took just 29.

 
Most Important Player to Watch: Kevin Garnett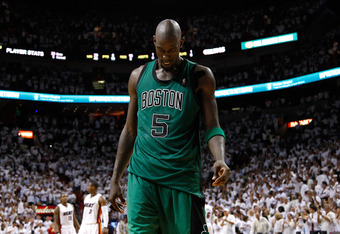 Mike Ehrmann/Getty Images
Garnett wasn't very good in Game 2, shooting only 6-of-18 from the floor while committing a crucial turnover in overtime.
To win Game 3, the Celtics need a more efficient and aggressive effort from their big man.
There's also the fact that the Heat had 13 offensive rebounds, including a crucial one towards the end of regulation that denied Boston an opportunity to win the game in regulation.
KG is going to have to come up with a big Game 3 for the Celtics to have the chance to make this a series.
Key Matchup: LeBron James vs. Paul Pierce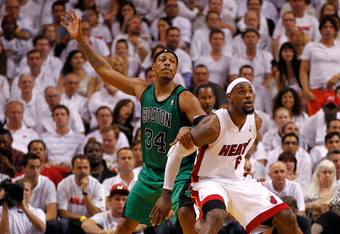 Mike Ehrmann/Getty Images
LeBron didn't shoot the ball well in Game 2, going only 7-of-20 from the floor, but did make 18-of-24 free-throws. He rarely took advantage of post opportunities, however, which is something he needs to get back to in Game 3.
Despite the shooting struggles, James recorded his fourth 30-point, 10-rebound game in his past five outings.
For Boston, Pierce also had his struggles in Game 2, making only 8-of-19 shots, while missing all five  attempts he took from behind the arc.
Both guys are capable of putting their respective teams on their back, and the winner of Game 3 could come down to which guy does exactly that.
Prediction:
Celtics 88, Heat 85