Hector Lombard vs. Brian Stann Head-to-Toe Breakdown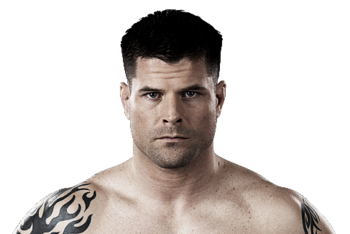 Photo Credit: Zuffa LLC
Hector Lombard is set to make his long-awaited UFC debut at UFC on FOX 4 in August. The former Bellator middleweight champion enters the cage with a 31-2-1 record and an active 20-fight win streak.
Opposite Lombard is Brian Stann. Following a knockout performance in Sweden over Alessio Sakara, the former United States Marine returns stateside to welcome Lombard to the show. Stann is not unaccustomed to welcoming fighters to the division. In 2011 he welcomed Jorge Santiago back to the UFC with a TKO in the second round.
The fight versus Stann is sure to be a step up in competition for Lombard. While any 20-fight win streak is impressive, the caliber of his competition has left something to be desired. Sixteen of the 20 fights ended in stoppages. Lombard is one of the most ferocious and intense fighters in the game today.
A victory on FOX will catapult the winner of the fight into top-contender status—something both fighters will leave everything on the line for.
While we are still a couple months away from the action, let's break down the fight between the two potential contenders in the UFC's middleweight division.
Striking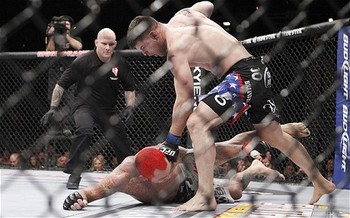 Photo Credit: AP
Both men have grown their striking game since they have entered MMA. Seventeen KO or TKO finishes in the career of Hector Lombard. In Brian Stann's six-year career, he has finished 75 percent of his opponents by TKO or KO.
Lombard's power makes him one of the most feared strikers in the division. He has one-shot-knockout capabilities and a relentless aggression. Six of his last eight bouts have ended via KO or TKO.
Stann's recent performances against Santiago, Chris Leben and Alessio Sakara show the strides he has made since joining coach Mike Winkeljohn.
While Lombard has the power advantage, it is not as big of a discrepancy as one may think. Winkeljohn's work with Stann's footwork will lend itself well against Lombard. Stann will need to be in and out quickly to avoid a powerful counter or to circle away from a pressing Lombard.
Edge: Stann
Wrestling and Grappling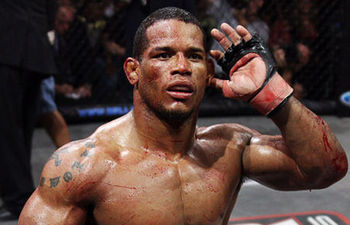 Photo Credit: Bellator FC
The grappling advantage lands firmly on the side of Hector Lombard. Lombard is a former Olympic Judoka.
While Stann has improved on his wrestling at Greg Jackson's gym, it still remains his biggest weakness. Top-level wrestlers Chael Sonnen and Phil Davis used it to put the fights on the mat. Something Lombard is very capable of doing.
Stann will need to work on his clinch game and takedown defense for his fight against Lombard. If Stann is able to be effective with his striking, that will give him the opening to transition into a takedown. However, as it stands, Lombard is the better wrestler and grappler of the two.
Edge: Lombard
Submissions
Photo Credit: American Top Team
Despite his striking power and love for the knockout, Lombard is not adverse to the submission game. American Top Team coach Marcus "Conan" Silveira awarded Lombard a Brazilian Jiu-Jitsu black belt in 2010.
Submissions have been Stann's Achilles' heel in the past. Krzysztof Soszynski finished Stann with a Kimura, and top contender Chael Sonnen ended their fight with an arm triangle. The combination of Lombard's Judo and BJJ is ripe to give Stann fits on the mat.
The last place Stann wants to be on August 4th is on his back.
Edge: Lombard
Intangibles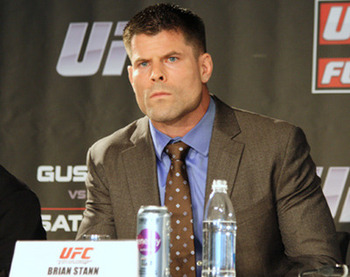 Photo Credit: MMAJunkie.com
Brian Stann is the perfect fighter to test Hector Lombard due to the other aspects of their games.
Lombard, at times, can be overaggressive and overzealous in his attempts to finish the fight. Stann takes a more methodical and thoughtful approach to his bouts.
An excellent clash of styles.
Lombard's aggressiveness has taken a toll on his cardio in fights past, and that is definitely something Stann can take advantage of later in the fight.
The contrast in styles between Lombard and Stann gives the matchup Fight of the Night potential.
If Stann can frustrate Lombard and tire him out, the fight odds tilt significantly in his favor. In the chess match of MMA, Stann has more pieces to maneuver against Lombard.
Edge: Stann
Prediction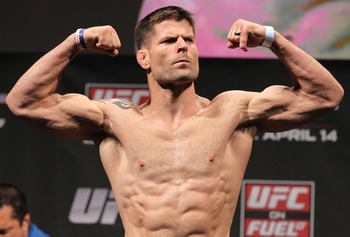 Photo Credit: Zuffa LLC
Lombard has the tools to make this a clear and decisive fight against Stann. He also has the power to end it at any moment.
Stann, however, can utilize his speed and footwork to frustrate the UFC newcomer and drag the fight into the later rounds. The more Stann is able to tire out Lombard, the more he will be able to implement his game plan and take the fight.
If Stann can avoid Lombard's early attempts to finish the fight, he should be able to outpoint his opponent or finish the fight late.
Prediction: Stann defeats Lombard by TKO in the third round.
Keep Reading