Now that we know an otherworldly performance by a Boston Celtics star wasn't enough to overcome the Miami Heat, it's not unreasonable to see the Heat sweep.
Rajon Rondo broke records Wednesday night, and LeBron James was haunted by his old late-game demons.
Still, LBJ and Dwayne Wade were able to pull out an overtime victory.
That's the sort of game that boosts a team's confidence despite it's closeness.
From the start the Heat looked out of it, twice going down by 15 points. But then Miami showed grit, dominating the third quarter and gaining a 13-point lead.
The Celtics' rugged defense held the Heat in the fourth quarter, but really Miami held itself back.
Last time that happened (Game 2 against the Indiana Pacers), the Heat bounced back the next game and have dominated since.
Here is why Miami will do so again, and find itself in the NBA Finals for the second straight season.
Celtics Can't Repeat That
This was the Celtics best chance.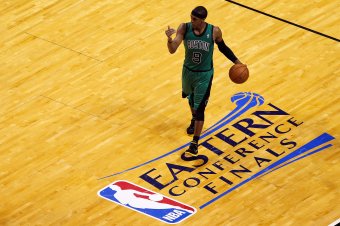 J. Meric/Getty Images
Boston got the best it could out of the Big Three (beside Paul Pierce's three-pointers and fouling out) and overall shot nearly five percentage points better than the Heat.
Plus it weathered a tough third quarter in which the Heat swung the game 20 points in their favor after being down seven at the half.
On top of it all, there's no doubt that Rondo rocked it.
The guard tallied 44 points, 10 dimes and 8 boards in 53 minutes, the first player to ever do so in a playoff game.
What's more, there was the overtime no-call on an obvious foul. With the game tied, Rondo could have put the Celtics ahead. Rondo wound up scoring all 12 of the Celtics extra period points, including two late three-pointers, but it just wasn't enough.
B/R's Lead NBA Writer put it best:
Celtics, figure this game out. Your point guard's heart is all over this court.

— Holly MacKenzie (@stackmack) May 31, 2012

The team played well until the end, when it relied too heavily on the out-of-this-world performance of Rondo, and likely can't pull that sort of effort out of their sleeves again.
How will this series turn out?
Heat Won't Repeat That
Usually a 77.5 percent shooting team from the free throw line, the Heat missed a grand total of 16.
The worst culprit was Wade, who couldn't hit on a crucial free throw with 47 seconds left that would have sealed the victory before OT.
Wade had a horrendous half a la his performance in Game 3 against the Pacers.
The guard nearly made up for it in the third quarter, at one point sinking three straight shots he put up. The fourth quarter didn't treat D-Wade as well, as he tallied just a turnover and 1-of-2 foul shots.
Last time he faded like that (aforementioned Game 3), he followed it with three straight 28-plus-point performances.
Wade isn't the only player who stepped up after that bad performance.
The Heat have since won five straight games by an average of 12.2 points and the only closer one (Wednesday's Game 2) by fewer than nine.
As great as Rondo's play was Wednesday, the Celtics needed a stellar game like that to even contend with the rolling Heat.
Miami won't allow that to happen. The clamps are coming down on the Celtics.
The Heat are ready to sweep through Boston and return to Miami crowned Eastern Conference champs yet again.