Potential New Matchups for Indiana Hoosiers to Replace Kentucky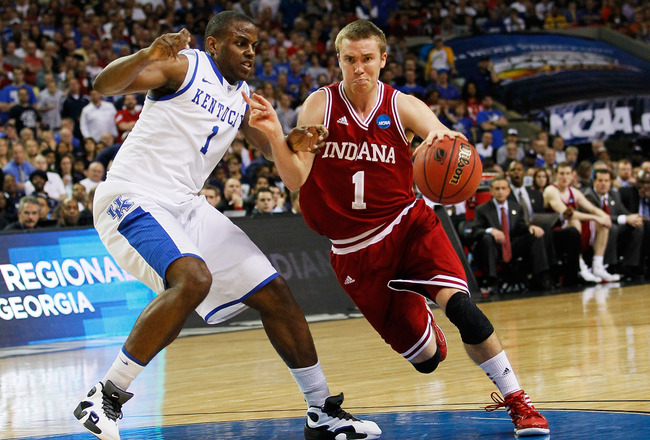 Kevin C. Cox/Getty Images
Drama continues to ensue between the Indiana Hoosiers and the Kentucky Wildcats. On Wednesday, the Bloomington Herald-Times released a letter from IU athletic director Fred Glass to Kentucky athletic director Mitch Barnhart, and reported that Indiana again tried to negotiate some sort of deal to continue the basketball series between the two schools.
However, the negotiation failed yet again. It seems like there's nothing more either side can do to reignite this tradition in the near future. The dead horse has been beaten. It's time to move on.
Glass and Indiana coach Tom Crean need to move on and look for another strong non-conference matchup that has the potential to blossom into a new annual rivalry.
The following is a list of schools IU should consider to fill this spot (in no particular order).
Kansas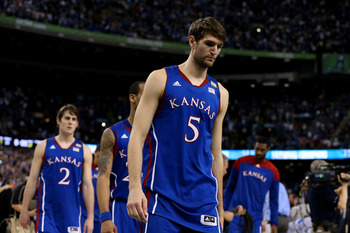 Jeff Gross/Getty Images
There have been a few rumblings around Hoosier nation of the possibility that Indiana could play Kansas for a future home-and-home matchup. Of all the schools on the list, Crean and Indiana should pursue a series with Kansas most aggressively.
Kansas is another premier program filled with rich history. Having to alternate between Allen Fieldhouse and Assembly Hall is a college basketball fan's dream, not to mention a prime-time matchup every year.
UCLA
Stephen Dunn/Getty Images
The Big Ten and Pac-12 announced this past December a partnership for inter-conference scheduling. While the conferences are still working out the details of what this would entail, this could be a great opportunity for Indiana to start an annual rivalry with UCLA.
UCLA and Indiana have similar story lines that could foster a competitive rivalry for years to come. Both are storied programs with winning traditions. Both have dealt with their scandals and underwhelming seasons in the past few years. And both are ready to make a strong comeback, boasting a top-five recruiting class for 2012 and a Top 10 ranking in preseason polls.
This would be a compelling matchup for national television and a great boost for both programs, who are trying to reclaim a winning tradition that has recently been lost.
Missouri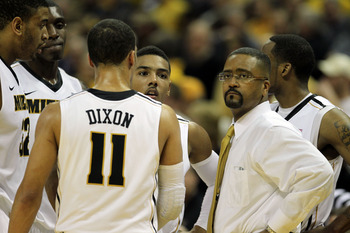 Jamie Squire/Getty Images
Despite their disappointing NCAA tournament run in 2012, Missouri had a phenomenal season in 2011-12 and is ranked in the top 25 for 2012-13.
A coaching matchup every year between Tom Crean and 2012 Coach of the Year Frank Haith would make this annual rivalry a great battle to watch.
Louisville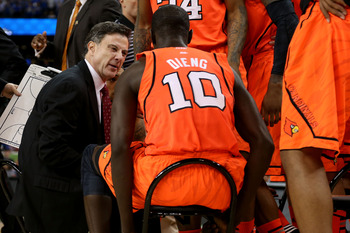 Chris Graythen/Getty Images
While the talks for this matchup for next season already have been extinguished, Indiana should put Louisville near the top of its list for future series.
A true battle for the border, Indiana and Louisville allegiance lines often blur from just an hour south of Bloomington and well into the Kentucky border. Both Louisville and Indiana fans would easily be able to travel to see this matchup every year.
Georgetown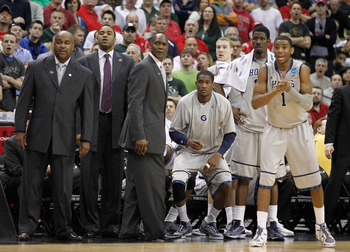 Rob Carr/Getty Images
With the recent hiring of assistant coach Kenny Johnson in April, it's clear Indiana is looking to branch out its recruiting territory into the Virginia, Maryland and Washington, D.C., area. And rightfully so. The DMV is rich with recruits, having produced such NBA talents as Kevin Durant, Carmelo Anthony and Grant Hill.
Creating a series with the Hoyas would expand Indiana's breadth and create buzz with local D.C.-area prospects, while also creating a new rivalry with another traditional basketball program.
Kentucky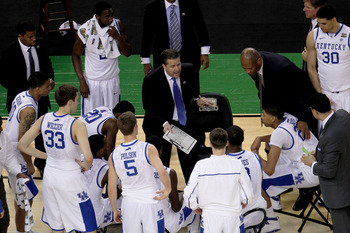 Chris Graythen/Getty Images
Yes, the whole point of this post was to ponder new potential matchups for the Hoosiers. But this series is one of the oldest college rivalries in two basketball-crazed states and a 42-year tradition that should not be so easily ignored.
Between Indiana and Kentucky, there are 13 national championships (with one championship nearly every five years), 23 Final Four appearances and two storied arenas with rich histories.
Fred Glass made the right move to try to resuscitate some life into the negotiations after Kentucky decided to take its talents elsewhere. While it is unfortunate that negotiations are dead for the near future, that doesn't mean IU and Kentucky can't figure out a way to revive the series.
The Hoosiers should keep chipping away at Kentucky to bring this rivalry back.
Keep Reading

Indiana Hoosiers Basketball: Like this team?