If you listened to the crowds wildly cheering UFC heavyweight Roy Nelson following his 51-second knockout over Dave Herman at UFC 146, you would find it easy to believe that the man known as "Big Country" is one of the most popular fighters in the division.
Unfortunately for Nelson, sometimes it seems that the men who sign the checks, UFC president Dana White and CEO Lorenzo Fertitta, are not the biggest fans of Nelson.
Following Nelson's win over Herman, the fighter walked to the side of the cage and directed some comments at White and Fertitta who were seated cageside.
White addressed those comments while speaking to MMAWeekly.com, saying, "That was Roy Nelson's '(expletive) you' to me and Lorenzo. Did you see him come over and yell at us after the fight? It was."
White has long been critical of Nelson, taking exception to his physique, his fat-man shtick and lately his unruly beard and mullet. The UFC president has expressed his desire to see Nelson take his career seriously, saying that he does think Nelson has untapped talent.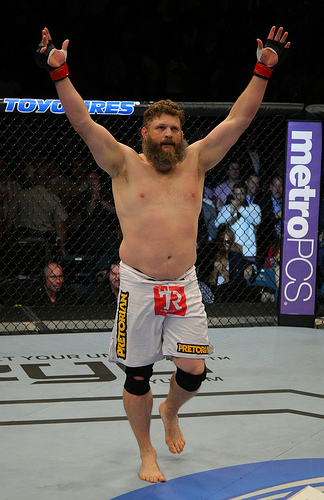 That talent and an iron chin have allowed Nelson to compile a career MMA record of 17-7. Nelson's first official UFC win came when he knocked out Brendan Schaub in the final bout of the 10th season of The Ultimate Fighter. He followed that victory with a 39-second knockout of Stefan Struve before dropping decisions to Junior dos Santos and Frank Mir.
Since then, Nelson has gone 2-1 including his win over Herman. In all, his UFC record is 4-3. That record may seem average, but Nelson feels that his record is something to be proud of considering the fact that he feels that many of his opponents have been using performance-enhancing drugs, telling Bloody Elbow:
I used to think when I'd fight and beat up people that are doing the stuff that they are not supposed to be doing, I just looked at it as a moral victory for myself. It was like, "Hey, I just beat that guy, even though he was on the stuff" or he might have beaten me because he was on the stuff, but now I realize that he's actually just taking money from me. I think from now on we should just do random drug tests, because we just did it for this heavyweight card, and it changed the whole landscape of it.
When asked how many fighters he believes he has fought that have been using PEDs, Nelson put the number at 60-70 percent, a number that, if true, indicates a real problem in the MMA world, one that needs to be addressed in some way as soon as possible, something that White has said is in the works.
Is Nelson's 60-70% estimate of PED Users:
"We're going to do our own testing, order these guys into [a lab]; we're sorting it out now," White told the L.A. Times. "You have to do this to save the sport. You can't have these guys fighting on this stuff."
Hopefully this will be sorted out quickly and fans, the media and the fighters can begin to put this talk of who's doing what behind them.
No one should be delusional enough to believe a UFC testing program will ferret out all the cheaters, but it's a start, and one that may make some question if the risk is worth the reward.