NBA Draft 2012: Breaking Down Best Value Picks in the 1st Round
May 31, 2012

Jason Szenes/Getty Images
With the order now set for the 2012 NBA draft, teams will be in full-on scouting mode in hopes of finding some special talent.
You've already heard plenty about the top players like Anthony Davis and Thomas Robinson, but the best picks may not always be in the single digits of the draft.  Teams often find gems in the mid to later parts of the first round by taking players who may have falling draft stock or players who have simply flown under the radar.
With that in mind, let's take a look at four players in particular who could be good value picks outside of the lottery.
Tony Wroten, PG, Washington
Standing at 6'5", Wroten has great size for a point guard and has proven his ability to play the shooting guard position as well.  In a draft so heavily populated by dominant big men, Wroten could be a good contributor for a team that needs help in the backcourt.  
He has the ability to be a good point guard with great court vision to facilitate an offense.  While Wroten has been good at running a half-court offense, he does commit a high amount of turnovers (3.8 per game last season).  This is where it comes in handy for Wroten to be able to play off the ball as a 2-guard where he would be handling the ball less and would most likely be less turnover-prone.
Wroten can drive and attack the basket effectively and has an offensive game similar to that of Tyreke Evans.  However, much like Evans, Wroten could use some improvement on his shot if he wants to diversify his offensive game.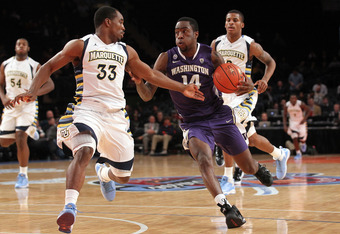 Nick Laham/Getty Images
Teams drafting in the 20 to 25 range will most likely see Wroten available and should draft him if he falls that low.  He has plenty of upside to become a solid guard in the NBA and has a lot of time to develop since he is just 19 years old.
Moe Harkless, SF, St. John's
Harkless has been overshadowed thus far by other small forward prospects like Michael Kidd-Gilchrist and Harrison Barnes, but he has plenty to offer himself.  
In his last season at St. John's, Harkless averaged a solid 15.5 points to go with his 8.6 rebounds, 1.6 steals and 1.4 blocks per game.  He has demonstrated his ability as a versatile scorer who moves well off of the ball in a half-court offense.  
Movement without the basketball is an underrated aspect to a player, especially when you consider that Harkless probably won't be getting a lot of touches in his rookie season.  The better he moves off the ball and gets himself open and available for good, quality shots, the more production we will see out of him.
Aside from that, Harkless could use some improvement in creating his own shots off of the perimeter by using his good first-step ability.  While he may not make an immediate impact, Harkless is certainly a great prospect to have on your team and he would be a worthy first-round choice in the mid-to-late teens to the 20s in the draft.  He may take a few years to develop his raw ability and round out his game, but he has a lot of upside and could become a great small forward over time.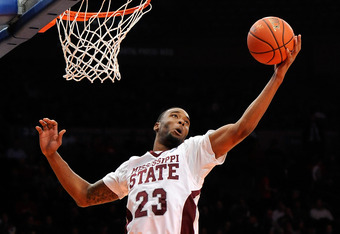 Patrick McDermott/Getty Images
Arnett Moultrie, PF/C, Mississippi State
With plenty of other talented bigs in this year's draft, it's easy to see how the 6'11" Moultrie could fall into the later part of the first round.
However, Moultrie may be the best bang for the buck for teams looking to bolster their power forward position.  His big and tall frame sets him apart from other big men like Thomas Robinson and Terrence Jones who are both two inches shorter.  Though Robinson and Jones are both probable lottery picks, Moultrie may fall down past the 15 to 19 range and could find himself being picked by a team in the 20s.  
Whichever team picks him may find that they made the right decision to let this big man fall into their arms.  Moultrie is a great rebounder (13.5 per 40 minutes last season) and has a great knack for keeping offensive possessions alive with tip ins and putbacks.  While his back-to-the-basket post game could use some work, Moultrie makes up for it by drawing a lot of contact down low.  This is where he shines since he shoots a solid 78 percent from the stripe and averaged 5.3 free-throw attempts per game.
Moultrie's play in a smaller-market team might have hurt his draft stock to this point, but he will be a solid pick for a team needing help and depth in the frontcourt to make deeper playoff runs.
Quincy Miller, SF, Baylor
Above all else, Miller certainly has NBA-ready size.  He stands at 6'9" with a ridiculous 7'4" wingspan. His slender build in addition to his scoring versatility has drawn him comparisons to NBA superstar Kevin Durant and it may prove to be rightfully so if he continues to develop.
Miller has a good jump shot and is able to create his own shots off of the dribble which can help make him an immediate scoring impact for the team that drafts him.  He is a fluid player that moves well even with his lanky build and uses it to his advantage.
What Miller could improve on is his mental state, however, as his intensity wasn't always as high as it could be every possession.  He will need to keep the motor running throughout games in order to stay consistent as a scorer in the pros.
Miller, much like Harkless, could be taken in the middle part of the first round by a team that needs a good scoring punch and some size on top of it.  He is just 19 years old and could also work as a prospect on the bench for a contending team full of veterans that could help develop Miller in his game both physically and mentally.