USA vs. Brazil: U.S. Men's Soccer Needs to Get Nastier (Also Better)
May 31, 2012

Rob Carr/Getty Images
The United States men's national team needs to get nastier. That's not the fans saying it or the media saying it or even the players saying it. Head coach Jurgen Klinsmann is saying it, and everyone you talk to after the 4-1 loss to Brazil seems to agree.
"We mixed it up a little bit and we ruffled their feathers (in the second half)," said U.S. goalkeeper Tim Howard. "That needs to start a little earlier on. We need to impose that will and turn it into a scrap earlier than we did."
There's a definite balance to being nasty, though. The U.S. was booked twice in the match and was very lucky an awful challenge from Jermaine Jones on Samba superstar Neymar was colored yellow, not red. Nasty is one thing. Cheap is another.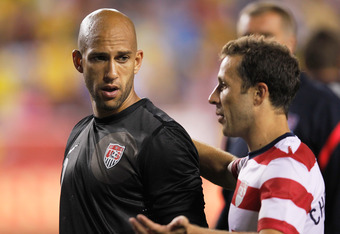 Rob Carr/Getty Images
That said, the U.S. played a rather clean game otherwise, and the score line was not indicative of how hard they played.
Landon Donovan shared the prevailing sentiment from the locker room in offering, "It may be a harsh score line but I think inside the locker room we know that it was a lot better than a 4-1 game for us."
Howard echoed that point when asked about the game's unlucky bounces and the team's inability to capitalize on chances in the box.
"It's a little bit unlucky. At the end of the day it's still 4-1 and we were far from winning the game. You've got to call a spade a spade and hold your hands up, they were clearly the better team."
Make no mistake. Brazil was clearly the better team.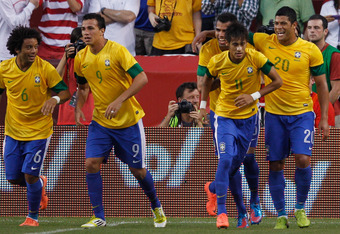 Rob Carr/Getty Images
There were moments the game felt like it was 4-1 because Brazil didn't need more than that. To be fair, though, the first Brazil goal was a penalty shot given on a questionable—but ultimately correct—hand-ball call in the box on Oguchi Onyewu. The last goal was probably offsides. Still, Brazil had world-class talent all over the field and the United States just couldn't keep up.
While Klinsmann thinks the team needs more nastiness, the underlying takeaway from a loss like this is that the team needs something far more important: talent.
To his credit, Klinsmann has brought in a host of talented players. Fabian Johnson is playing like the left-back the United States always dreamed of having. The World Cup vet Onyewu, however, is playing like he's played the last three years. He's clearly not the answer at centre-back, at least not when the U.S. faces a dynamic, free-flowing offense like Brazil's.
Captain Carlos Bocanegra and Steve Cherundolo—who was excellent at right-back once again—will be 35 when the World Cup begins. They may be solid now, but can Klinsmann trust they can both hold up through qualifying and into the 2014 World Cup in Brazil?
There are other names, some of whom are in this camp, but none other than Johnson who have stepped up to prove they can be part of the back line of the future.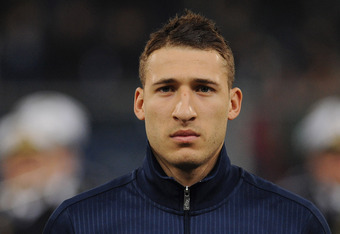 Valerio Pennicino/Getty Images
The more answers Klinsmann gets from this match, the more questions arise elsewhere.
Herculez Gomez was like a different player against Brazil than in any of his previous call-ups with the national team, clearly trying to take advantage of his time. Clint Dempsey, still hampered by a groin issue, only played in the second half, leaving fans to still wonder what this team would be like with a healthy Deuce and Donovan playing together. Michael Bradley seems to have finally put it all together (thank you, Serie A).
Here comes the however.
Jose Torres was completely nonexistent in Klinsmann's modified 4-3-3 formation (more of a 4-3-2-1). Maurice Edu was not his best in the outside midfield, and Jones, who certainly provided the nastiness Klinsmann is seeking, didn't provide much in the way of stability.
This U.S. squad is good. Klinsmann has quickly developed a talent pool that can play with the likes of Italy and France. They can destroy Scotland. They can't, however, come close to beating Brazil. They still can't finish when facing a world-class defense. They still have a gaping hole in their own back line.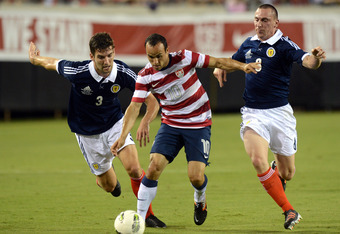 Gary Bogdon/Getty Images
Still, after the last two matches, things are somewhat optimistic (up 6-5 on aggregate!), so how the team plays against Canada in Toronto on June 3 will be a huge measuring stick for this team. To call it a must-win in the wake of the loss to Brazil is reactionary. It certainly is a "must" for the United States to perform well in those questionable spots of the field. A clean sheet wouldn't hurt, either.
"We are evolving," Donovan explained. "We are getting better, but you can see that when you go to this level, things get harder and it happens faster. Tonight was kind of a night where both teams created a few chances and they finished theirs and we didn't. That tells the story of the game."
There are a lot of positives to take out of the Brazil match. Despite the score line, the United States was not embarrassed at all. They just need that effort to evolve into wins. At some point, not being embarrassed shouldn't be good enough.
Nastiness will help. So will talent. Klinsmann has found a lot of it in his short time as coach. Let's hope that for the future of U.S. soccer, there's more out there.
Dan Levy is a Lead Writer for Bleacher Report. Unless otherwise noted, all quotes were obtained first-hand.