Texas Rangers Look to Bounce Back After Fumbling Game to Seattle Mariners
May 31, 2012

Rick Yeatts/Getty Images
In 2004, the Atlanta Falcons entered the NFL record books in abysmal fashion by surrendering eight rushing touchdowns in a 56-10 loss to the Kansas City Chiefs. Priest Holmes and Derrick Blaylock both had four touchdowns apiece in this lopsided affair.
Entering the game, Atlanta was 5-1 and had given up just 74.5 yards per game on the ground. But in this game, Kansas City punished Atlanta for 271 rushing yards.
After the game, a reporter asked Falcons linebacker Keith Brookings if there were any positives to take away from the game. In response, Brookings said, "You don't take anything positive when you get your head beat in like that."
Following this loss, Atlanta went on to win four games in a row. The team finished with an 11-5 record, en route to winning the NFC South Division.
Kansas City finished 7-9 and failed to make the playoffs.
The moral to this story is some days managers can mission plan like the finest of infantry officers, only to watch their men tank on the field.
Such was the case with the Rangers in its 21-8 loss to the Seattle Mariners Wednesday.
At 31-20, the Rangers are obviously superior to the 23-30 Mariners.
But for whatever reason, the Rangers just mentally vanished before its home crowd.
At first, nothing looked out of the ordinary for starting pitcher Derek Holland. After Holland got Dustin Ackley to fly out center fielder Josh Hamilton, he struck out Chone Figgins and Kyle Seager to end the inning.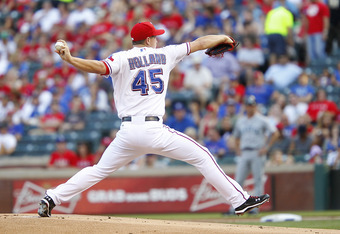 Rick Yeatts/Getty Images
But in the second and third innings, the wheels simply fell off the Rangers' gravy train. Whatever could go wrong for the Rangers did go wrong during this stretch. In a very rare occurrence, the Rangers gave up eight runs in back-to-back innings.
By the time Yoshinori Tateyama relieved Holland after 1.2 innings, the Rangers already trailed 16-0. Tack on another run, and it looked like a sure blowout for Seattle.
Yet, in vintage fashion, Texas scored seven unanswered runs to cut the Mariners lead to 10 runs. In the bottom of the sixth inning, Ian Kinsler knocked in Alberto Gonzalez with a sac fly. Adrian Beltre singled home Michael Young a short while later. David Murphy then singled home Hamilton. Later in the inning, Mike Napoli delivered a two-run double. The Rangers added two more runs in the bottom of the seventh inning.
However, Seattle struck back in the top of the eighth inning. Ackley hit a one-out double. Two batters later, Seager drove Ackley home with a double of his own. Then, a big blow came when Justin Smoak—formerly an 11th-round pick of the Rangers—deposited a three-run moonshot into the right field seats. This was Smoak's second three-run homer of the night in a six-RBI night.
Six Seattle hitters had multi-hit games in a 20-hit performance. Seager went 4-for-6 with two RBI. Jesus Montero went 3-for-4 with four RBI and two walks. Michael Saunders also delivered three hits and an RBI for the Mariners.
Hamilton, along with Ian Kinsler, Adrian Beltre and Alberto Gonzalez all had multi-hit games for Texas in a losing effort.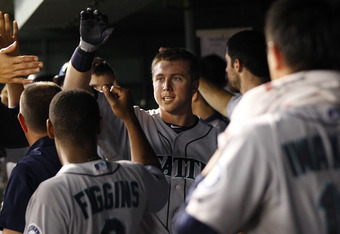 Rick Yeatts/Getty Images
Like the 2004 Falcons, the Rangers will heed lessons learned and then file Wednesday's ballgame away. For while it is true the Rangers lost this battle, they have both the skill and willpower to win the war.
Of course, the resurgent Halos, along with a few other AL teams may have something to say about this.

Related Articles:
Barret Loux Enjoying Perfect Season at Double-A
Josh Hamilton's Future with Rangers "In God's Hands."