NBA Draft 2012: Jared Sullinger and the Top 10 Big Men Prospects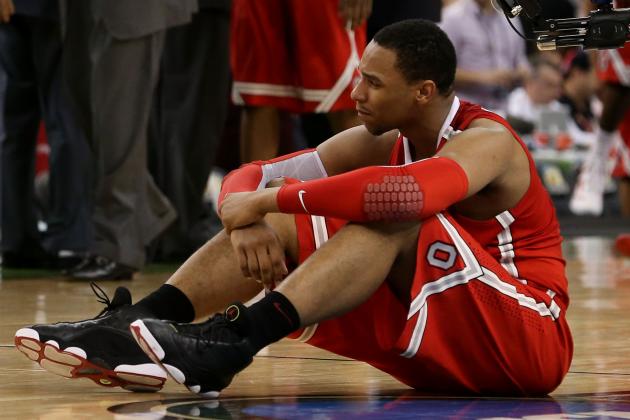 Jeff Gross/Getty Images
Jared Sullinger
One of the most exciting dates in the basketball world is the NBA draft, and with the conclusion of the lottery, we can finally speculate where these young guns will land. The Association receives an infusion of new, young talent that will one day dominate the professional level.
Scanning over this immensely talented group of prospects, one can easily see that there is a bevy of fantastic big men for NBA organizations to select.
While bruising big bodies aren't the only intriguing players in the draft, as there are a multitude of developed sharpshooters and facilitators, there are a plethora of promising young power forwards/centers waiting to hear their names called on live television.
Due to the tremendous amount of skill in this year's draft class, many prospects will fall much farther than they would have in previous years. So, even if you are a fan of a championship contender, you should absolutely be excited for this year's draft.
The subsequent slides examine the 10 best big men prospects in this year's draft class.
Begin Slideshow

»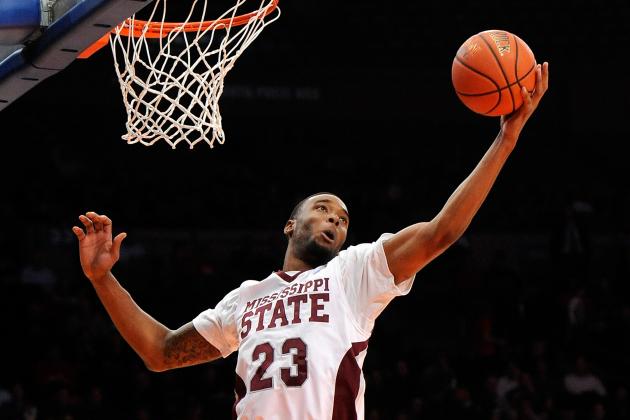 Patrick McDermott/Getty Images
Arnett Moultrie
Name: Arnett Moultrie
School: Mississippi State
Year: Junior
Position: Power forward and Center
Attributes: 6'11", 230 pounds
2011-2012 Per-Game Stats: 15.8 points, 10.6 rebounds, 1.1 assists
Upside: 7/10
Arnett Moultrie appears as high as top 10 and as low as second round in mock drafts. While he's immensely talented, this is more a testament to the inconsistencies that plagued Moultrie's tenure with Mississippi State.
Nonetheless, an organization, due to the lack of talent at the center position in the Association, will reach for Moultrie due to his upside, versatility and NBA-ready size.
Moultrie can play both big man positions at 6'11" and possesses the ability to even play on the perimeter. Additionally, this Mississippi State behemoth has a deadly shot—a quality necessary to run the popular pick-and-roll.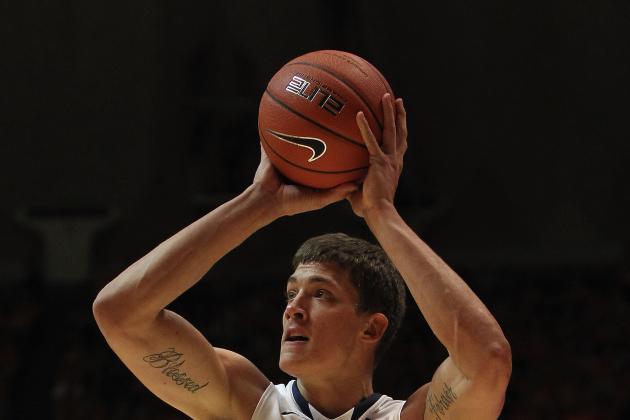 Jonathan Daniel/Getty Images
Meyers Leonard
Name: Meyers Leonard
School: Illinois
Year: Sophomore
Position: Center
Attributes: 7'0", 245 pounds
2011-2012 Per-Game Stats: 13.6 points, 8.2 rebounds, 1.3 assists
Upside: 7/10
Meyers Leonard's stock is almost solely based on his ridiculous potential. His athleticism, size and intangibles will allow him to have the possibility to develop into a starter-quality center. However, the 7'1" Illinois product is quite raw.
I see a team like the Dallas Mavericks taking a risk on the center.
If you have watched a Dallas Mavericks game this season, you can tell that the absence of former center Tyson Chandler from the lineup has completely changed the team's dynamics. His defensive presence and knack for rebounding the ball was extremely vital in their successful run for the championship.
Currently, the Mavericks are rolling with centers Ian Mahinmi and Brendan Haywood to replace the production of Chandler. While both are talented big men, neither have the ability to change the outcome of a game.
Insert former Illinois center Meyers Leonard into the rotation and the Dallas Mavericks have a prospect extremely similar to Chandler.
Leonard is strong and athletic, much like his predecessor. However, unlike Chandler, Leonard has a quality middle-range jumper and developing postgame.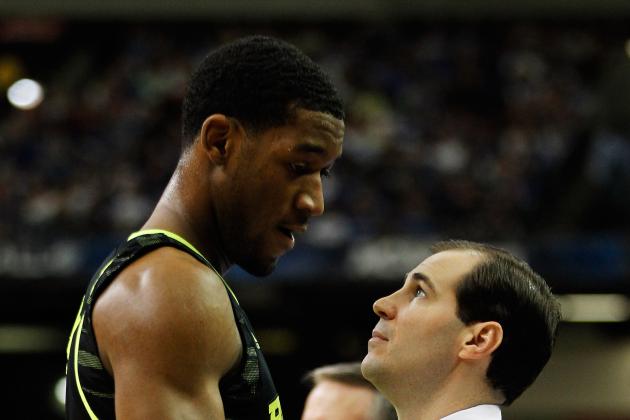 Streeter Lecka/Getty Images
Perry Jones III
Name: Perry Jones III
School: Baylor
Year: Sophomore
Position: Power forward
Attributes: 6'11", 235 pounds
2011-2012 Per-Game Stats: 14.0 points, 7.7 rebounds, 1.3 assists
Upside: 9/10
While everybody loves versatility in the NBA, many executives are wary about the classic small forward/power forward tweener. Unlike the combo guard, the forward tweener, for the most part, doesn't possess the speed to defend small forwards or the power to stop opposing power forwards.
This is, sadly, the category Perry Jones III falls into.
However, his incredible ceiling and intangibles will let him be a top 15 pick this summer.
In my opinion, the Philadelphia 76ers and power forward Perry Jones III are an absolute perfect fit.
My reasoning is that Jones will add depth to a playoff-caliber team that just shipped former backup power forward Marreese Speights to the Memphis Grizzlies.
However, Jones, who is still quite raw on both sides of the floor, will not log too many minutes in the rotation, as current starter Elton Brand will take a majority of that specific playing time. This, in turn, would allow Jones a chance to develop.
Plus, Perry Jones III would strengthen a young nucleus of players that the 76ers have been developing for the last few years. His versatility and ability to guard a plethora of positions will become a valuable asset for the 76ers in the future.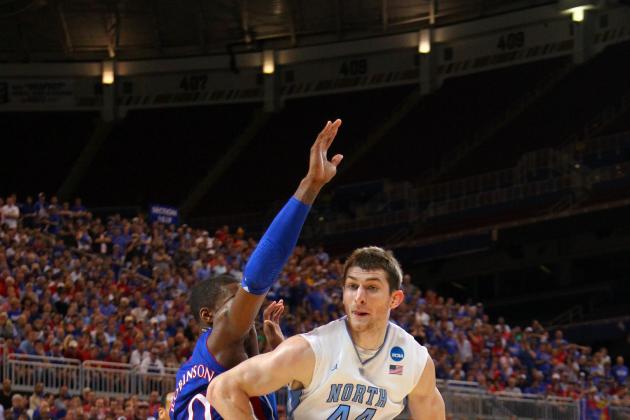 Dilip Vishwanat/Getty Images
Tyler Zeller
Name: Tyler Zeller
School: North Carolina
Year: Senior
Position: Power forward and Center
Attributes: 7'0", 250 pounds
2011-2012 Per-Game Stats: 16.5 points, 9.3 rebounds, one assist
Upside: 5/10
If a team wants to draft a center who can develop into the next great big man in the Association, Tyler Zeller is not their man.
If a team wants to draft a center who can develop into a solid role player off the pine, Tyler Zeller is most definitely their man.
His polished offensive game, NBA-ready body and great work ethic will allow the seven-footer to contribute immediately.
The Bucks look like a solid option for Zeller.
The Milwaukee Bucks have a few different routes they can take at the No. 12 selection. They could address their need for a starting small forward or even add a true point guard to the roster. However, I believe the Bucks will select former UNC center Tyler Zeller to fill the void left by former Buck Andrew Bogut.
The 7'0" center has fantastic size for the NBA. In addition, he possesses a decent low-post game and solid footwork in the paint. On the defensive side of the floor, he has the ability to alter and swat shots at an effective rate.
The solid Zeller would be a perfect complement to their explosive backcourt of Brandon Jennings and Monta Ellis.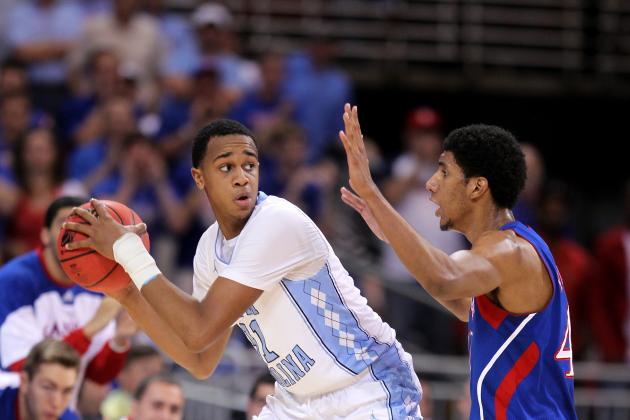 Andy Lyons/Getty Images
John Henson
Name: John Henson
School: North Carolina
Year: Junior
Position: Power forward and Center
Attributes: 6'11", 220 pounds
2011-2012 Per-Game Stats: 13.8 points, 10.1 rebounds, 1.3 assists
Upside: 8/10
While Henson is still very raw on the offensive side of the ball, the 6'10" power forward possesses an incredible wingspan and was probably the second-best defensive force in college basketball behind Anthony Davis, who will most likely be drafted by New Orleans. His contributions on the defensive side of the ball were surely noted.
I doubt Henson slips past the lottery, as his length, work ethic and defense will make this prospect way too intriguing.
I could see the Hornets selecting another big man to pair up with the newly-acquired Anthony Davis.
With their second selection in the 2012 NBA draft, the New Orleans Hornets will, in my opinion, draft UNC power forward Henson. By selecting Henson, the Hornets will have found their starting power forward for years to come.
Next to superstar Eric Gordon and the aforementioned Davis, John Henson will prove to the world that he was worthy of a top-10 selection.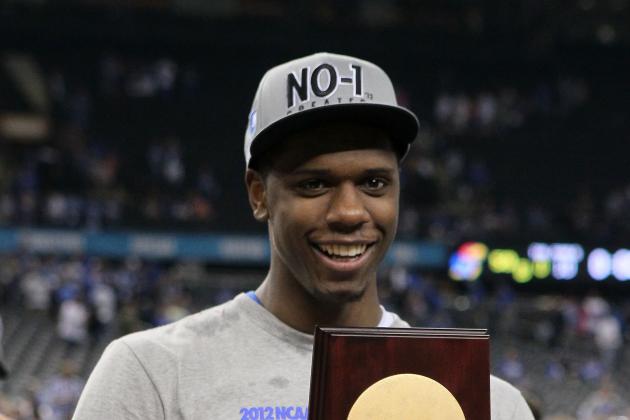 Jeff Gross/Getty Images
Terrence Jones
Name: Terrence Jones
School: Kentucky
Year: Sophomore
Position: Small forward and Power forward
Attributes: 6'9", 252 pounds
2011-2012 Per-Game Stats: 12.5 points, seven rebounds, 1.3 assists
Upside: 8/10
There's one team, and one team only, that I could see reaching for Terrence Jones.
The Detroit Pistons are stuck in NBA purgatory—a phase every organization dreads.
This franchise can't make up its mind on whether or not they want to blow up the roster and fully commit to rebuilding. With veterans Rodney Stuckey, Ben Gordon and Tayshaun Prince on the roster, it seems as if this team is too focused on the present.
They do have two young, encouraging prospects in center Greg Monroe and point guard Brandon Knight, but with the presence of the veterans, this team is too talented to compete for a high lottery pick.
This year, however, has such a deep talent pool that even lower lottery selections can still net franchise a game-changing star.

In my opinion, the Detroit Pistons will roll the dice on Kentucky star Terrence Jones, as he has the skill set and size to become a Lamar Odom-esque player. If he does develop into a player similar to the reigning sixth man of the year, then the Pistons will have found the perfect complement to Monroe.
Sure, the 6'9" forward is a tweener, a "position" I ripped on a few slides before, but his current intangibles and refined offensive game will allow Jones to flourish in the league.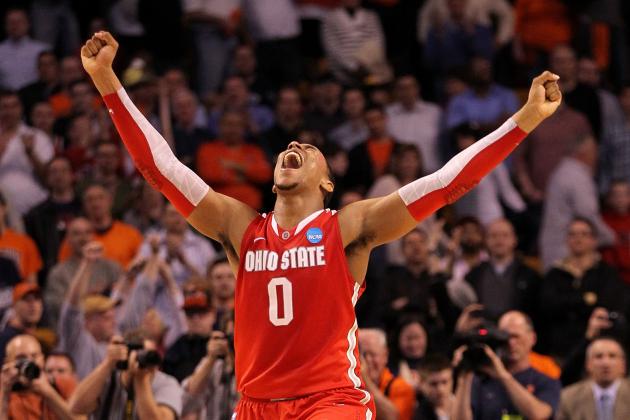 Jim Rogash/Getty Images
Jared Sullinger
Name: Jared Sullinger
School: Ohio State
Year: Sophomore
Position: Power forward
Attributes: 6'9", 265 pounds
2011-2012 Per-Game Stats: 17.6 points, 9.3 rebounds, 1.2 assists
Upside: 6/10
Simply put, Jared Sullinger is the safest pick in the entire player pool besides Anthony Davis. His game will, most likely, make a seamless transition to the NBA game. However, his upside isn't high enough for him to compete for a top selection.
This, in turn, will allow a team like the Portland Trail Blazers to swoop in and acquire the talented power forward.
With the injury to Greg Oden and the absence of Marcus Camby from the rotation, the Portland Trail Blazers have a major hole at both big men positions.
With the top-three post-players already off the board, the Trail Blazers will select Jared Sullinger, with the hopes that he will thrive next to All-Star LaMarcus Aldridge.
Sure, Sullinger has an extremely similar offensive skill set to Aldridge, as both rely on open mid-range jumpers and post moves, but this pick is more a testament to how much the Trail Blazers need another quality big man. After all, they play in a conference dominated by the incredibly long Los Angeles Lakers, Oklahoma City Thunder and Dallas Mavericks.
While Sullinger doesn't possess All-Star potential, he's more than capable of becoming a perennial 15 points and 10 rebounds per game contributor.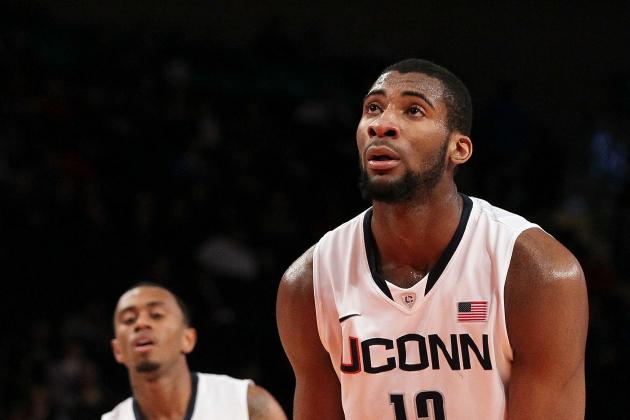 Jim McIsaac/Getty Images
Andre Drummond
Name: Andre Drummond
School: University of Connecticut
Year: Freshman
Position: Center
Attributes: 6'10", 270 pounds
2011-2012 Per-Game Stats: 10.2 points, 7.7 rebounds, 0.5 assists
Upside: 10/10
Gone are the days where centers like Patrick Ewing and Hakeem Olajuwon dominate the paint. Sure, Dwight Howard and Andrew Bynum are trying to recapture that experience, but there's just too little talent currently at the center position.
This makes Drummond such an intriguing pick.
Between his NBA-ready size and incredible athleticism, Drummond has the potential to join Bynum and Howard among the upper echelon of big men. However, it depends on how much he puts in to the effort.
His one-year college tenure didn't instill much confidence in NBA critics, though.
Still, I see the Washington Wizards, who are searching for a star to complement franchise cornerstone John Wall, will select Drummond.
Not only does Drummond fill a need at the center position, as the team just recently shipped JaVale McGee to Denver, but he has the potential to develop into a perennial All-Star.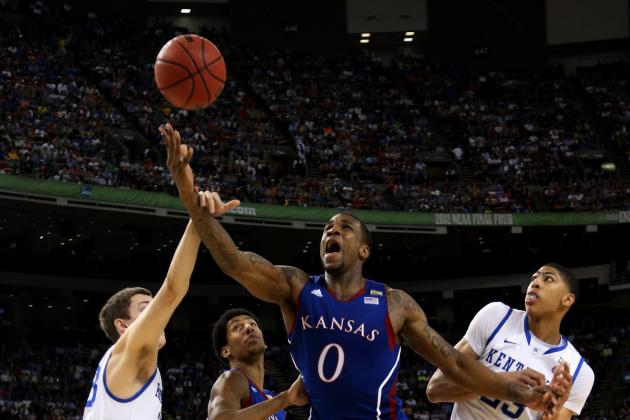 Ronald Martinez/Getty Images
Thomas Robinson
Name: Thomas Robinson
School: Kansas
Year: Junior
Position: Power forward (could possibly see minutes at small forward)
Attributes: 6'10", 237 pounds
2011-2012 Per-Game Stats: 17.9 points, 11.8 rebounds, 1.9 assists
Upside: 7/10
The Sacramento Kings and Thomas Robinson are a match made in heaven.
The Kings are on the fast track back to relevancy. If there's one team that will find themselves out of the lottery next season, it's Sacramento.
After all, just look at the young talent this team possesses.
From former BYU star Jimmer Fredette to talented center DeMarcus Cousins, this group has the makings to be a true title contender in a few years. However, the team is still a few pieces away and a mature prospect may be the best option for the young group.
Power forward Thomas Robinson, in my opinion, is their undisputed choice, as he is a leader and can contribute right out of the gates. Plus, how scary is a big man trio comprising of Robinson, Cousins and power forward Jason Thompson.
If the Kings want to be in the playoff picture once again, former Kansas star Thomas Robinson is their man, as he has the potential to put up gaudy numbers at the professional level.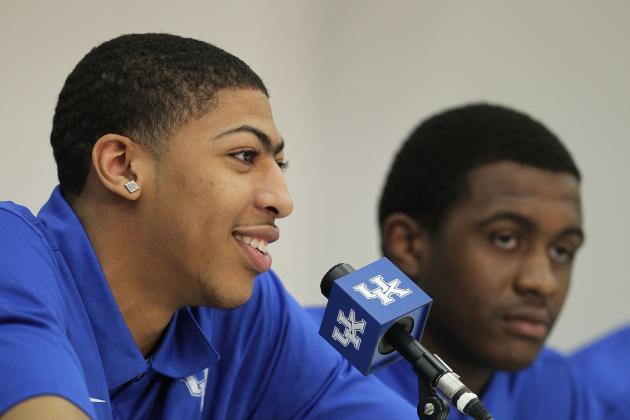 Andy Lyons/Getty Images
Anthony Davis
Name: Anthony Davis
School: University of Kentucky
Year: Freshman
Position: Power forward and Center
Attributes: 6'10", 220 pounds
2011-2012 Per-Game Stats: 14.3 points, 10.0 rebounds, 0.9 assists
Upside: 10/10
With the first overall pick in the 2012 NBA draft, the New Orleans Hornets select Anthony Davis.
If this is not the first sentence NBA commissioner David Stern says in this year's NBA draft, then the Hornets should cease to exist. Anthony Davis may be the most promising prospect of the last five years.
If he's not selected first off the board, this terrible decision will be designated a spot in NBA lore right next to the Portland Trail Blazers' decision to draft Sam Bowie over Michael Jordan.
Yes, Anthony Davis is that talented.
Not only did he lead the University of Kentucky to a national championship, but he was the most dominant force in all of college basketball. His 14 points, 10 rebounds and nearly five blocks per game are a perfect testament to how much Davis pummeled the opposition.
If there's only one prospect who could turn this disheveled franchise around, it's Anthony Davis.