2012 NBA Mock Draft: Complete Guide to NBA's First 30 Picks
May 31, 2012

Kevin C. Cox/Getty Images
With Wednesday's NBA Draft Lottery finalizing the order for June 28's draft, we can finally explore some mock scenarios with at least some measure of certainty—at least in terms of when teams will make their selections.
Who they actually select remains anything but certain.
Chances are everything will change a few more times thanks to draft-day trades, try-out results and the evolving needs of these NBA rosters.
With the level of talent available in this draft, though, more than a few teams may be intent on holding on to their picks, addressing their most obvious needs and taking the best talent available. Assuming those factors hold constant, here's a look at how the first round will go down.
1. New Orleans Hornets: Anthony Davis, PF (Kentucky)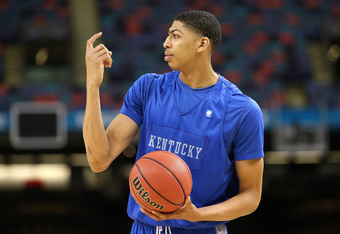 Ronald Martinez/Getty Images
The Hornets got lucky in a big way on Wednesday's lottery drawing. Anthony Davis would give the team a paint presence around which to build, and a dangerous inside-outside combination in the event New Orleans re-signs restricted free agent Eric Gordon.
Davis may not yet have the scoring ability a team might hope for from a first-overall pick, but he'll make such a difference in every other respect that no one will actually care about how many points he's scoring.
2. Charlotte Bobcats: Michael Kidd-Gilchrist, SF (Kentucky)
Once Charlotte has a chance to regroup from a disappointing draft lottery, it just might be reassured by the fact that Anthony Davis isn't the only big-impact player in this draft. In fact, his teammate Michael Kidd-Gilchrist might even be a better fit for the Bobcats in some senses.
Charlotte desperately needs leadership, and it needs someone on the wing with the size and athleticism to take over from Corey Maggette. As nice as it would be to have Davis in the paint, there's a good argument to be made that Kidd-Gilchrist has the best superstar potential in the draft.
3. Washington Wizards:  Thomas Robinson, PF (Kansas)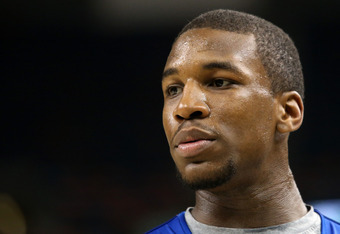 Ronald Martinez/Getty Images
If Kidd-Gilchrist is still on the board, Washington will probably pick him instead, but in this scenario, Thomas Robinson is a good bet. A case could certainly be made for taking Bradley Beal here, but he may be slightly redundant with Jordan Crawford.
And it's just harder to find a guy with the combination and mental and physical traits Robinson brings to the table. He'd be a significant upgrade over Andray Blatche, Trevor Booker and Kevin Seraphin.

4. Cleveland Cavaliers: Bradley Beal, SG (Florida)
Cleveland has just about everything it needs to complete a legitimate rebuilding process, but it's missing a scorer on the wing who can play the role of Kyrie Irving's sidekick for the foreseeable future. Beal has an electric shooting ability from mid-range and long-range alike, and he would instantly become one of Irving's favorite targets.

5. Sacramento Kings: Harrison Barnes, SF (North Carolina)
As tempting as it might be to bank on Andre Drummond's size and athletic ability, Barnes is the safe pick. He's also built for the NBA. He's a smart player, and he plays hard on both ends of the floor. The Kings need that more than they need more high-risk, high-reward prospects.
Sacramento has plenty of guards and a talented big man in DeMarcus Cousins. It doesn't have a legitimate small forward who can hit the spot-up jumper, though. Barnes would do the trick.
6. Portland Trail Blazers (from Brooklyn Nets): Andre Drummond, C (UConn)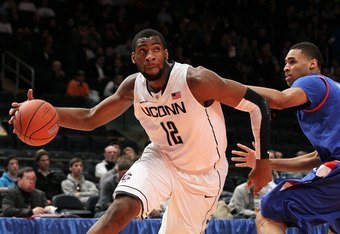 Jim McIsaac/Getty Images
The Trail Blazers are breathing a sigh of relief after Wednesday's Draft Lottery confirmed the pick wouldn't revert to the Brooklyn Nets. That's great news for Portland given the kind of talent that will be around at this early stage of the first round.  
This club desperately needs a center after trading Marcus Camby to the Rockets, and Drummond stands the best chance outside of Anthony Davis to become truly dominant. He's a beast of an athlete with endless upside.

7. Golden State Warriors: Perry Jones III, PF (Baylor)
Jones III is kind of like a quicker, wiry version of Andre Drummond. They both have the potential to be superstars, yet they both have a great deal to prove in terms of consistency and focus. The Warriors have a solid starter at the 4 spot in David Lee, but Jones III has the potential to be a difference-maker at the position.

8. Toronto Raptors: Jeremy Lamb, SG (UConn)
If any team could have used some luck in the draft lottery, it was the perpetually disappointing Raptors. But, they could be pleasantly surprised to find themselves in a position to draft someone as impactful as Lamb.
The 6'5" shooting guard may be the best available scorer after Bradley Beal, and he's got an intriguing 7'0" wingspan that could pay dividends on the defensive end of the floor. The Raptors need a go-to scorer with better range than DeMar DeRozan, and Lamb would be an ideal candidate for the job.
9. Detroit Pistons: John Henson, PF (North Carolina)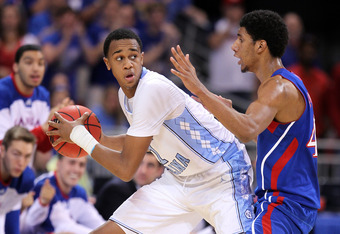 Andy Lyons/Getty Images
The Pistons have a promising young duo to work with in point guard Brandon Knight and center Greg Monroe. If an elite wing scorer is available, it would be hard to turn the opportunity down. But if Harrison Barnes and Jeremy Lamb are already off the board, an athletic, defensively-oriented power forward like Henson is the next-best bet.
10. New Orleans Hornets (via Minnesota Timberwolves): Damian Lillard, PG (Weber State)
The Portland Trail Blazers need a point guard badly enough that they might give Lillard a look at the six-spot. Otherwise, the Hornets would be a perfect fit. This kid has exceptional quickness and can score from anywhere. He may not be a pure floor general just yet, but who cares—he can light it up.
11. Portland Trail Blazers: Kendall Marshall, PG (North Carolina)
Assuming the Trail Blazers haven't already addressed their point guard needs with Lillard (and assuming the club doesn't trade one of its lottery picks for veteran help), Marshall makes a lot of sense. He's not a premium scorer, but he's quite possibly the best passer in this draft. At 6'4", he also has the size to hold his own in the NBA. In many respects, he could replace what Portland has missed from Andre Miller.
12. Milwaukee Bucks: Tyler Zeller, C (North Carolina)
Zeller won't be an immediate replacement for Andrew Bogut, but it shouldn't take him long. His biggest adjustment will simply be adding some muscle to his frame and growing more accustomed to the size and strength in the NBA. As young seven-footers go, though, Zeller is quite skilled. He's far more multifaceted than the average big-man prospect.
13. Phoenix Suns: Terrence Jones, SF (Kentucky)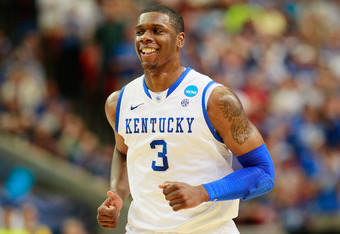 Kevin C. Cox/Getty Images
There's a good chance Jones may be gone by this point in the draft. He may not be the best scorer, but he's as well-rounded as just about anyone in the draft. He's got the physical tools to do a lot of different things well, and he plays bigger than most small forwards.
Phoenix's roster will be up in the air until Steve Nash's future is resolved, but Jones would be useful no matter what twists and turns free agency brings the Suns' way.
14. Houston Rockets: Austin Rivers, G (Duke)
Rivers' stock may take a hit thanks to his shoot-first tendency, but that shouldn't bother a team that actually needs a shoot-first guard. The Rockets' backcourt situation is unsettled at the moment, and Rivers would give the club a bit of a contingency plan in the event Goran Dragic or Kyle Lowry finds a new home.

15. Philadelphia 76ers: Terrence Ross, SG (Washington)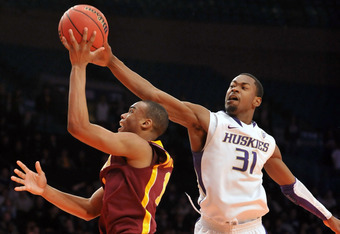 Jason Szenes/Getty Images
If it weren't for guys like Bradley Beal, Jeremy Lamb and Austin Rivers, Ross would go much higher in this draft. There's some risk in that he's more of a small forward in a shooting guard's body, but it's just as likely he'll be a dynamic star in this league for a long time to come.
For all of the 76ers' depth, this team doesn't have much of a starter at the 2. Ross would make for a perfect complement to Jrue Holiday, and they could form one of the best defensive backcourts in the game from day one.
16. Houston Rockets (via New York Knicks): Jared Sullinger, PF (Ohio State)
The Rockets could go for Arnett Moultrie if they're looking for athleticism, or they could look at Meyers Leonard if they're interested in a true center. Otherwise, Sullinger may be the most skilled option to beef up the front line and give Luis Scola a solid backup.
17. Dallas Mavericks: Meyers Leonard, C (Illinois)
Leonard may be long gone by now—he certainly would be in most drafts. If not, Dallas will happy to make him the Mavericks' center of the future. We're all fairly certain by now that Brendan Haywood isn't that guy.

18. Minnesota Timberwolves (via Utah Jazz): Jeff Taylor, SF (Vanderbilt)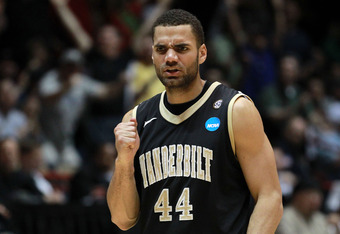 Ronald Martinez/Getty Images
If a true shooting guard like Terrence Ross slips this far, Minnesota will probably go in that direction. If not, Taylor would be the next best thing. He may be the best perimeter defender in the draft, and that would make a big difference on a young, offensively-inclined team like the Timberwolves.
19. Orlando Magic: Arnett Moultrie, PF (Mississippi St.)
No one is saying Moultie will be the next Dwight Howard, but he'd be a valuable big body to compensate for Superman's eventual departure. He still has a lot to learn on both ends of the floor, but the 6'11" physical specimen certainly has some athletic ability to work with.

20. Denver Nuggets: Tony Wroten Jr., PG (Washington)
Wroten Jr. could be one of this draft's biggest disappointments, but he could also have a breakout year after some polish. The Nuggets don't have many needs to speak of, so it makes sense to take a chance on a guy who could turn into someone like Rodney Stuckey in the best-case scenario.
21. Boston Celtics: Quincy Miller, SF (Baylor)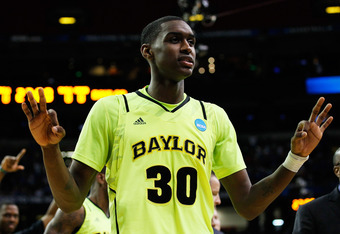 Kevin C. Cox/Getty Images
The Celtics have plenty of needs, especially on the bench. Miller would give Boston an incredibly versatile forward who could guard multiple positions and maybe even replace Paul Pierce one day—at least as much as you can replace someone like Pierce.

22. Boston Celtics (via Los Angeles Clippers): Fab Melo, C (Syracuse)
Melo can run the floor, block some shots and do the kind of things moderately skilled big men are often asked to do. That may not enthrall too many Celtics fans at first glance, but this roster doesn't have many options in the middle.

23. Atlanta Hawks: Dion Waiters, G (Syracuse)
Outside of Jeff Teague, nothing about Atlanta's backcourt is set in stone. Waiters could either become an electric sixth man or a solid young starter. He's not yet a tremendous shooter, but he compensates by attacking the rim relentlessly.
24. Cleveland Cavaliers (from Los Angeles Lakers): Moe Harkless, SF (St. John's)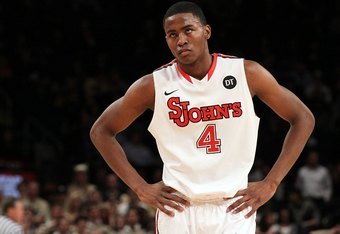 Jim McIsaac/Getty Images
Harkless is still a bit raw, so he probably won't go any higher than this. Still, he has an impressive talent profile and a good frame for a small forward in the pros. Cleveland could use some help for Alonzo Gee at the 3 spot, and Harkless would be a start.

25. Memphis Grizzlies: Andrew Nicholson, PF (St. Bonaventure)
Unless the Grizzlies shake their roster up, this draft pick will be little more than a source of some extra depth. Nevertheless, Nicholson could be a surprisingly valuable pick here given his quality touch from mid-range. Most guys his size never develop as good of a shot as he displays.

26. Indiana Pacers: Draymond Green, F (Michigan St.)
Green won't be as much of a standout player in the NBA as he was at Michigan State, but he could still be a reliable piece in a deep rotation like Indiana's. He's got a unique skill set replete with passing and rebounding ability.

27. Miami Heat: Festus Ezeli, C (Vanderbilt)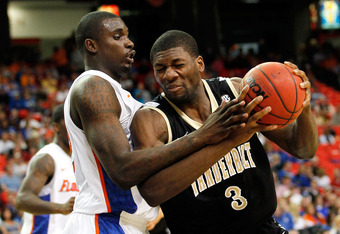 Kevin C. Cox/Getty Images
Miami's needs are a bit of a no-brainer. The team has just about everything but size inside, and Ezeli would provide that, especially on defense.

28. Oklahoma City Thunder: Evan Fournier, SG (France)
The Thunder could easily decide to trade this pick, but someone like Fournier could turn into a decent backup for Kevin Durant. That may be the one thing this roster is actually missing.

29. Chicago Bulls: Marquis Teague, PG (Kentucky)
Teague is one heck of a point guard, and the Bulls would be very lucky if he were to fall this far. His quickness and maturity would be extremely valuable in the event Derrick Rose misses the entire season recovering from knee surgery.

30. Golden State Warriors (via San Antonio Spurs): William Buford, SG (Ohio State)
The Warriors' best move would probably be to trade this pick. They already have a ton of young prospects in the fold. If they keep it, they might as well see what a proven scorer like Buford could turn into.