2012 NBA Draft: It Will Take More Than Anthony Davis to Save the Hornets
May 31, 2012

John Wall was supposed to turn things around in Washington.
Two years in, he looks more like Rod Strickland than Rajon Rondo. Greg Oden was supposed to be the next big thing in Portland but his knees turned out to be more fragile than the self-esteem of a 15-year old girl with a slight muffin top.
Darius Miles was going to be a star.
So was Jay Williams.
And Adam Morrison.
They weren't.
Most churches in America don't throw around the word "savior" as much as "experts" and analysts do in the months leading up to the Draft.
The prior two names are examples that there's no such thing as "can't miss". Sure, Wall can turn things around with a little more seasoning and a better supporting cast. Oden might be able to show some promise if he can find a way for his tires to stop going flat but the only thing certain about the draft is uncertainty.
That's why, as momentous of an occasion as winning the Anthony Davis is for the city of New Orleans, we need to remember that one pick can't transform a team from doormat to contender by himself.
Even the great Tim Duncan, arguably the greatest lottery pick in NBA history, needed "The Admiral" David Robinson at first and then guys like Tony Parker and Manu Ginobili to succeed (not to mention one of the greatest coaches ever in Gregg Popovich). Michael Jordan needed Scottie Pippen. Shaq needed Kobe.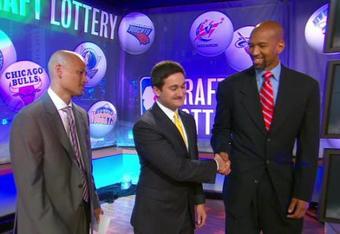 The inevitable selection of Anthony Davis is a nice start but that's all it is—a start. There's a reason this team had the fourth-worst record in basketball last year. They aren't very good. The hope, of course, is that the presence of King Unibrow causes the other dominoes to fall into place.
For starters, the team has to figure out the future of shooting guard Eric Gordon, a restricted free agent this summer. On the one hand, Gordon is one of the five best two-guards in basketball and, at just 22 years old, he'll only get better.
On the other hand, he's a man with a shooting touch of gold and a body made of aluminum. In his four-year pro career, Gordon's never played a full season and his career-best for games played is 78, which came in his rookie season back in 2008. For a guy wanting a max contract, he's a risky bet to build a team around.
Gordon has been hesitant since coming to the Big Easy about signing long-term with the Hornets but the presence of Davis could change that. If not, he's still a hot enough prospect to dangle in a trade perhaps for someone like Philly's Andre Iguodala or Indiana's Danny Granger.
Next, it's time to improve the supporting cast.
The Hornets will pay Emeka Okafor (he, himself, once considered a potential franchise cornerstone when the Bobcats selected him with the 2nd overall pick seven years ago) nearly $14 million dollars to continue his role as the second coming of Danny Fortson.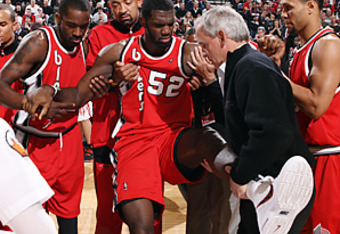 Small forward Trevor Ariza is so vastly overpaid for lack of overall talent and production, he might as well be the fourth Kardashian sister. Jarrett Jack is an adequate starting point guard coming off a career year but he's more of a stop-gap option than someone you build around.
Those, folks, are the second, third and fourth best players on the team.
Seriously.
It seems unlikely that a team will willingly take on an albatross of a contract like Okafor's or Ariza's without either a) sending a bad contract back in return or b) talking the Hornets into sweetening the deal by dangling someone like Gordon or perhaps New Orleans' 2nd first round pick (10th overall).
Speaking of that 10th overall pick, since New Orleans taking Davis with the first pick is a no-brainer, the Hornets need to focus their attention now on nabbing Davis a nice teammate. Obviously, that will hinge on how the rest of the draft shakes out but there are some intriguing options.
Ohio State power forward Jared Sullinger, considered a top-3 prospect coming into the season, could be available at #10 and he and Davis would give New Orleans the best young frontcourt the franchise has had since the days of 'Zo and Grandmama.
The team could also look to find its new Chris Paul by going point guard. Weber State's Damian Lillard is an intriguing small-school prospect. The team could also look at UNC's Kendell Marshall or Duke's Austin Rivers.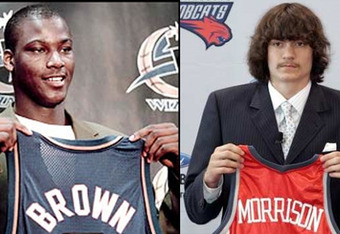 Another intriguing option? Using the 10th overall pick to snag a proven veteran.
One name that comes to mind is Lakers forward Pau Gasol.
Gasol wore the goat horns for most of the Lakers-Thunder series and there's heavy speculation that his days in Hollywood are coming to a close. The Lakers don't have a first-round pick in this draft and, as made evident in the Thunder series, could use an infusion of youth on their roster.
For New Orleans, a Davis-Gasol frontcourt would be an excellent tandem.
For the Lakers, they could look at any of the aforementioned options or make an attempt to find Kobe Bryant's successor. The only hitch would be whether the Lakers would be willing to deal with New Orleans while commissioner David Stern still owns the team.
If you're a Hornets fan, you have to feel better about today than, say, Jay-Z, who can count the Gerald Wallace trade among his 99 problems. However, before you start planning any championship parades down Bourbon Street, Hornets fans should study up on guys like Wall or Oden or Kwame Brown.
Nothing is promised when it comes to the NBA Draft. The experts will tell you that Anthony Davis will turn your franchise around, but they've been wrong before.