Pacquiao vs. Bradley: 5 Key Fights to Watch from Bradley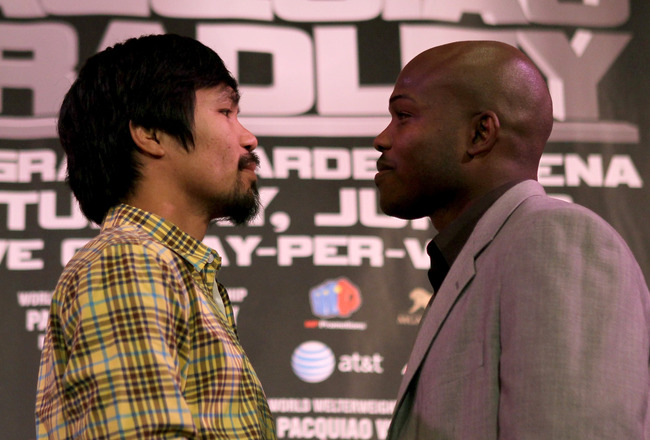 Manny Pacquiao vs. Timothy Bradley
Stephen Dunn/Getty Images
Manny Pacquiao and Timothy Bradley will step in the ring on June 9 with a history of fights under their belts. Their history will determine the habits they will form and the ways they adjust.
With Pacquiao, his recent career is well-documented with his last seven fights bordering on common knowledge. Bradley is a different story.
Most casual fans don't know or have never even heard of Bradley. They have nothing to draw from that would allow them to accurately gauge Bradley's chances of success.
If this fight is to sell over a million pay-per-views, It will have to do so by selling the competitiveness of this fight.
For those who can't see how Bradley will fair against Pacquiao, here are five fights that will tell the story of their June 9th encounter.
Timothy Bradley vs. Kendall Holt

Timothy Bradley suffers two knockdowns against Kendall Holt

In this fight, Bradley displays his ability to take the hardest punch of his career. Junior welterweight powerhouse Kendall Holt dropped Bradley twice in a very good fight.
But Holt is not Pacquiao, the man who dropped and backed up welterweights/junior middleweights Shane Mosley and Miguel Cotto.
Whether Bradley can take Pacquiao's punch will be something to see.
Timothy Bradley vs. Carlos Abregu

Timothy Bradley vs. Carlos Abregu

This served as Bradley's debut and sole welterweight fight before challenging Pacquiao. To study his performance here is to get an idea of how he handles the extra weight.
His opponent—while undefeated—is far from spectacular. Bradley managed to show he could keep his speed and maintain his strength at the weight. He'll need every bit to tame Pacquiao.
Timothy Bradley vs. Lamont Peterson

Timothy Bradley vs. Lamont Peterson

Bradley's diversity as both a brawler and a boxer shines brightly here against a Lamont Peterson that gives an inspired effort.
Unfortunately for Peterson, Bradley was just more determined, aggressive and a smarter boxer during the exchanges. These ring-smarts may show up again during exchanges with Pacquiao.
Timothy Bradley vs. Devon Alexander

Bradley vs. Alexander

Timothy Bradley defeats his third undefeated fighter in a row with Devon Alexander. This is the last real fight Bradley has been in, and he dominated Alexander.
He also demonstrated how his tendency for headbutts could lead to an ugly fight. Whether on purpose or not, his head will be a weapon on June 9.
Timothy Bradley vs. Joel Casamayor

Timothy Bradley vs. Joel Casamayor: A tragedy indeed

Bradley hasn't fought a real opponent in a while. His last opponent was Joel Casamayor. Sure he's a former Olympic gold medalist, but he was 40 years old and indifferent about the outcome.
As far as a real fight, Bradley hasn't been in one in over a year. Unlike Bradley, Pacquiao's last hard fight came against Juan Manuel Marquez last November and ended with a controversial decision.
Pacquiao has something to prove in this fight. Bradley has a year of inactivity to get over. He is young and undefeated with the opportunity of a lifetime, but does that compensate for inactivity?
Sometimes training is not enough when the training cannot be put on display against live opponents who want to be victorious.
Even if Bradley actually has what it takes to win, he's yet to encounter anything close to Pacquiao. That makes taking a weak fight in preparation for the fight of his life seem like possibly the fateful flaw that will cost him in the ring.
Keep Reading