2012 NBA Draft Order: What Draft Order Means for Anthony Davis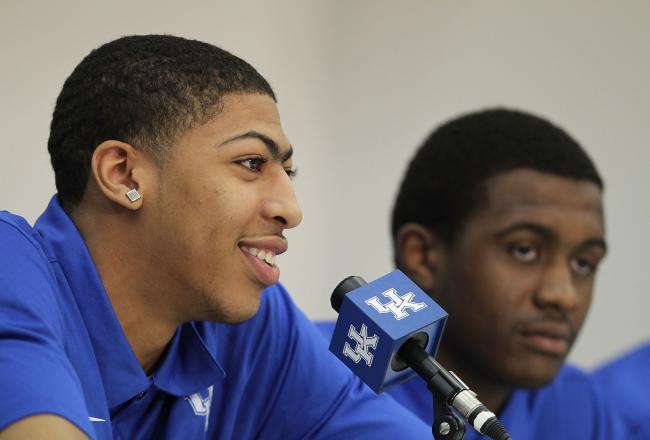 Andy Lyons/Getty Images
I hope that Anthony Davis likes gumbo, because he's sure going to be eating a lot of it. The New Orleans Hornets won the 2012 NBA draft lottery, and this was truly a mega-million lottery in terms of the kind of money that the future star will bring to New Orleans.
In many ways, the Hornets are the perfect franchise for Davis to land.
First, it's a place where the media pressure is not going to be heavy on him. The New Orleans media is traditionally far more forgiving than say, the New York media, where he might have gone had Brooklyn won.
In New Orleans he won't be demanded to make the Hornets an instant winner. He'll have a chance to grow and learn to be a great NBA player. For a player that is a big man, and who only spent one year in college, that's a perfect situation.
Second, it's a place where they have an exceptionally talented coach. If you merely look at the record, you might not realize what a fantastic job that Monty Williams did with New Orleans the past season. If you watched them play at all though, it was apparent.
This was a team that was clobbered by injuries and trades. They lost their superstar, Chris Paul, in a trade before the season even started. They lost the key player they obtained in the trade, Eric Gordon, for the bulk of the season.
Chris Kaman, the other big player that they obtained in the trade, was only there for 47 games.
Arguably, they went through as much adversity this year as any team in the league. Yet, no matter what happened, they came out and fought day in and day out. They played out every play of every game. They never resigned anything.
They may have lost, but it wasn't a lack of effort or execution that was to blame. They simply didn't have the talent on the court.
That comes from coaching, and that's the kind of coaching which serves young players well.
The third reason New Orleans is a perfect fit for Daivs is that he won't be the only rookie. The Hornets also own the 10th pick in the draft. That very well could go to pick a player along the lines of Damian Lilliard or Kendall Marshall if they want a new point guard of the future.
Or else it could go to pick a player like Jared Sullinger, if they want to complement Davis in the frontcourt.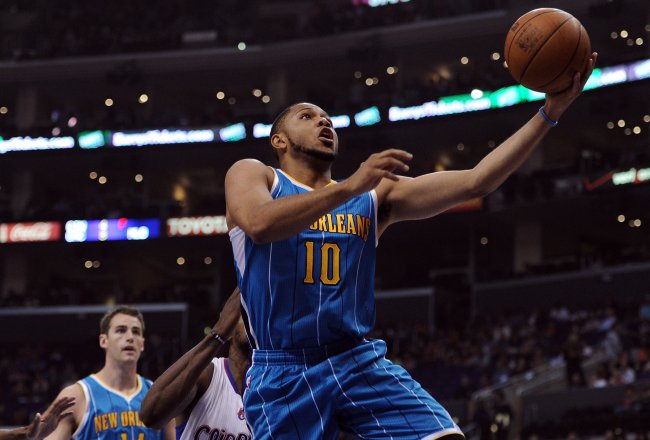 Harry How/Getty Images
One thing that's relatively certain is that it's unlikely the Hornets pick a shooting guard, because the aforementioned Gordon should return in full health next year. With Davis coming in, he should return motivated as well.
This is where things get incredibly intriguing. The NBA is filled with inside/out tandems that have won an abundance of rings. There's Jason Terry and Dirk Nowitzki, Kobe Bryant and Pau Gasol or Shaquille O'Neal, Tony Parker and Manu Ginobili with Tim Duncan, Magic Johnson and Kareem Abdul Jabbar, Larry Bird and Kevin McHale—the list goes on.
Gordon and Davis provide the Hornets with a foundation for the future.
Last, but not least, the Hornets are only obligated to $36 million in salary next year. Granted, a chunk of that is going to Gordon, but they'll have plenty to spend in free agency, particularly if they decide to amnesty Emeka Okafor, who is owed $13.5 million.
Will a Davis and Gordon tandem be enough to entice Deron Williams to sign with the Hornets?
Now consider this possibility. Could Deron Williams suddenly have his interest piqued by New Orleans? It's hard to imagine it wouldn't be considered at least a little bit. A backcourt with Williams and Gordon would be ridiculously good.
I'm just throwing that out as a thought, not a rumor. However, it's something that needs to be considered. The Hornets have the money to spend. They have Davis coming in. They have a second lottery pick this year. Gordon is a restricted free agent that they can match any offers on.
They also have some attractive young players like Greivis Vasquez and Jason Smith, who at the very least, are solid young role players.
They suddenly become an attractive free0agent team. There is a lot to appeal to a player like Williams.
Should the Hornets be able to make a play for Williams, they'd be an instant playoff team—one where Davis wouldn't be demanded to be a leader on.
New Orleans is the best of all worlds for Davis. He'll have little pressure to succeed and plenty of opportunity. He'll have the right combination of coaching and players he needs. He'll have room to grow as a player. It's hard to imagine a better situation for him.
Maybe that's why they call it the Big Easy.
This article is
What is the duplicate article?
Why is this article offensive?
Where is this article plagiarized from?
Why is this article poorly edited?

New Orleans Pelicans: Like this team?