NBA Draft Lottery 2012: Updates and Speculation from Around the Web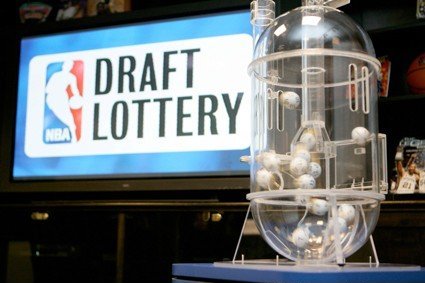 Now that the NBA draft lottery is over, draft addicts like myself are in overdrive. We're speculating as to who goes where, who'll make a trade, and which players will go on to be Hall of Famers and which ones will bust.
Yet, some experts have gotten mock drafts out already and have set the speculation in major forward motion. From ESPN's Chad Ford to Yahoo's Adrian Wojnarowski to some of B/R's best, everyone seems to have an opinion on how things will pan out.
Let's take a look at a few and start stirring the debate pot!
Begin Slideshow

»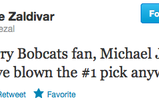 If you read our website daily and don't know who Gabe Zaldivar is, then I highly suggest you subscribe to him. The man knows his stuff and with this Tweet, he hits the nail right on the head.
You see, while the Bobcats didn't get the top pick, most Charlotte fans seem to be of the opinion that winning it and selecting Anthony Davis would have been the franchise's key to future success. In fact, a 'Cats fan told my girlfriend and I last week that they would be pumped for next season if the team drafted Davis. My better half quickly replied, "Oh, honey..."
Let me put it this way, ladies and gentlemen. Jordan's track record with drafting isn't exactly stellar. Keep in mind, we're talking about the man who took Kwame Brown with the first overall pick in 2001, when guys like Pau Gasol, Joe Johnson and Shane Battier were taken later.
Thus, who's to say he won't blow the #2 pick in the same way he blew the #1 slot over a decade ago?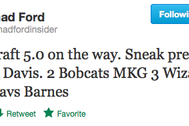 ESPN's Chad Ford is a great NBA mind, but this particular prediction in his "Mock 5.0" just doesn't make sense to me.
Yes, Kentucky forward Michael Kidd-Gilchrist has a bright NBA future and will surely make an immediate impact wherever he ends up.
Yet, what I don't understand is Ford calling Kidd-Gilchrist the second-best player in the draft. Last I checked, that honor belonged to Thomas Robinson.
Don't get me wrong, both players are great and the Bobcats need help at both forward positions, but Robinson has NBA size and has more college experience, thus making him more NBA-ready. Therefore, I don't understand Ford's rationale.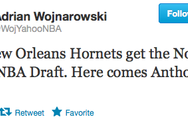 Though I may agree with them, it still shocks me that most experts immediately have the New Orleans Hornets taking Kentucky forward Anthony Davis with the first overall pick.
Adrian Wojnarowski of Yahoo Sports flat out said it, as you can see in his Tweet.
Still, we must consider the possibility that Davis won't be picked first. Sure, the Hornets need a lot of help at power forward, but who's to say that they won't consider Thomas Robinson?
While talented, Davis is a project player who probably won't fully break out until next season, perhaps the season after. Robinson, on the other hand, will start producing immediately.
Given how the team has a new owner in Tom Benson, they have a decision to make—win now or be patient?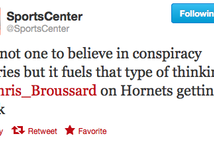 I love ESPN's Chris Broussard, but some of the stuff that comes out of his mouth is just plain mind-boggling. What is it about the Hornets getting the top pick that "fuels that type of thinking"?
If memory serves me right, the Bobcats basically tanked the season and finished with the worst record in NBA history. Thus, wouldn't them getting the first overall pick fuel more conspiracy theories stating that they threw the season?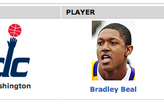 To your left is a screen shot from Ford's "Mock 5.0." As you can see, he has Florida shooting guard Bradley Beal being picked third overall by the Washington Wizards. If you read further, Ford says that the Wizards "could really use a dominant 2-guard."
Hey, Chad, ever hear of a guy named Jordan Crawford? He averaged 14.7 points for the Wizards last year and could be primed for a breakout season in 2012-2013. That said, I have a question.
For this mock draft of yours, did you just randomly pick names out of a hat following Davis going to the Hornets?