NBA Draft Lottery 2012: Which Bottom Feeders Can Make the Playoffs Next Year?
May 31, 2012

Chris Graythen/Getty Images
The sun continues to shine on the city of New Orleans in the form of a new owner, a new approach to winning in the form of coach Monty Williams and now the No. 1 overall selection in the 2012 NBA draft.
After the Hornets make the first selection, the Charlotte Bobcats will pick No. 2 and the Washington Wizards will round out the top three.
While it's exciting that young talent is piling up on these teams, it's also troubling for evening out the player pool and team strength that teams like Sacramento, Detroit, New Orleans, Charlotte and Golden State always wind up in the lottery pool.
It seems the same teams are struggling to find the right pieces to mirror what Oklahoma City has done over the past five seasons. Names like Kevin Durant, Russell Westbrook and James Harden are hard to find on three teams, much less one.
But finding the right scouting department, player development coaches and a little bit of luck will do the trick. It's an inexact science, just like any draft or sport, and it's hard to project talent at the highest level of competition in the world.
However, those same teams that continue to draft in the lottery are getting closer to consistently competing with the powerhouse playoff teams in the NBA. Oklahoma City has taken that leap, the Minnesota Timberwolves are getting closer with their last three selections (Kevin Love, Wesley Johnson, Ricky Rubio) and San Antonio has found the fountain of youth with names like Danny Green and Kawhi Leonard.
Here's three teams that have a great shot of making the playoffs in 2012, especially after the results of the draft lottery Wednesday night.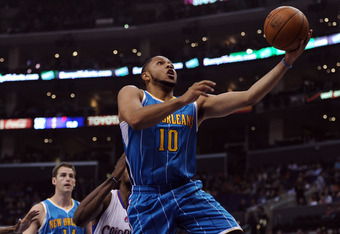 Harry How/Getty Images
New Orleans Hornets
Right out of the gate, taking Anthony Davis with the No. 1 overall selection should guarantee the Hornets more wins than they had last season.
Throw in a team that includes a re-signed and healthy Eric Gordon and Carl Landry, and good seasons from Emeka Okafor and Jarrett Jack, and suddenly this is an interesting Hornets team.
Okafor might slide in at power forward, allowing Davis to roam the paint both on offense and defense. Even if they both play a forward/center hybrid set, both should compliment each other well, both as individuals and teammates.
The big key for the Hornets now, after their good fortune, is to re-sign Gordon at all costs. They gave away the majority of their star status when they traded Chris Paul, so it's imperative to keep a 20-plus points per game guy like Gordon to take pressure off of Davis in the flow of the offense.
If they can, this team should make some noise next year in the middle of the Western Conference.
Washington Wizards
The Wizards were slated to get the No. 2 pick based on the lottery, but No. 3 isn't a bad dip for them. They'll still have the opportunity to select a playmaker, whether it be Andre Drummond, Thomas Robinson or Michael Kidd-Gilchrist.
By ridding themselves of head cases JaVale McGee and Nick Young, they got a solid center/forward in Nene and a player they know won't be bothered with image or immaturity.
With any one of those players they can select at No. 3, they should be able to compete in the Eastern Conference. John Wall is just scratching the surface of his abilities. Jan Vessly is very raw. Trevor Booker and Chris Singleton are athletic forwards who can run with Wall.
I don't think the Wizards were as bad as their start indicated. With the right coach and the right up-tempo system, combined with some athletic, inspired defense and an expanded role for Nene in the half court, this team can make some noise.
Cleveland Cavaliers
Why not, Cleveland? Two years removed from the LeBron debacle and you're a much younger, exciting and cap-friendly team than you were with the hometown star.
Kyrie Irving and Tristan Thompson are a year older. A healthy Anderson Varejao will certainly bring more energy on both ends. The Cavs have pick No. 4, 22, 33 and 34. Four players in a draft with this much talent will be something that will be built around for years to come.
The Cavs have to find some skilled big men. As well as a guard that can create his own shot and stretch the floor for Irving. Don't be surprised if Brad Beal from Florida is the first guard taken at No. 4, if he is still on the board.
Cleveland should be able to compete with any team in the East, specifically because they will be so young and hungry. Factor in Irving, who could be in the top 20 of all NBA players in the next three years, and they're certainly on the right track.