Fantasty Football: Top 6 Eagles to Target During Your Draft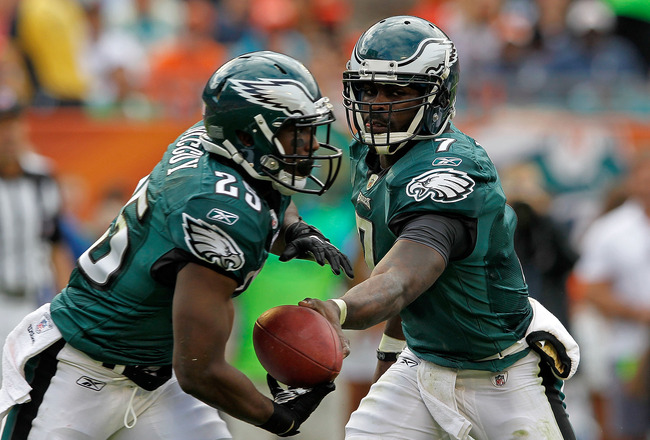 Mike Ehrmann/Getty Images
It's no secret that plenty of Philadelphia Eagles will be targeted during your fantasy football draft.
And while the NFL regular season is more than two months away, it's your job as a fantasy football general manager to be perpetually scouting.
Since a decent amount of planning is attached to each fantasy selection, let me break down why you should target these Eagles in this particular order.
6. DeSean Jackson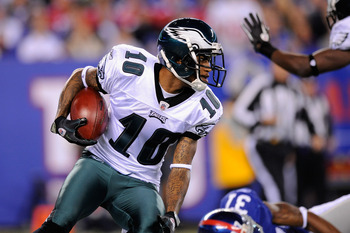 Patrick McDermott/Getty Images
Although it's widely considered that this big-play wideout had an unproductive contract year, the truth is DeSean Jackson was only 39 yards short of the 1,000-yard plateau and was a mere four receptions off his single-season high of 62.
The reason why I have Jackson ranked so low is because of his sporadic production, tendency to drop passes and the likelihood of finding a more stable replacement.
Last season, D-Jax averaged 16.6 yards per catch, but he caught five or more passes in only one-third of the 15 contests he played in.
In points per reception leagues, this kind of production will significantly hinder your chances of a virtual crown.
Some may argue the speedster's value as a punt returner should give him higher consideration. However, the Cal alumni averaged just a mere 6.7 yards on 17 punt returns in 2011.
Even as a receiver, Jackson has his own deficiencies.
According to Pro Football Focus, the five-year pro dropped nine of 67 catchable passes thrown his way last year and 12 of 61 balls the year before that.
With a total of 21 dropped passes and a 16.4 percent drop rate in the past two seasons, there are sure to be more reliable receiving options at this point in your draft.
5. Philadelphia Defense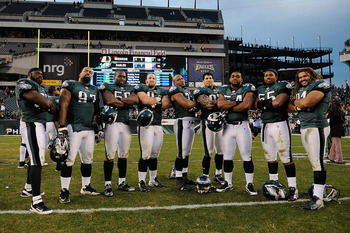 Patrick McDermott/Getty Images
The saying "offense wins games, but defense wins championships" may not carry the same weight in the fantasy realm, but it's still a crucial aspect to building a contender.
Last year was the first season under defensive coordinator Juan Castillo, and that was coupled with the incorporation of Jim Washburn's wide-nine scheme. But the Philadelphia Eagles still managed to lead the league with 50 sacks.
Even though the team recently traded away ball-hawking cornerback Asante Samuel, the secondary should still improve with his departure.
Dominique Rodgers-Cromartie is much better suited to play the press man-to-man style of defense the Eagles are looking to deploy. And the cornerback will allow Castillo to stop experimenting with Nnamdi Asomugha in a Charles Woodson-like role.
The return of injured players like Brandon Graham and Antonio Dixon will combine with key offseason additions like DeMeco Ryans, Mychal Kendricks, Brandon Boykin and Fletcher Cox to give Philadelphia one of the most dangerous units on the defensive side of the ball.
Simply put: If there's one defense to target in your fantasy league, let it be this one.
4. Brent Celek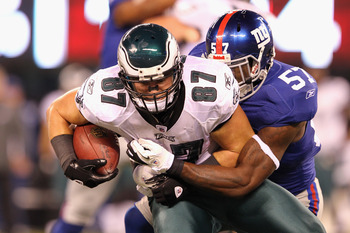 Al Bello/Getty Images
The Philadelphia Eagles tight end put up modest numbers of 62 receptions, 811 yards and five touchdowns in 2011.
However, he played all but the entirety of last season with a sports hernia and torn labrum.
What surprised me most about Brent Celek's campaign was that even with those nagging injuries, he got stronger as the season progressed.
Not only did he play in all 16 games, but he also managed to combine for 13 receptions, 294 yards and a touchdown in the team's final three contests.
After receiving offseason surgery to correct both injuries, Celek has said, "I feel like I'm fixed now. I do feel a lot different. It's a lot easier to run now."
With Michael Vick's top red-zone receiving threat expected to enter the season healthy, there's no reason to doubt why he can't match the production of elite options like Jason Witten, Tony Gonzalez and Vernon Davis.
3. Jeremy Maclin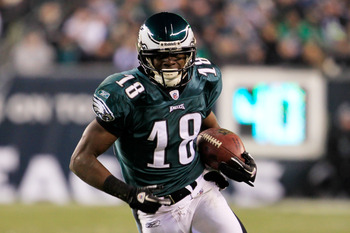 Chris Trotman/Getty Images
After recording 10 touchdowns during his sophomore season, there were high expectations for Jeremy Maclin in 2011.
Instead, the fourth-year pro regressed in all statistical categories and finished the year with 63 receptions, 859 yards and five touchdowns.
So why should you target him this year?
A large part of Maclin's disappointing season can be attributed to an offseason cancer scare that forced him to miss a large portion of an already shortened training camp.
Not only did this illness cost Maclin time on the field, but it also affected his conditioning and overall stature.
It has been reported that the Missouri product arrived at OTAs looking considerably stronger than last season. And assuming that the additional muscle doesn't compromise his hands and speed, you're looking at a sixth-round receiver who could easily put up top-10 numbers at his position.
2. LeSean McCoy
Rob Carr/Getty Images
LeSean McCoy is a bit unfair for fantasy owners since it'll probably take a top-three selection to acquire his talents.
This means that you won't necessarily be targeting last season's leader in first downs and touchdowns, but rather, you'd be just plain lucky to find him available.
My "expert" fantasy advice is that if McCoy is still on the board when you're up, you take him (with Aaron Rodgers and Drew Brees being the exception).
I don't care what format you're playing or what other elite running back you have on your virtual squad.
It doesn't even matter if you're not the original owner who selects him since you can simply send in a trade proposal.
McCoy's breakout season and 20 total touchdowns speak loudly. And while Andy Reid will look to limit his number of touches, McCoy has proven to be too dangerous and consistent to not be the top back taken in your fantasy draft.
1. Michael Vick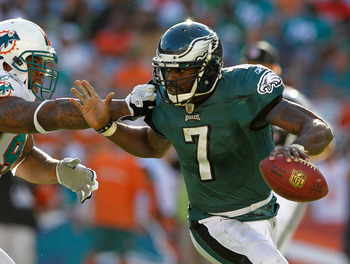 You should also want a piece of Michael Vick.
Mike Ehrmann/Getty Images
It didn't surprise me that Michael Vick went from being undrafted in 2010 to the top pick in 2011.
That's how quickly things change in fantasy land.
And this is also why Vick should fall out of favor in this year's drafts and why you should capitalize.
It's true that Vick has a reputation for coming with a perpetual injury concern, but honestly, which quarterback doesn't?
The reason why the dual-threat quarterback gets a bad rep is because of his ability to run—which ironically is the thing that sets him apart from other signal callers and is what would net owners the most fantasy points.
In his two years as a starter, Vick has given owners an addition of 1,265 rushing yards and 10 extra touchdowns.
He possesses a skill-set that is matched by only Cam Newton and has a set of receiving options that ranks as tops in the league.
His offensive line will be returning four starters and was rated second best by Pro Football Focus.
Simply put: Vick is in a prime position to finish the 2012 season as the No. 1 fantasy option, even though he will probably be the sixth quarterback taken in your draft.
Keep Reading

Philadelphia Eagles: Like this team?