Paul Pierce vs. LeBron James and NBA's Most Heated Grudge Matchups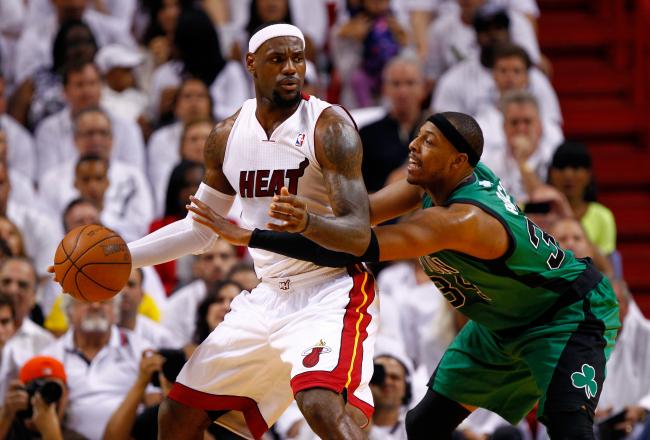 Mike Ehrmann/Getty Images
There's an extensive backstory to the bad blood between Paul Pierce and LeBron James.
It's a saga replete with on-court duels, hard fouls and plenty of trash talking. To hear Paul Pierce explain it, their relationship is just what happens when a couple of great players see so much of each other (via ESPN's Brian Windhorst):
"I don't think it is like or dislike, it is what it is," Pierce said. "He's been on some great teams, I've been on some great teams and we've had to face one another. After awhile it became a mutual respect for the things he's done in this league and the things I've done in this league."
James and Pierce have had plenty of opportunities to cultivate that "mutual respect"—if that's what you want to call it. Since Kevin Garnett and Ray Allen came to the Boston Celtics in 2007, LeBron has battled Pierce four times in the postseason.
There's an obvious logic to the competitiveness.
Pierce has always been one of the best small forwards in the game, but he's essentially a human version of James—a guy who relied on hard work, intelligence and passion to do what his mortal athleticism could not.
In contrast, James is a physical specimen with the talent to match. He's either the result of genetic engineering or divine intervention, or a once-in-a-generation find at the very least.
And yet, for all that Pierce could envy about his younger, better rival, he's the one with the ring.
Perhaps Pierce's unmatched heart for the game isn't the only thing LeBron wishes he had.
Can any other grudge match compare? Of course.
Dwight Howard vs. Stan Van Gundy
Kevin C. Cox/Getty Images
While Howard continues to maintain that he had nothing to do with Stan Van Dundy's ousting, he admits life together wasn't always peachy (via TMZ staff):
"Me and Stan ... we had our ups and downs ... but for the most part we had one goal ... to win a championship in Orlando, but we fell short."
That's the kind of thing players say when there were more downs than ups. You don't hear contented players unnecessarily equivocating when it comes to how things are going with their coaches. Whatever Howard's role was or wasn't in Van Gundy's departure, it's a pretty safe bet these guys don't like each other.
Metta World Peace vs. James Harden
Stephen Dunn/Getty Images
A swift elbow to the back of James Harden's head overshadowed this postseason, and it reminded us that somewhere deep down inside Metta World Peace, there was still some Ron Artest who wasn't about to be forgotten.
It didn't take long for a non-story to return in the form of World Peace's sentiments on shaking hands. World Peace probably won't be playing long enough for this grudge match to reach its full potential. But, it epitomizes the bitterness that so often accompanies a changing of the guards,
Tim Duncan vs. Kevin Garnett
Is life imitating commercials?
Just when you thought Tim Duncan got along with everyone, it turns out he isn't too fond of Kevin Garnett. And, we already knew Kevin Garnett wasn't too fond of anyone–save the lucky souls on his own team.
It's hard to know exactly how much bad blood is shared between these guys. Duncan isn't the type to engage in the trash talk all too often. If he was willing to bring it up with Sports Illustrated, though, chances are there's something to it.
This article is
What is the duplicate article?
Why is this article offensive?
Where is this article plagiarized from?
Why is this article poorly edited?