Chicago White Sox Magic Number to Clinch the AL Central Is 111
May 30, 2012
Al Messerschmidt/Getty Images
It might be early in the season but it's never too early to get excited about a team's prospects. The Chicago White Sox' win this afternoon in Tampa Bay coupled with the Indians' loss to Kansas City assures that the South Siders will be in first place on June 1.
31 percent of the season has passed, and the White Sox are sitting atop the American League Central. Any combination of White Sox wins and Indian losses equaling 111 will eliminate the Tribe. The number to eliminate the Tigers, the team picked by virtually everyone to repeat as division champions, is a mere 106.
The White Sox need to be a good team for two-thirds of the season.
They need Jake Peavy to keep pitching as if he was sent on a time warp back to 2007. They need Phillip Humber to pitch a little more like his perfect game and less like his other eight starts (in which he's averaged 5.1 innings per start with a 6.48 ERA). Chris Sale has become a solid starter and has helped make up for the injury to John Danks.
Most impressive is their no-name bullpen that manager Robin Ventura is juggling beautifully.
How many preseason predictions saw Addison Reed, Jesse Crain, Nate Jones and Hector Santiago making big contributions?
And who saw Adam Dunn finding his swing or Paul Konerko putting together MVP caliber numbers? If Alexei Ramirez finds his swing, then the Sox could be giving their suddenly deep bullpen many leads to protect.
The key to 111 would be taking two of three against all of the bad teams of the league.
43 percent of the White Sox remaining are against the Mariners, Astros, Cubs, Brewers, Twins, Royals and A's. 30 games are between only the Twins and Royals.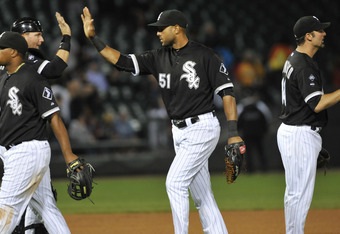 David Banks/Getty Images

Playing .600 ball against those teams would net 28 wins, cutting the Magic Number to 83.
Playing just one game under .500 against the rest of the league would give the White Sox 31 more wins and have the magic number down to 52. That doesn't take into account any Cleveland or Detroit losses in the final 70 percent of the season.
If that all comes to fruition, it would put the White Sox at 88-74, not an unreasonable total.
Cleveland would have to go 62-50, a .553 clip, to beat that. Detroit would have to play .584 ball for the final two-thirds of the season to win 89 games.
So go for it, White Sox. Beat the bad teams and hold your own against the good teams and there will be reason to celebrate in October.
And if that isn't reason enough for White Sox fans to be happy, imagine this scenario: The White Sox are in the playoffs and the Cubs are the worst team in baseball. That should be enough to put a smile on every White Sox fan's face.