MLB Draft 2012: 10 Bold Predictions for the MLB Draft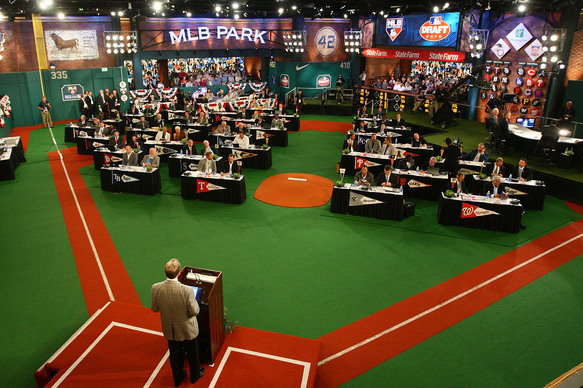 Photo via ProspectNation.com
You know what makes the MLB First-Year Player Draft better than every other draft?
Nobody pretends like he knows exactly what's going to happen when the draft actually gets underway. There's considerably less BS surrounding the MLB draft than there is surrounding other drafts (particularly the NFL draft and the NBA draft).
I'm no different from anyone else. I don't have a clue what's actually going to happen once the draft kicks off, and I'm not going to pretend like I do.
This does not, however, mean that I can't make a few bold predictions.
And by "bold predictions," I mean educated guesses that stand a very good chance of coming true.
I have 10 that I'd like to share.
Begin Slideshow

»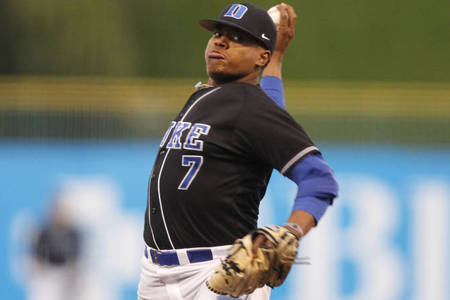 Photo via GoDuke.com
Marcus Stroman is one of the most intriguing college arms in the draft. This is partially because he has great stuff that ought to play well in the majors, and it's partially due to his short stature and the uncertainty over whether he's better off starting or relieving.
There's a high risk/high reward sentiment when it comes to Stroman. Because of that, he could go anywhere in the first round.
I have a gut feeling he's going to end up with the Nationals at No. 16 overall.
In his most recent mock draft, ESPN's Keith Law (Insider access required), noted that the Nationals have been linked to Stroman. Law doesn't buy their interest, however, because Nats GM Mike Rizzo has a track record of taking taller pitchers.
I think he'll make an exception in Stroman's case for one reason: He could very well be able to pitch for the Nats later this year.
We've seen pitchers get drafted in June and then make their debuts later on in the year before (i.e. Craig Hansen in 2005), and Stroman is a candidate to do the same because he has experience pitching in relief and because his stuff is perfectly suited for relief work. He could be an asset coming out of Washington's pen, which has gone through some ups and downs this season, late in the season.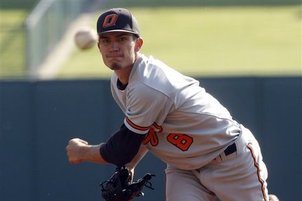 Photo via Yahoo! Sports
Oklahoma State lefty Andrew Heaney finished his season on a heck of a hot stretch, and he stands to benefit from that hot stretch.
According to Jonathan Mayo of MLB.com, Healey pitched into the ninth inning in each of his final seven starts. Over 60 innings, he had a 0.90 ERA and he struck out 64.
A stretch like this will get one noticed, so it's no surprise that Heaney's name is popping up in top-10 conversations (per Mayo).
Law noted in his mock draft that the Seattle Mariners, who have the No. 3 overall pick in the draft, are very much interested in Heaney, which should give you an idea just how much his stock has risen in recent weeks.
It's doubtful that Heaney will go as high as No. 3. There are too many other pitchers on the top-10 radar, and Heaney's stuff simply doesn't match up with the stuff of Mark Appel, Kevin Gausman and Kyle Zimmer.
Nevertheless, hard-throwing lefties with proven college track records just don't come along very often. With pitching in demand this year, somebody in the top 10 is bound to take a chance on Heaney.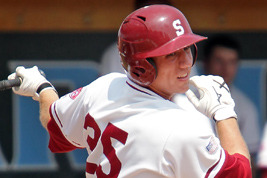 Photo via BrewersRumors.com
We go from a guy bound to climb on draft day to a guy bound to fall on draft day.
The scouting reports all have nice things to say about Stephen Piscotty. For example, Baseball America (subscription required) praised Piscotty for being a consistent performer who has a "soild, line-drive approach" to hitting. He also very much looks like a major league third baseman.
He just doesn't hit like one. Though the scouts insist that he has above-average power, Piscotty has rarely shown it in game situations.
To make matters worse, Piscotty spent a lot of time roaming the outfield this season, and that's given rise to questions about which position he is best suited for in the big leagues.
So in a span of a couple months, Piscotty has gone from being a sure thing to being something of a gamble. He could still very well get drafted in the first round, but only if a team feels like taking a chance on a guy with limited power who might be an everyday third baseman someday.
I'm willing to believe Piscotty will go in the first round, but he won't crack the top 20. In fact, I won't rule out a slide down to the supplemental round or beyond.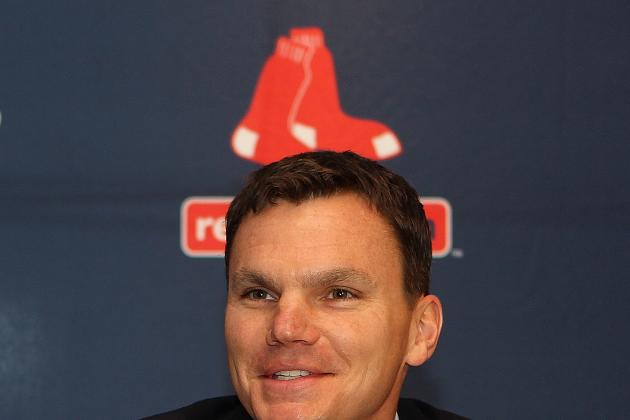 Jim Rogash/Getty Images
Red Sox general manager Ben Cherington.
Everyone always wants to know what the Red Sox and Yankees are going to do in the draft, so why not touch on both of them individually?
We'll start with the Red Sox, who have the No. 24 overall pick and the No. 31 overall pick in the first round.
When you take a look at Boston's farm system as it stands right now, you'll notice that it's perilously thin on pitching depth. This is a pretty major concern seeing as how the pitching at the major league level has been underachieving for quite a while now.
They seem to have scored with 2011 pick Matt Barnes, who is quickly moving his way through the ranks. Since Barnes was one of the top college arms in last year's draft class, his success gives the Red Sox every excuse to go back to the well in the first round of this year's draft.
The Red Sox won't have a shot at any of the best college arms in the draft class, but they could definitely end up with one of the safer college arms in the draft. Pitchers such as Texas A&M's Michael Wacha, Mississippi State's Chris Stratton and Florida's Brian Johnson come to mind.
The goal for the Red Sox will be to find a pitcher who can advance through the ranks quickly. The way their pitching staff looks right now, they're going to need as much help at the major league level as they can get, and soon.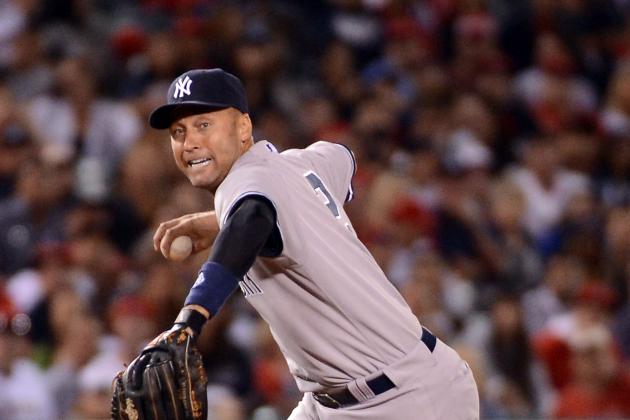 Harry How/Getty Images
It's time for the Yankees to find old man Jeter's replacement.
The Derek Jeter era has been good to the Yankees, but its end is just around the corner.
The Yankees don't have an impact shortstop prospect waiting in the wings to take over when Jeter is ready to retire, and that's a problem that needs to be fixed. At some point in this year's draft, they should make it a priority to find an elite shortstop prospect.
There's never an abundance of those in a given draft, and this year's draft will be no different. If the Yankees are lucky, though, there's a chance they'll be able to draft a top shortstop with the No. 30 overall pick.
This chance exists because a handful of the top shortstop prospects could slide down the draft. Arizona State's Deven Marrero has seen his stock take a tumble in recent weeks, and prep stars Gavin Cecchini, Addison Russell, and Tanner Rahier are guys that could be had in the lower third of the first round.
The general consensus is that teams should always pick the best player available regardless of position, but shortstops are sort of an exception. You need a good one to win ballgames, and the Yankees know this better than most. If they have to reach a little to find an heir apparent for Jeter, they shouldn't hesitate to do so.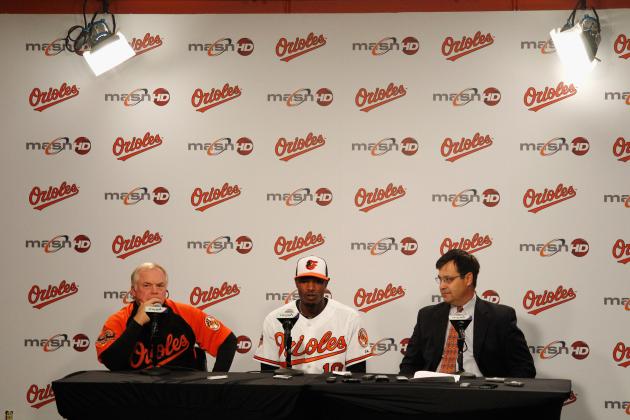 Rob Carr/Getty Images
From left to right: Buck Showalter, Adam Jones, Dan Duquette.
It's not all about the Yankees and the Red Sox in the American League East. The Orioles are on the rise, and they promise to get even better once the young talent in their farm system makes it to the majors.
What the O's need more than anything else are a couple young guns in their starting rotation. They have one on the way in Dylan Bundy, who has been spectacular this season. He'll be ready in a couple years.
The best thing the O's can do with the No. 4 overall pick in the draft is find a pitcher who will be ready when Bundy is ready. A high school arm won't be ready that quickly, so they'll have to target a college arm.
They'll be able to take their pick. I doubt they'll have a shot at Mark Appel, but Kevin Gausman, Kyle Zimmer and maybe even Andrew Heaney will be in play.
The point will be to set things up for the year 2014. If Bundy stays on track and the O's go for a college arm early in the 2012 draft, they'll find themselves with a formidable duo atop their rotation. If they can pair two top arms with the top talent they have in their lineup, they could very well morph into a powerhouse in the AL East.
J. Meric/Getty Images
Expect the Pirates to find a future battery mate for 2011 No. 1 overall pick Gerrit Cole.
Over in the National League Central, the Pittsburgh Pirates are another team that should have their eyes on 2014.
Though one or both of them could get the call to the big leagues in 2013, the 2014 season is when Gerrit Cole (pictured) and Jameson Taillon will be ready to lead Pittsburgh's rotation. Both of them have tremendous stuff, and that stuff will make them a dynamic duo for years to come.
The Pirates also have some exciting position players waiting in the wings. What they don't have, however, is an exciting young catcher would could serve as a battery mate for their two young guns. It's in their interest to find one.
This is something that is typically much easier said than done, but there are some options in this year's draft class. The Pirates may have a shot at Florida's Mike Zunino with the No. 8 overall pick, and selecting him would be ideal.
If they can't get him, oh well. They can take the best player available and then look to find a catcher on Day 2. Their options will be more wide open in Rounds 2-15, but finding a young backstop should definitely be a priority.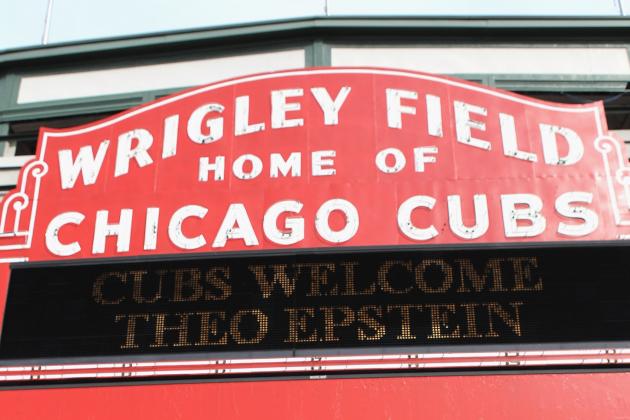 Jonathan Daniel/Getty Images
Cubs President of Baseball Operations Theo Epstein.
Mark this one down. It's not quite a stone-cold lock that the Cubs will use the No. 6 overall pick on a pitcher, but it's pretty close.
The Cubs lack pitching depth down on the farm, and they're well aware of that. General manager Jed Hoyer admitted recently (via Bruce Miles of the Daily Herald) that pitching depth is one of the organization's "bigger concerns."
I don't think the Cubs are particularly committed to taking either a college arm or a prep arm. Top college arms like Gausman and Zimmer will be in play, but so will high school arms like Max Fried and Lucas Giolito.
Since the Cubs can afford to wait, I can see them going for a high school arm. They're not competing anytime soon, so they won't need help anytime soon.
One way or the other, though, I can promise you that they'll take a pitcher of some sort.
If I'm wrong, I'll officially start worrying about the direction the Cubs organization is going in.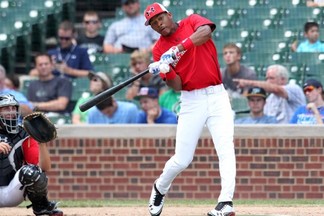 Photo via ESPN.com
The Houston Astros have the No. 1 overall pick in this year's draft, and there's a difference of opinion over which prospect is the best pick for them.
According to Jim Callis of Baseball America, there are rumblings that Astros scouts prefer Byron Buxton, a five-tool outfielder from Appling High School in Baxley, Georgia. This makes sense, of course, as Buxton is No. 1 on a lot of big boards.
However, it's by no means a lock that Buxton will be the No. 1 overall pick. The Astros need pitching more than they need position players, and they'll be in a position to take their pick from a class of pitchers that is pretty deep.
This will be a hard temptation to pass up. Too hard, I think.
If I had to guess, I'd guess that Appel would be the pick. Regardless of who it is, it won't be Buxton.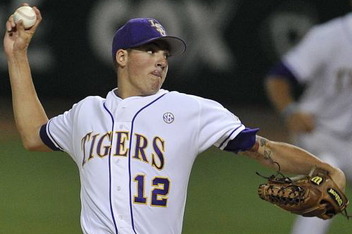 LSU's Kevin Gausman; Photo via CollegeBaseball360.com
Byron Buxton may not go No. 1, but there's no way he slips out of the top five. If the Astros don't take him, he won't slip past the Twins at No. 2 or the Mariners at No. 3.
Regardless of where he ends up, my gut tells me that Buxton is going to be the only position player selected in the top five.
All I'm doing with this prediction is playing the percentages. There are more elite arms at the top of this year's draft class than there are elite bats, all five teams in the top five need pitching depth down on the farm, and all five of those teams are not blind to the reality of the situation in today's MLB.
Pitching is king in Major League Baseball, and has been for a couple years now. This has given rise to a literal arms race, and this is a trend that will continue for some time.
If you want to win, get some arms. The teams at the very top of the 2012 MLB draft will do just that.
If you want to talk baseball and/or fantasy baseball, hit me up on Twitter.