Nicklas Lidstrom: An Open Letter to the Retiring Superstar
May 30, 2012

Tom Szczerbowski/Getty Images
Nicklas Lidstrom will reportedly announce that he is retiring tomorrow.
Earlier today, Arron Ward tweeted that Lidstrom will announce his retirement tomorrow at an 11 a.m. EST press conference at Joe Louis Arena.
If Lidstrom (the greatest defenseman of the modern era and possibly of all time) announces his retirement tomorrow, there will be mixed feelings among fans in Detroit.
But feelings aside, I would just like to set the record straight in an open letter to "The Captain."
Captain Nick,
If you retire tomorrow, I would like to let you know that I stand by your decision to retire.
We've known this day was coming for a long time (as much as we didn't want to think about it), and you could not have left the franchise in a better position to succeed.
The fact of the matter is, you never had to come to the NHL in the first place. You could have taken your degree in Electrical Engineering and done something fancy with it in Sweden.
But you took the leap of faith and came over to the Red Wings and made this organization something that no one could have ever imagined when you were drafted in the third round of the 1989 NHL Entry Draft.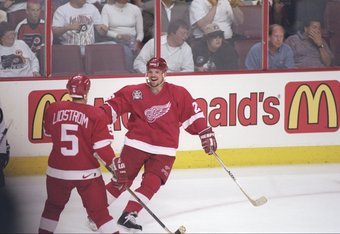 Al Bello/Getty Images
The reliability, consistency and excellence that you played with night in and night out gave the Red Wings' fan base something to believe in. The diligence that you played your position with helped bring Detroit out of the "Dead Wings" era.
Mr. Lidstrom, you put the "Hockey" back in "Hockeytown".
Plenty of people can shoot hard, skate fast, dangle through defenders and score goals.
But Nick, you revolutionized the sport of hockey with your defense.
Thinking out each play five seconds before making it gave you a definite advantage over your competition, but it was the humbleness and sportsmanship that you exhibited that will never be matched by anyone.
Nick, if you aren't "A Perfect Human", as we've labelled you on the ice, please don't spoil it for fans reading this at home.
It would be like finding out that Santa Claus isn't real.
Finally, Mr. Lidstrom, we would love to have you back for the Red Wings alumni game this coming season.
You would be the best alumnus on the ice, so your high expectations that you set out for yourself wouldn't be violated.
Once again Nick, thanks for everything. The statistics that you possess speak for themselves, the loudest of these being the fact that you never missed the playoffs in your career.
On behalf of the Red Wings organization, both fans, players and otherwise, we thank you from the bottom of our hearts for bringing your "A" game to the rink for 20 seasons.
For more article updates, Follow @isaacesmith91 
For more on this story, follow the Tweet #RedWings