A Germany vs. Spain Final in Euro 2012 Would Be Can't-Miss Television
May 30, 2012

Steve Haag/Getty Images
Sure, it's a bit cliche to hope for the No. 1 seed to square off against the No. 2 seed in the final game of any tournament, but for Euro 2012, it would result in the most entertaining match possible. 
And in a country like the United States, where soccer is far from a powerhouse in comparison to the other major sports, a duel between the two elite teams of the tournament would build much hype.
ESPN has been awarded the television rights for the tournament. So if the top-ranked Spaniards find themselves in the final round with the Germans, then that's your cue to change the channel and tune in.
Here's some background on both teams.
Spain
Spain, the 2010 World Cup champions, are considered to be the favorites of the tournament, hence their rank as No. 1. 
They are also the defending Euro champions and are looking to repeat their success. 
The team is being led by coach Vicente Del Bosque, who also led the team to their World Cup victory in South Africa. The captain of the team is goalkeeper Iker Casillas. 
Spain will look to sweep through the bracket in a dominating fashion and will presumably be somewhat unchallenged—unless Germany makes it to the final round.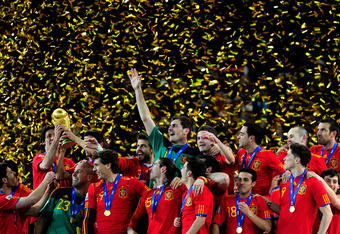 Jamie McDonald/Getty Images
And while Spain is clearly the most talented team in the tournament, they must avoid mental errors and self-inflicted mistakes in order to maintain their dominance. 
Spain will play their first game on June 10 against Italy. 
Germany 
Germany made it to the semifinals during the World Cup only to be defeated by the Spaniards, so there is a definite need for revenge. 
Germany won all 10 of their qualifying games, scoring 34 goals in the process and surrendering only seven. 
As the No. 2 ranked team of the tournament, the Germans will have more to overcome on their side of the bracket, such as No. 4 ranked Netherlands and No. 5 ranked Portugal. 
But just like in most tournaments, if a team overcomes a lot in the beginning, then they're better prepared if they reach the final round.  
As most of us know, whether it's from watching the MLB and NFL playoffs or even March Madness, the top-ranked team is rarely a guaranteed winner. The winner is almost always the hungry team with the most momentum. 
While Spain is the team to beat, the Germans are the rising stars who will hit the ground running. 
Germany will play their first game on June 9 against Portugal.