NBA Lottery 2012: Charlotte Bobcats Will Be Fine with or Without Top Pick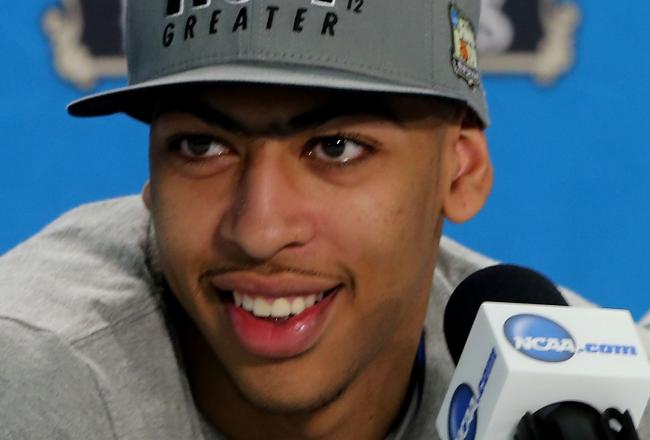 Jeff Gross/Getty Images
The 2012 NBA draft lottery is scheduled for tonight at 8:00 p.m. ET, and Charlotte Bobcats' fans will be happy to know that their two months of nail-biting anxiety will be relieved in a matter of hours.
That anxiety could turn straight to fury and depression if the team is not awarded the No. 1 overall pick in the NBA draft. That has been the trend in recent years, as the worst team in the league hasn't won the lottery since the Orlando Magic drafted Dwight Howard in 2004.
We've been hearing about how much of a can't-miss prospect Anthony Davis is since the beginning of his lone season at Kentucky, and it would be a huge blow to the psyche of the Bobcats community if the team is unable to obtain the No. 1 overall pick.
But Bobcats' fans should realize that they will be fine with or without the top pick in the draft, as there is plenty of top-tier talent in the 2012 crop of players.
Say the Bobcats are dealt the No. 2 pick in the draft. They would be wise to go with Michael Kidd-Gilchrist, the small forward out of Kentucky who thrived under John Calipari in his freshman season. Kidd-Gilchrist has the quintessential frame for a wing player, standing at 6'7", 228 pounds. Much has been made of Davis's value as an interior defensive presence, but MKG would give Charlotte a lock-down defender on the perimeter—and the Bobcats could surely use some defensive help, as they allowed over 100 points per game last season.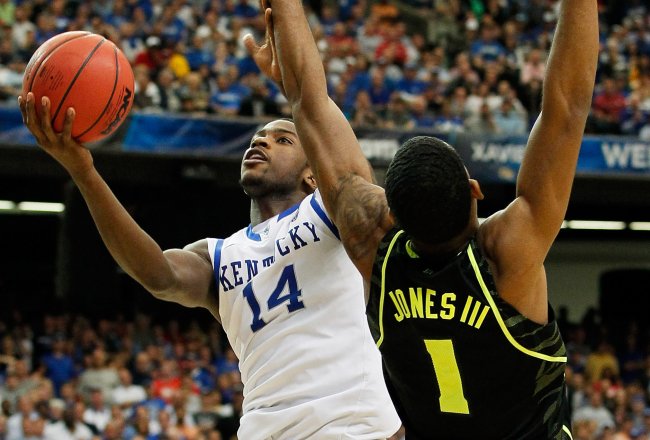 Kevin C. Cox/Getty Images
Kidd-Gilchrist isn't an offensive force, but neither is Davis. Both players rely on their athleticism and quickness to get down the floor in a hurry and open up the transition game. Davis is marginally more adequate on the offensive end, as he has the low-post skills and jumper to take advantage of slower defenders. MKG has some quickness of his own, but scores most of his points at the rim, as his perimeter shot is average at best.
Despite his shortcomings, Kidd-Gilchrist was labeled a winner a long time ago, and there's no reason to believe that he won't be able to hone his offensive skills and use his physical attributes to become a solid offensive player.
Of course, solid isn't what you want out of a top-two pick—you want a star—but Davis isn't going to come into the NBA and set the league on fire in his first season either. It will probably take him at least a full year to get acclimated to the style of basketball played by the team that he is chosen by.
Another issue with Davis and the Bobcats is that he and Bismack Biyombo might have a difficulty developing chemistry. That's not to say that they won't figure it out in time, but Biyombo—though he showed some signs of becoming a decent NBA player—hasn't broken out yet.
Kidd-Gilchrist would pair well with Kemba Walker, whom I'm assuming will get much more playing time under a coach not named Paul Silas next season. The two could thrive in the transition game as both are extremely fast and apt to run the floor.
If that were the case, the lineup won't look as pathetic as it was for all of last season. Walker would run the point, Gerald Henderson at the 2, MKG at the 3, Biyombo could move to the 4 and Byron Mullens at center.
That team doesn't look like a powerhouse in the Eastern Conference, but it looks a lot better than a .106 winning percentage. They'll have to develop a better bench, but they could become a decent team in time, and there aren't many reasons to think otherwise.
Don't you see Charlotte fans? It's not as bad as it seems. Your team wouldn't have finished as bad as 7-59 if they hadn't decided to tank for the last half of the season. But tank they did, and it will pay off even if they don't grab the No. 1 pick in the draft.
This article is
What is the duplicate article?
Why is this article offensive?
Where is this article plagiarized from?
Why is this article poorly edited?

Charlotte Bobcats: Like this team?