Why a Barry Bonds-San Francisco Giants Reunion Is a Huge Mistake
May 30, 2012

Lisa Blumenfeld/Getty Images
Barry Bonds would love to get back into baseball. Not as a player anymore. Now 47 years old, he's apparently accepted that those days are over. 
But, Bonds would like a job of some sort, preferably with the San Francisco Giants, the team he played with for 15 years. What sort of job isn't clear, though he feels his 22 years of major league experience give him plenty of wisdom to share with the Giants' big leaguers and minor league prospects. 
"My expertise is baseball," Bonds told John Shea of the San Francisco Chronicle. "That's the only role I can have. My expertise is on that field."
The question is whether the Giants should want Bonds to come back to the team as a coach. This obviously wouldn't be just hiring a former player to tutor current and future players. Bringing Bonds back into the organization would also bring along everything Bonds carries with him. Namely a personality that he now maintains was just a persona. 
"I created that guy out there for entertainment only," Bonds said. "Whether you hated me or liked me, you were there."

What Bonds still doesn't seem to realize is that we would've been there regardless of whatever guy he created to entertain us. His awesome baseball talent was enough to draw us in.
Shouldn't that be obvious when so many fans—especially those in San Francisco—cheered him on despite him appearing to have no regard for what fans thought of him, his disdain for the media and a surliness toward his teammates? 
Oh, and people continued cheering and following his every at-bat despite the legitimacy of his accomplishments being questioned because of his hulking physical appearance.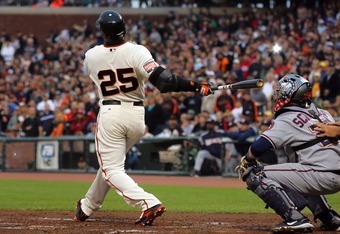 Lisa Blumenfeld/Getty Images
Bonds was must-see MLB, knocking down every home run record that stood in his way, steadily climbing the list of all-time home run hitters until he finally reached the pinnacle of the sport. No record matters like baseball's single-season and career home run marks.
Of course we were going to watch.
But it's one thing to tune out all the surrounding noise, keep your head down and just keep plowing ahead toward history while Bonds' team was losing games. There was a record to chase down and claim for himself. 
Coaching is a bit different. It's not all about him anymore; it's about helping others hone their skills to be the best players they can be. Yet judging from what Bonds said to Shea, he seems to think he can just walk into the Giants clubhouse in a wizard's robe and hat, extend his arms out, yell, "Expertise!" and players will wait to be tapped on the head with his magic wand. 
Maybe he's right. Maybe players will flock to Bonds, knowing it would be crazy not to try to learn something from one of the game's all-time greats.
Yet his presence could also be a major distraction, as the media constantly ask players about what Bonds may have said to them, what they learned and—"Hey, did he ever happen to suggest using performance enhancers, like the ones he insists he never used?" 
Do the Giants really want that kind of disruption around?
The obvious impulse is to compare Bonds to Mark McGwire, who became the St. Louis Cardinals' hitting coach two years ago. As MLB.com's Terrence Moore points out, McGwire was so much of a distraction last season that the Cards went on to win the World Series.
But the situations aren't the same at all. 
McGwire confessed to using steroids before his first season as a coach, addressing the issue everyone wanted to talk about and eliminating it as a talking point before it could become a distraction. McGwire also just wanted to fade into the background, doing his work and tutoring the Cardinals hitters without his every appearance becoming a media circus. 
Justin Sullivan/Getty Images
Compare that to Bonds, who wants everyone to know he wants a job with the Giants and doesn't want whatever piddly tasks former teammate J.T. Snow has to deal with, like being an instructor in spring training, a roving minor league instructor and occasionally advising general manager Brian Sabean.
"I think my role is a little higher than that," Bonds said to MLB.com. "I love J.T. a lot, though."
Yet Giants president Larry Baer insists the team doesn't have a position for Bonds, telling Shea, "Right now, there are no plans." 
Maybe the Giants just haven't figured out what responsibilities to give Bonds. But he's made it clear he doesn't intend to merely be a figurehead who has to shake hands with fans or show his face when the team wants to remind everyone how great he was.
Perhaps that's the sort of honesty that would help him succeed as a coach. Or it's a display of the kind of hubris that shows Bonds isn't suitable for the kind of job he envisions. 
The Giants have done a fantastic job of embracing their rich history over the years, bringing so many great players back for a new role with the team. But Bonds is one former player the franchise should keep at a distance.
San Francisco has moved on from the Bonds era. The Giants are a completely different franchise now and have a World Series championship to show for it. What they're doing obviously works. Is bringing back Bonds really worth messing with that? 
Follow @iancass on Twitter.