Chicago White Sox: Forget Rebuilding, Sox Just Winning Instead
June 1, 2012

David Banks/Getty Images
The Chicago White Sox currently sit alone in first place in the American League Central division as we head into the month of June with a record of 29-22.
No seriously, I'm not kidding—the Chicago White Sox are in first place.
The south siders are riding an eight game winning streak and have won 12 of their last 13 games, which includes back to back sweeps of the Indians and Rays.
So much for the rebuilding year that most people had put them in to start the season. 
And anyone who says they saw this coming is lying—if not, then they're smarter than just about every expert out there.
Personally I felt that the White Sox were being shortchanged during the preseason because I felt they could be better than people were giving them credit for, but I certainly didn't believe that they would be in the position that they are in currently.
By this point I figured that I would just be hoping for Bears training camp to start and writing articles about why the White Sox can't score runs and what they need to do for next year.
Glad I was wrong.
And while there is still two-thirds of the season remaining, it appears that the White Sox are a team that intends on being a contender in the American League Central until the end.
They are several reasons that the White Sox are winning, but one of the more obvious reasons is the resurgence of the high priced trio of Adam Dunn, Alex Rios and Jake Peavy.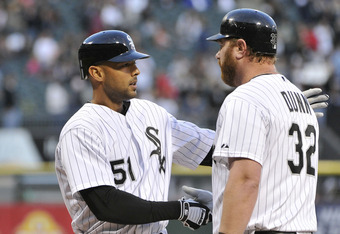 Brian Kersey/Getty Images
These guys were hammered by critics during the offseason for their lack of production—and rightfully so—but they have turned the tables so far this season.
Both Dunn and Rios struggled at the plate (and that's being nice) almost all of last season and they were a big reason why the Sox weren't in contention, but so far this year they are a big reason why they are in contention.
Dunn is hitting like the guy the White Sox thought they were getting when they brought him in last season.  His average is over 70 points higher than where he finished last year and, more importantly, he already has more homeruns and almost as many rbi's as he had all of last season.  He is just seeing the ball much better and that's bad news for opposing pitchers.
Rios also looks like a new player as he is hitting the ball hard consistently to all fields and playing a solid right field.  He had stated in preseason that he preferred playing in right and apparently that's the case.  He looks more comfortable in the field and at the plate, which is paying dividends for the White Sox.
Then there's Peavy.  All he's done is go 6-1 with a 3.07 ERA to start the season.  He has been dominant in most of his starts and has a strikeout to walk ratio of just over 5:1—pretty solid.  He may not be what he once was, but I think the Sox will take it.
In addition the White Sox have been getting big contributions from youngsters such as Alejandro De Aza and Dayan Viciedo.  The Sox knew they would need to get production from these guys in order to contend this year and that's exactly what they're getting.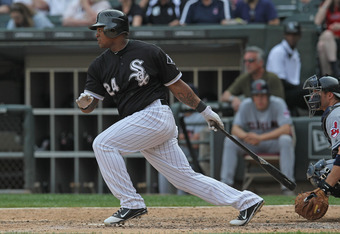 Jonathan Daniel/Getty Images
De Aza has been getting on base consistently and driving in runs from the leadoff spot while Viciedo has started to hit the ball everywhere—and hard.  For the month of May Viciedo hit .351 with eight homeruns and 24 rbi's—that's getting it done.
Oh and let's not forget about Chris Sale.  All he's managed to do is go 6-2 with a 2.34 ERA in his first season in the rotation.  He has also held hitters to a .198 batting average thanks to a slider that looks like the one I used to throw in back yard wiffle ball—except that it's better and gets out major league hitting instead of the chumps that I grew up with (sorry guys).
Finally, there's the old guys—Paul Konerko and A.J. Pierzynski.  They both just seem to be getting better with age.
Konerko has been putting on a clinic at the plate for most of the season and it's almost not fair.  He is currently hitting .381 with 11 homeruns and 33 rbi's and at times has made it look easy, which it most certainly is not.  He is just a professional hitter who has mastered his craft and at times looks like he is just toying with pitchers by just placing the ball wherever he wants.
Pierzynski has been great as well and is on pace to have career highs in homeruns and rbi's while hitting aroung the .300 mark.  In addition he leads the league with a .438 average with runners in scoring position.
Critics (the same ones who said the Sox would lose 90 games) will say that there is no way that these guys will continue to do this for the rest of the season and that the Sox will fade—which is certainly possible.
I say, let's just wait and see.  If they don't, they weren't supposed to anyway.
But if they do, well then the Chicago White Sox may just be one of the surprise teams of the year.
Stranger things have happened.  That's what makes this game so great.
Baseball is funny.  Just when you think you've got it all figured out—you don't.