How to Fix the Washington Redskins' Turnover Problems
May 30, 2012

Rob Carr/Getty Images
Sloppiness and a lack of big plays on defense. That's what did the Washington Redskins in last year.
When looking at the Redskins' 2011 season, it strikes you that they weren't particularly bad at anything except passing. The secondary was weak, but the pass defense still ranked 12th in football. The pass protection was decent. The running game excelled despite injuries. The pass rush finished 10th in the league with 41 sacks, a double-digit improvement over the previous season. Even the run defense improved from 26th in the league (4.6 yards per carry against) to 18th (4.3).
So why'd the Redskins actually win fewer games in 2011 than they did in 2010? Well, the passing game truly was even worse than the year before, but more importantly, only the Tampa Bay Buccaneers had a worse turnover ratio than Washington's minus-14 mark. In 2010, by comparison, their turnover ratio was a much more respectable minus-four.
There are few stats in sports that are as closely connected to wins and losses as turnover ratio. Seven of the league's top eight teams in that category made the playoffs last season, while nine of the worst 11 did not.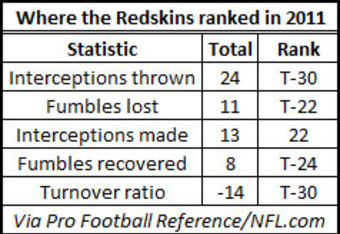 And the last time the Redskins were competitive in the standings—2008—was also the last time they didn't have a negative number in that column.
So it's clear that in order to take that next step as a franchise, the Redskins will have to do a better job protecting the ball on offense and making big plays on defense. They do the small things right, and the correct pieces are in place, but now they have to start coming out on the right side of plays that change games and seasons.
Here's how they get that done:
Construct a Smart, Safe Plan for Robert Griffin III
The Redskins have already made a substantial move in their pursuit to limit offensive turnovers by drafting Griffin and naming him the starting quarterback. This is a man who threw an interception for every 70 passes he threw in four years at Baylor and was remarkably accurate on deep balls.
But Peyton Manning had 11 picks in his final year at Tennessee and Cam Newton tossed just seven in his final season at Auburn, and those quarterbacks threw a combined 45 interceptions as rookies. 
This team isn't likely to be a Super Bowl contender in 2012, so there's no reason to push it with Griffin. He'll surely throw his share of picks regardless, but limit those mistakes and give the defense more opportunities to be aggressive in favorable situations.
Plus, asking Griffin to do too much only increases his chances of getting hurt. And remember: Rex Grossman, who threw the third-most interceptions in football last season, is still the backup.
Avoid Sloppiness (Easier Said Than Done, I know)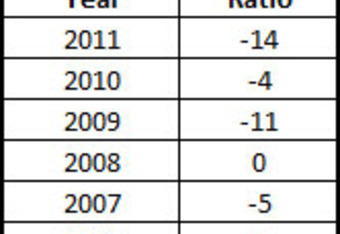 This is a team that was also in the bottom 10 in fumbles (25) and fumbles lost (11). Now, it was Grossman who lost five of those fumbles, but as good as Griffin was at protecting the ball in college, he probably shouldn't be expected to keep his fumble total much lower than that. 
That means he'll need more support from those around him. The running backs and receivers can't cough it up five times like they did last year. Cut that total in half and hope that Griffin can keep his number below five and you'll at least see a steady improvement in this area.
If Griffin can limit his picks to one per game and start the full season, and his supporting cast can protect the ball just a little better, it's easy to envision the 'Skins decreasing their offensive turnover total from 35 in 2011 to 25 in 2012. The league-wide average last season was 26.
Be More Aggressive on Defense
It's not as though they weren't last year, but what have they got to lose? Let's find out if the pass-rushing duo of Brian Orakpo and Ryan Kerrigan can reach superstardom. Frankly, it's worth the gamble when you consider that this defense only forced 21 total turnovers despite better overall numbers in 2011.
Jim Haslett has to get the most out of Orakpo and Kerrigan, as well as second-year 3-4 defensive end Jarvis Jenkins, who has the ability to wreak havoc. In doing so, his guys will give up the odd big play, but that's a necessary risk if they want to get the ball in the offense's hands as much as possible.
Remember, it's not like Eli Manning, Tony Romo and Michael Vick don't make mistakes. They'll beat you if you don't bring it consistently, and Josh Wilson and DeAngelo Hall aren't terrible corners.