16 Strangest Haircuts in World Football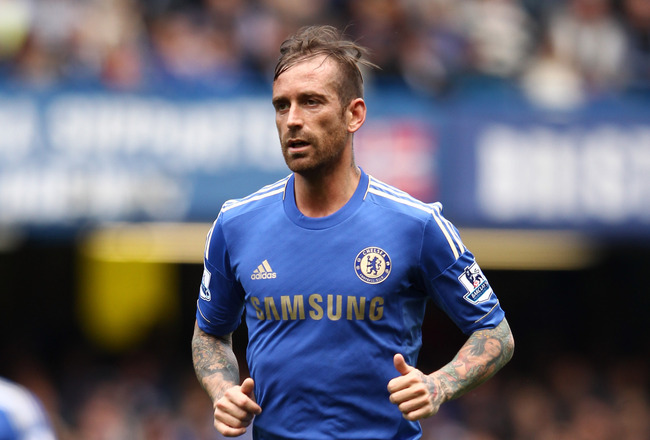 Ian Walton/Getty Images
If you're reading this, take note. This is what NOT to do with your hair. Ever.
The players on this list may be talented, world class even, but that doesn't excuse them from not preventing their hair from looking like a genetic deformity.
Here are the 16 strangest hair-do's in World Football. Enjoy.
Who would you add to this list? Have your say on the comment's below.
16. Marouane Fellaini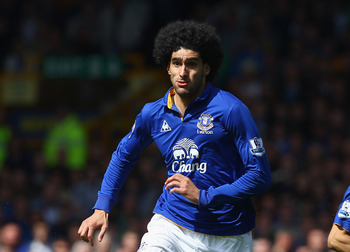 Clive Brunskill/Getty Images
The Everton midfielder's fro is as iconic as it is bad.
He looks like a used Q-tip every time he steps onto the pitch (cricket, cricket). His frame doesn't help his case as he stands at 6' 4" on the pitch.
He trimmed it a bit during his time in England. Still looked bad.
15. René Higuita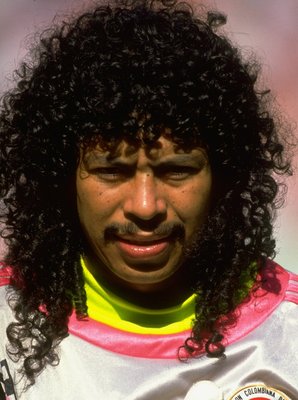 David Cannon/Getty Images
Famous for his eccentric goalkeeping, the scorpion kick, and that furry dead animal-like hair that he fashioned throughout his career.
His iconic perm makes him look like the Lion from the Wizard of Oz.
14. Abel Xavier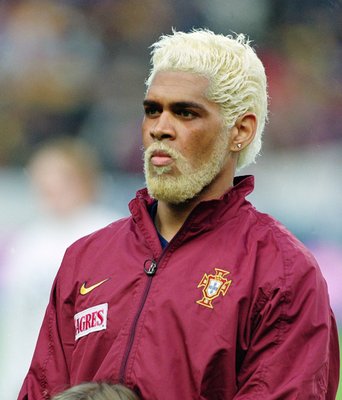 Stu Forster/Getty Images
Abel Xavier, a Portuguese international with 20 caps, was always known as the dude that bleached his hair and beard blond.
The Viking look wasn't really intimidating, but it's still impressive that he carried this on for the rest of his almost 20 year career.
An "A" for effort.
13. David Beckham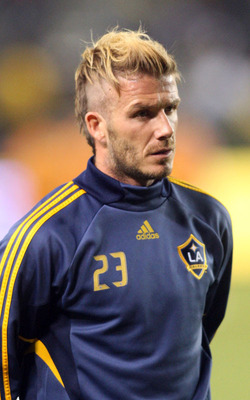 Beckham did everything he could to win the MLS cup in 2009. He took pain killing injections in order to play the game, gave the pass to Donovan which led to a goal, and scored a penalty in the shootout. There wasn't much more he could do that night. The only small blip was his hair.
Now Becks' hair looks great in many, many styles and to be honest, I didn't think he looked bad in any of them. Until I saw this one.
12. Mario Balotelli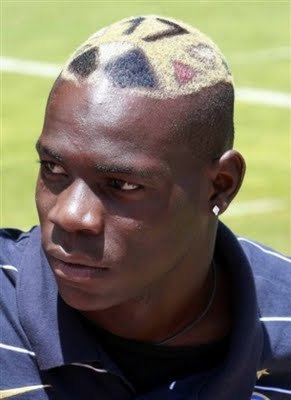 The most misunderstood player in the footballing world today can't seem to decide what he wants on his head, so he just lays it all on there like an omelet.
In this picture, Mario is sporting blue, red and black triangles as well as the number 17 on top.
11. Gervinho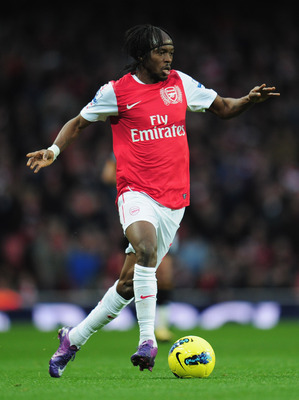 Shaun Botterill/Getty Images
Why Gervinho, Why? The fact that he's been playing this long with that hairstyle is probably why people might have given up telling him to take it off. He's used to it, and unfortunately, everyone is too.
Someones gotta be able to get through that big forehead of his...for his sake.
10. Alexi Lalas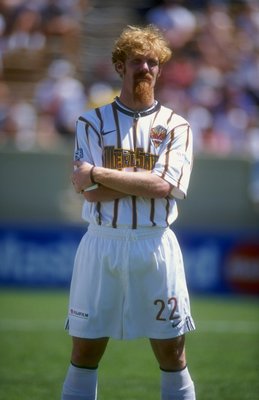 Aubrey Washington/Getty Images
Another viking look that originated in the 90's, Alexi Lalas' combination of long locks and devilish goatee made him the most recognizable player during his era in the national team. Nowadays, he works for ESPN covering various soccer games and tournaments with a clean shaven, more professional look.
The memory remains, however, of this man's infamous glowing hair flowing through the soccer pitch not too long ago.
9. El Hadji Diouf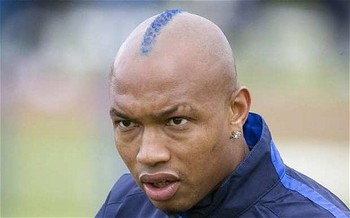 8. Raul Meireles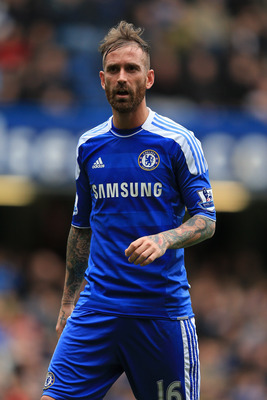 Richard Heathcote/Getty Images
Meireles looks like he came out of the barbershop way too soon.
Either that or he intentionally super glued a patch of hair on to his head because of a bet he lost.
7. Andy Carroll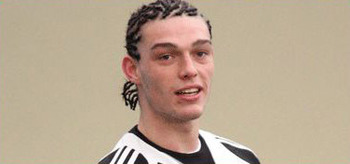 Back when this man was scoring goals, Carroll rocked the cornrows at Newcastle.
Maybe he needs to put them back on to start scoring. At this point, anything might help.
6. Djibril Cisse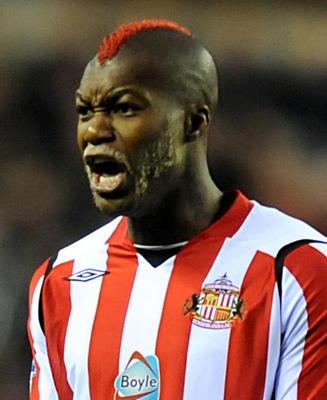 "I play for Sunderland, hear me roar!!"
Looks like Djibril Cisse really likes Sunderland, matching his Mohawk with the teams colors and all.
It's a bit much, though. Just like his bleach blond beard and the angry expression on his face that he seems to have most of the time.
5. Carlos Valderrama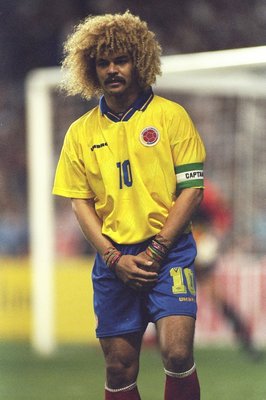 Pascal Rondeau/Getty Images
This man is more known for his afro then for his play-making abilities. El Pibe's outrageous hair leaves every other afro in the dust.
Oh and look at this statue built in Santa Marta, Valderrama's hometown.
4. Salomon Kalou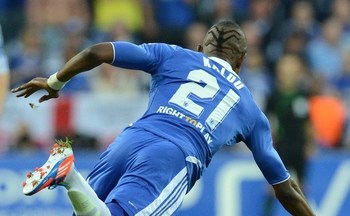 "Hey, there's a bug on the back of Kalou's he- whoops never mind that's just his hair."
The 2012 Champions League Final pitted Chelsea against Bayern, but what I really wanted to know was what exactly was on the back of Kalou's head.
Turns out it's actually Chelsea's good luck charm.
3. Ronaldo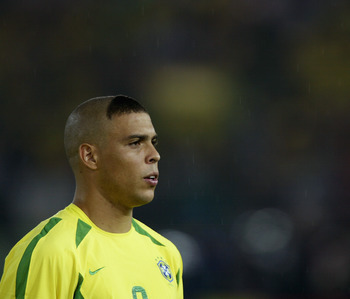 Gary M. Prior/Getty Images
Ronaldo returned from injury to the World Cup 2002 tournament and ended up being Brazil's most valuable player. With a brace in the final match against Germany, the Golden Boot winner solidified his place as one of the greatest of all time.
It's a shame that he didn't shave that triangle off, though.
2. Taribo West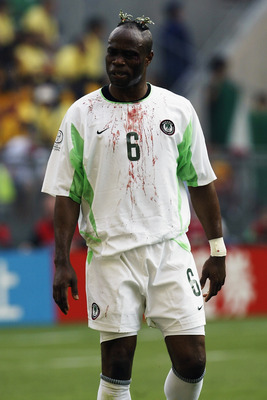 David Cannon/Getty Images
At a close second, Taribo West's devotion to his pigtail-cornrow-greenish thing is only trumped by one man.....
1. Manuel Cange Loco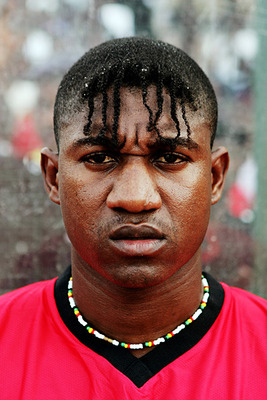 This one takes the cake.
Loco played for Angola during the 2006 World Cup and was allowed to walk the streets like this.
Really? Really?!
Keep Reading