SEC Spring Meetings: Spurrier's Failing Division Plan and Other Day 2 Notes
May 30, 2012

Streeter Lecka/Getty Images
The second day of the SEC's spring meetings concluded in Destin, Fla. on Wednesday. While Wednesday's news didn't match the hype created during day one, there were still some important items discussed by the leaders of the nation's top football conference.
Spurrier's Division Plan Won't Happen
South Carolina head coach Steve Spurrier came to Destin armed with a new proposal to award division championships based on division record, rather than SEC record. This format, not coincidentally, would have crowned his Gamecocks as SEC East champions last season rather than Georgia.
LSU head coach Les Miles and Vanderbilt head coach James Franklin have backed this plan, but their efforts appear to have failed according to Tim Tucker of the Atlanta Journal-Constitution. 
Mark Richt says it seemed clear by end of today's meeting that Steve Spurrier's proposal to count only div games in standings won't pass.

— AJC UGA (@ajcuga) May 30, 2012
Good.
The proposal was ridiculous from the moment it was presented. 
It would essentially divide the conference into two separate conferences and would diminish traditional rivalries like Auburn vs. Georgia and Tennessee vs. Alabama.
Sure, you could include a tiebreaker to keep those games relevant to the title hunt under very specific circumstances, but that wouldn't be enough.
Why is it not enough? 
Television.
Media rights deals are driving the sport nowadays, and that's precisely why Spurrier's plan has no chance of ever being adopted.
In an eight-game schedule format, 25 percent of the SEC's games are cross-division games. Spurrier's proposal would force Commissioner Slive to tell CBS and ESPN that one-quarter of his inventory is essentially meaningless at a time when Slive is renegotiating the television deal.
You know better than that, Coach Spurrier. Or, at least, you should.
Les Miles Takes a Shot at Kentucky, Doesn't Like 6-1-1
The format of the SEC schedule has been a hot topic in the spring meetings, and LSU head coach Les Miles made his stance known on Wednesday.
If the Bluegrass Miracle wasn't enough to get Kentucky fans to loathe LSU, Miles fanned the flames on Wednesday with this shot across the bow at Big Blue Nation regarding the future schedule (via Joe Schad of ESPN.com).
Miles said he is not for MSU playing UK every year. "Disproportionate," he said.

— Joe Schad (@schadjoe) May 30, 2012
The 6-1-1 scheduling model includes six games against teams within the division, one permanent cross-division rival and one rotating cross-division game per season.
Miles' boss, LSU athletic director Joe Alleva, added his thoughts on the permanent cross-division rivalries that are a part of the 6-1-1.
LSU AD Joe Alleva said if Alabama wants to play Tennessee every year it could schedule a non-conference game

— Joe Schad (@schadjoe) May 30, 2012
That's absurd. The SEC is one conference, not two. There is no way that the SEC will allow conference teams to play non-conference games against each other. That's just silly.
The 6-1-1 model still seems to be the preferred model among most administrators, but those permanent cross-division games involving teams that aren't rivals is certainly the biggest hangup during this process.
Rivalries like Auburn-Georgia and Tennessee-Alabama are the foundation on which the SEC was built. Those have to be protected, even if it means that teams that don't have cross-division rivalries rotate.
Coaches Vote To Give Players a Stipend
Spurrier made waves last year during spring meetings when he proposed the idea of coaches paying into a fund to pay college football players. That was the hot topic on Wednesday, according to Scott Hood of GamecockCentral.com.
In case you missed it, Steve Spurrier told me last night the SEC coaches unanimously approved giving FB players $300 per game for expenses.

— Scott Hood (@ScottHood63) May 30, 2012
It's a nice theory, but the economics and politics of college athletics won't let that happen until all football conferences approve—and even then, there will still be about 49 more hurdles to get over.
Dan Mullen Has His Own Playoff Idea
All of the coaches, administrators, hotel guests and employees at the Sandestin Hilton are being asked about the format of the college football playoff. Mississippi State head coach Dan Mullen has his own twist to the format—and it's a good one.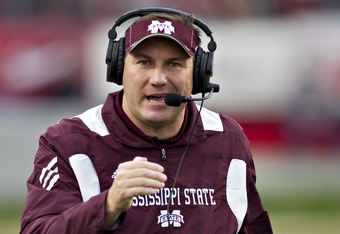 Wesley Hitt/Getty Images
PER ESPN, Mullen favors the semifinals being played before Christmas and then having the championship game after New Year's Day. That would give the losers of the semifinal a chance to play in a bowl and would give the winners of the semifinals time to recover from injuries.
Sign me up.
I've heard that format from various other places, but for Mullen to say it during SEC spring meetings—when these things are going to be agreed upon—is big.
It's a good format that keeps the bowl committees happy, minimizes the disruption to the academic calendar, and awards a true champion—three important pieces of the puzzle needed to bring this picture into focus.
Les Miles Favors an Early Signing Period
The prospect of an early signing period is something that has popped up and disappeared on a seemingly annual basis. LSU head coach Les Miles seems to favor the idea of an early signing period due to its impact on the bottom line. 
Les Miles advocates Dec. 1 early signing period. Calls it less expensive.

— Kevin Scarbinsky (@KevinScarbinsky) May 30, 2012
It's an interesting thought, but I would imagine that scheduling, expansion and television deals will force that discussion to the back-burner for another year.